Dunkin' Donuts' celebrates National Iced Coffee Day in a (very) Special Way. Dunkin' Donuts BIG Iced Coffee Day was yesterday, May 23rd. It was the most amazing kind of day you could ask for… warm, sunny and just the perfect day for a refreshing Iced Coffee. When the weather starts to get warm, I'm all about my medium Iced Coffee with cream.  I'm not kidding, I think I drank about 3 or 4 of them yesterday… but it was a GOOD thing because buying an Iced Coffee yesterday gave back and National Iced Coffee Day is inspiring me!
National Iced Coffee Day
National Iced Coffee Day with Dunkin' Donuts was extraordinary because it supported Hasbro Children's Hospital in Rhode Island. That's right — for every iced coffee sold yesterday at Dunkin' Donuts locations in Rhode Island and Bristol County, Massachusetts, Dunkin' Donuts franchises in the area donated $1 to the hospital.
This special and meaningful annual event has helped raise over $2 million since its inception in 2010. I made sure to have my entire family and all my friends participate yesterday… but the best part was that everyone already was planning on doing it! I didn't have to remind anyone, everyone was on it! And it was just awesome to see so many people sharing about it on social, too! I can't tell you how many FB posts I saw about it yesterday. Really made my heart smile. It's just really special to do and I'm happy to say that we have participated every single year.
National Iced Coffee Day – Good Night Lights
This year Dunkin' Donuts went a step further in their efforts to support Hasbro Children's Hospital by   partnering with a very impactful and special local tradition call Good Night Lights. Good Night Lights is a daily tradition in which local residents, businesses and law enforcement officials let the kids at Hasbro Children's Hospital know we're thinking of them. Every night, at exactly 8:30 p.m., Good Night Lights participants shine flashlights (and police cars, firetrucks and ambulances turn on their lights) toward the hospital from various locations in downtown Providence. In return, patients in the hospital flicker their room lights on and off and shine their own flashlights from their windows.
Why is this special for National Iced Coffee Day
It's the kind of thing that gives you goosebumps. It's special. It's beautiful. And it just means something so deeply for these wonderful kids at Hasbro. So, this year (as you may have seen throughout the month) anytime you bought an Iced Coffee at Dunkin' Donuts (please note, not all locations, but most) you received a small key chain flashlight that is marked with the date of Iced Coffee Day.
May 23, 2018 was just a phenomenal day here in Rhode Island and Bristol County, Massachusetts. All day long there were mini events at various store locations… all hoping to drive out crowds to buy Iced Coffees. If my Dunkin' looked like your Dunkin' – IT WORKED!! People came out in full force to support!!
I even got to attend a special birthday celebration yesterday at a Dunkin' in South Kingston for myself (I turned 40) and my friend Violet (she turns 4 on the 25th!).
Violet was treated at Hasbro Children's Hospital at birth because she was born with infantile fibrosarcoma, an incredibly rare, cancerous soft-tissue tumor that occurs at a rate of 5 infants per million. In the days leading up to Violet's birth, Violet's mom – Angela – noticed she wasn't moving as much as expected. An emergency ultrasound showed a football-size mass on the unborn child's forearm, and she was delivered via Caesarean section on May 25, 2014. Violet spent 226 days in treatment at Hasbro Children's Hospital to treat her tumor, and in October 2014, with the mass reduced to the size of a tennis ball, she underwent surgery to remove it in its entirety. Though Violet is no longer receiving treatment, she has had occupational and physical therapy to help her arm develop. Angela shared that cognitively, Violet is exactly where she's supposed to be, doing everything her therapists ask of her and getting stronger by the day. For Dan (Violet's dad) and Angela, they are elated, particularly understanding that chemotherapy can slow a child's development. Violet returns to Hasbro routinely to make sure the cancer stays in remission.
It was so special being there with Violet and just have a fun celebration with her! I brought along my daughter Victoria, also 4 years old… and just watched the 2 of them laugh and eat cake and donuts and be silly little girls.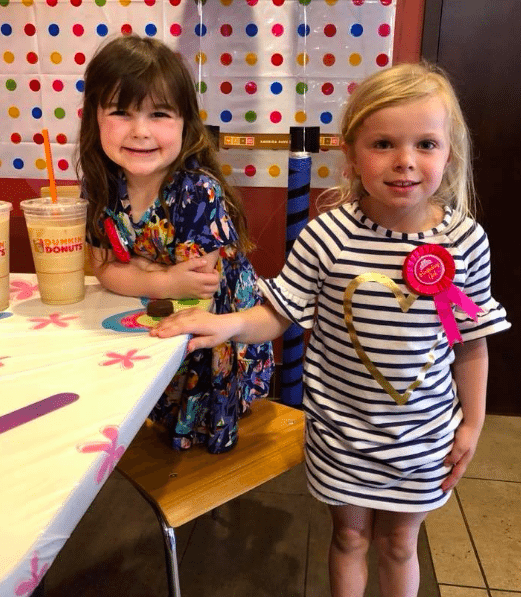 It warmed my heart to hear that Violet is doing extremely well! Her mother was kind enough to chat with me for a bit at the birthday party and share with me why Dunkin' Donuts was just a saving grace to her while Violet was being treated at Hasbro. She shared that Dunkin' coffee truly kept her alert and moving. She needed to be "on" at the hospital with Violet and her team of doctors and it was the routine of Dunkin' every single day that helped keep her going and fueld up. She even shared with me that the team at the Dunkin' on Eddy Street even knew her order! Angela also shared with me that she enjoys being part of this celebration because it's important for her and her family to raise awareness and support for Hasbro Children's Hospital.
I'm telling you, yesterday was a very special day with this very special family. It really showed me the power of National Iced Coffee Day and why it's so important to be part of and help raise money.
Thank you to Dunkin' Donuts for doing this each year. It's truly, truly remarkable and you're making a gigantic difference in the lives of so many kids and their families. I was so honored to be part of this throughout the month of May with you!
Disclosure: Sponsored Partnership with Dunkin' Donuts. All opinions are 100% my own.
National Iced Coffee Day with Dunkin'
was last modified:
January 31st, 2019
by