Mommy and Me Matching Outfits  – I'm kinda obsessed. Mommy and Me outfits are something I've *kinda* become obsessed with lately. I absolutely, positively LOVE twinning with my mini me daughter! We are all about finding and rocking Mommy and me outfits together because it's just CUTE and FUN! Here's the one big problem, I could literally spend tons of money on exact matching outfits. Just last week I posted about all the places you can buy Mommy and Me outfits. There are way more than I thought, which is great… but also dangerous for someone like me because I want to buy everything! I know my husband knows I'm super excited to have a daughter, but there's no way I can justify spending hundreds of dollars on matching clothing.
Easiest and Simplest Mommy and Me Matching Outfits
So what's a mom and her girl to do?
Easy. Find the easiest and simplest ways to match without breaking the bank.
My daughter would love to match with me every single day. It's "our" thing. I was away 2 days for work this week, so first thing Victoria asked me this morning as I was getting dressed was, "Can I wear what you wear?" I literally had on a striped button down, black jeans and moto booties – none of which she has in her closet.
And then it dawned on me, let me just take the most basic, most simple and most classic style of all for us today – white tee, jeans and a baseball hat (we're both rocking CRAZY messy hair!).
And just like that – VIOLA! – we had matching outfits!
Mommy and Me Matching Outfits
She thought I had gone out and bought them specifically for us! Truth? Who doesn't have jeans and a white plain tee in their closet? She didn't even have a tee, so I had to go with a long sleeve, but she still thought it was the coolest thing ever! And those hats? The blue one is my son William's and the pink one is mine! She didn't know! She was just thrilled to be rocking a Mommy and Me matching outfit with me!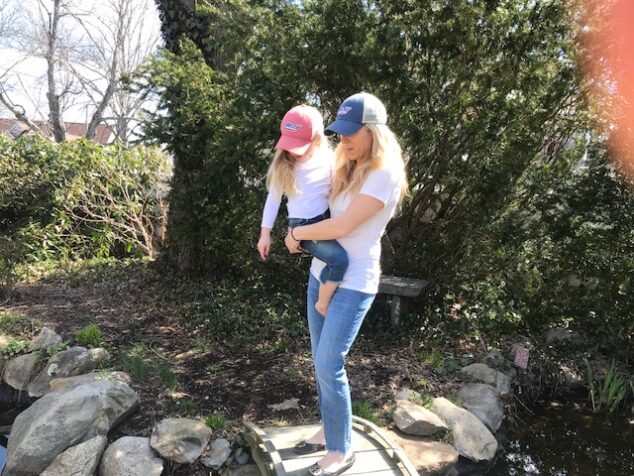 I mean, that smile! It just lights up my life.
We had some fun exploring outside today. We finally had some SUN! I'm so ready for spring to be here in full swing! I'm sick of the cold, I'm dying for warmth and shorts and flip flops!
I've always loved fashion, it's one of my passions. I have to say this… having a little girl who loves fashion, too – it's everything! She makes me laugh with her styles. And she just loves to be just like her mommy! I was the same way when i was her age!
So for all my moms out there who have little girls, have some fun finding Mommy and Me Matching Outfits, but don't stress – you can find some great things RIGHT IN YOUR CLOSET! Just think basics and go from there!

Easiest and Simplest Mommy and Me Matching Outfits
was last modified:
January 9th, 2019
by