Soaking in the Wonder, Magic and Beauty of Ava DuVernay
Ava DuVernay.
Photo Credit: Louise Bishop
She's a woman I have admired and respected from afar for years.
She's a woman I have watched and supported from afar for years.
She's a woman's woman and I have always loved and appreciated that about her.
When I found out that she was directing A Wrinkle in Time, I was thrilled for her, for Disney and for all of us who would get to see this movie. And then I was invited to head to LA for the red carpet and the opportunity to interview Ava and the incredible cast… I mean, mic drop moment for me.
The second Ava walked into our interview room – a room full of mom and lifestyle bloggers (all 25 of us!) – you could instantly feel her energy, her magic, her graciousness and her gratitude. She was like a force, just pulling you in. It was unbelievable to be in that very moment. Her smile from ear to ear. Her welcoming spirit. It was phenomenal to be in that space, in that exact moment and really take it all in.
Photo Credit: Louise Bishop
Ava was very intentional the night before at our first screening of the film to acknowledge that this film is about bringing magic to children. She had asked all of the kids in the audience that night to stand and she said that A Wrinkle in Time was created for all of them. This touched me because I loved seeing the truth to her words and the honesty behind them.
It was fascinating to hear Ava's take on her intention of this, "I just really wanted to make a film for kids right now. I don't have children. I don't have children by choice. I always said that my film are my children. You know, I put my blood into them. It's really what has my name on it. It's what I'll leave behind in the world and so to be able to make something specifically for kids today… something that I hope endures for kids for a long time to come was very emotional to me."
This honesty from Ava was incredible. Her films are our babies. Her films are what she pours her blood, sweat and tears into. Her films are meant to be shared and loved. Her films will grow with children into their teenage years and then adulthood. It's Ava's beautiful mark and that's a powerful, beautiful and emotional thing.
You can tell that Ava is ingrained and woven in the fabric within A Wrinkle in Time because you can see her love and passion for the film, but it was also hearing her talk about Meg Murry that actually had me tearing up.
Photo Credit: Louise Bishop
"Storm's a little girl from the inner city. We've moved the book to be in the inner-city, from the book to the movie. A little girl from the inner-city who wears glasses, who doesn't know how fantastic she is and I related to that. I remember being that. I remember dreaming about all the things I wanted to be and not knowing if I could be them. Not seeing anything in my world beyond my mom who loved me and my family who loved me to tell me you can do it, and nothing else said you can do it. Nothing else said you can do it. School didn't say you can do it. Society didn't say you could do it. Nothing said you could do this. Nothing said you can be here and direct this movie. You know, nothing said that you can do any of it and so you have to find it in yourself and that's what this book says. That's what the movie is saying and so I related to Meg very much, very much."
How powerful is that to read?
You have to find it in yourself.
I loved hearing her share those words because as a mom to 5 kids, it's what I try and teach them every single day. You need to love yourself. You need to find it in yourself. And I will always be here to help and support and push you along, but it needs to be within, too. That power. That beauty. That gusto.
Seeing Ava take to heart the core messages in A Wrinkle in Time was amazing, too… especially since this is a movie – I firmly believe – that all tweens and teens should be required to see because the messages are so real and raw and honest and open.
"I really want it [A Wrinkle in Time] to be a seed that blossoms into something beautiful in young people about the way that we treat each other and the way that we see ourselves and the way that we're seen… and so that's really what I'm hoping. I mean movies have the power to do that."
And beyond that, I love that Ava wants adults to view this movie within their inner child in mind. This is something that we're not asked to do in our lives today. This is something that's not accepted always in our lives today. I love that Ava really wants to open it up for people to come and be that little girl or boy again!
"Mrs. Whatsit says in the film, 'You know, I'm trying but they're human and very limited.' It's real, you know. All of you, I could see it in your eyes. I could see the girls in you that were, that was something in you. There's some adults you can still see that light in and some you just can't where it's gone. The child in them is gone and so this is for kids and for people who still have a kid inside of them 'cause there's a lot of cynics and people being like oh, especially because of I made Selma, The Thirteenth. I made serious movies and this not like her other work and such and such. It's like dude, it's for kids. Like calm down."
Amen! This movie is for kids and the kid within you!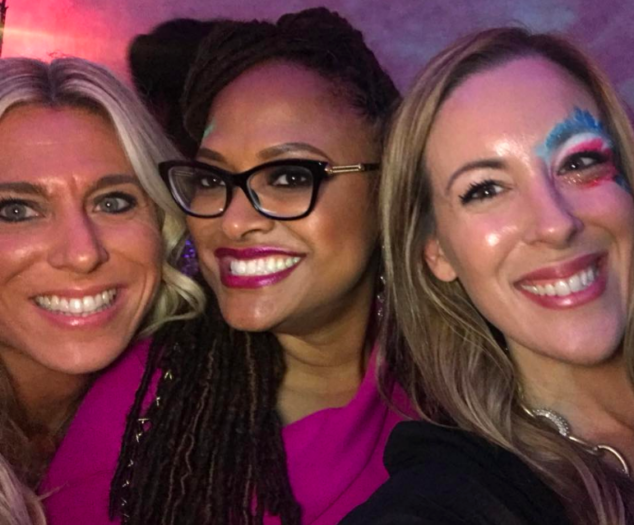 Believe it or not, you can learn a lot about a person in a short amount of time. You can read people and really feel connected or disconnected. As I mentioned before, Oprah has this magic way of immediately connecting with all of us. She was like a magnet. Ava has that EXACT magic force. I also feel you learn most about someone from other people, too… especially when they have positive things to say. Rowan Blanchard made a point to tell our group of bloggers that Ava "knows everyone's name on set. She's loyal to everybody and she succeeds because she brings people up with her."
I specifically asked Ava how it made her feel to hear those words. I wasn't prepared for her emotional and honest answer. This genuinely brought me to tears.
"That's kind. Why would you not? I mean why would not? I used to be a crew member. I used to be a publicist and I would be on sets and I would be only one of the few women and one of the few black people and probably the only black woman so many times, but regardless of who I was like so many directors just didn't know their crew members' names. I thought how disrespectful. These people were here before you, got out of your trailer. They set up the trailer that you can go into. You know, this is someone's father or mother who's been here since five o'clock in the morning. You know, everyone's working hard. Like how do you walk passed people and not know their name? And yet that's the culture of our industry. It's the culture of a lot of industries in this country. It's like the people that are in 'quote on quote higher positions' just don't even, you know, my father recently departed… he laid carpet and flooring in people's home and he would come and he's the kind of guy that you would pass by, just pass him by. My aunt, Denise, who passed away some years ago who I really know would've loved this movie was a nurse at night. She would take the bus. She was the kind of person you would just pass by and no one knows how extraordinary they were. They were great people. You can't pass people by. Sorry."
The room at this point was as quiet as a mouse because Ava was so raw and so honest and so emotional. It was a really impactful moment.
"You have to know people's names. You have to treat people with weakness. You have to so I'm glad she said that. I'm sorry I got emotional. I feel like I'm talking to my mom here. My God. I called my mom the other morning. I said 'Mommy, I'm going to the junket. I'm gonna share the movie for the first time with people who are gonna see the movie for the first time. I don't know what they're gonna think.' She said 'Avy, you did your best.' Like a mom. You did your best. I was like a little girl again. You did your best, babe and, you know, your best is good enough and so pretty. It's just like you. You're the best girl in the world. All those things. I was like thanks, mom. So, that's the energy I feel. That's why I'm emotional 'cause I am a hardcore director, okay. I'm not gonna cry in here with you guys."
I can tell you in this very moment, I became an Ava super fan. Not just a fan, a true super fan. She blew me away. She floored me with her honesty and I LOVED her for that. It was a memorable moment.
As we were wrapping up our interview with Ava, she shared a beautiful moment with us again which I will never forget.
"People think I sacrifice something because I don't have a family and I work all the time, but it's not work to me. I'm living my dream every day when I walk out of the door. My dream was this. Some people's dream is family and children. My dream was making movies to leave in the world and so I get to do that every day and I get to have family on set. They know my name. I know their name. I walk up to the set and I get love from hundreds of people every day who are happy to be there and happy to do their work, and so I hope some of the way the films I'm making leave a mark."
And then when I didn't think I could love or learn more from Ava, she told us about how she brings gratefulness into her life every single day.
"I do this thing all day and I don't talk to a lot of people about it, but I do this all day where I count gratitude… so throughout the day, at the end of the day when I say good-night to myself and to the universe or to God I'll say thirteen or forty seven or whatever… and in that moment I can't remember all the things they were, but like I'll count them. So today I'm on 19. You all are 20 – about the things that I'm grateful for in this moment… and some days you're going through the day and you're like I got three. You know, but it's my little prayer and I count for gratitude the little pieces of things that I have gratitude for, a smile, a person that lets me in the left turn lane when I know it was wrong and I shouldn't have been there, the parking spot there, just little things. If you just take a second to acknowledge it, it gives you a little jolt of joy, just the little pieces because I work so much and you guys have families and you got kids and so it's hard to find the time, the vacation, the massage, the big joyful things, right. You just count them through the day and they give you a little kick."
Pretty incredible, right?
Ava was just a dream. She shared so much with us. She gave so much to us in just that short interview. I was grateful for her time and her honesty.
A Wrinkle in Time is a child for Ava. She nurtured it. She created the pieces. She constructed it together. And she's delivering it into the world TODAY – March 9th, 2018. Go see this movie. Feel the magic in this movie. Fall in love with the messages and go into this world and be good and kind.
Thank you Ava for being you. And thank you for bringing this story to the big screen!
A Wrinkle in Time is in theaters NATIONWIDE NOW!!
Website and Mobile site: disney.com/wrinkleintime
Like on Facebook: https://www.facebook.com/WrinkleInTimeMovie/
Follow on Twitter: https://twitter.com/WrinkleinTime
Instagram: https://www.instagram.com/wrinkleintime/
Hashtag: #WrinkleinTime
Disclosure: This was a Disney press trip. All travel expenses were covered.
Soaking in the Wonder, Magic and Beauty of Ava DuVernay
was last modified:
April 14th, 2018
by