Why You Need Turmeric in your Life. I'm all about healthy living. It's my 2018 goal and commitment.
I've been researching new foods and activities to bring into my life and my family's life this year.
A couple of weeks ago my husband was telling me all about Turmeric. He was telling me that it's a spice he wanted to start using at home.
Coincidentally a couple of days ago I received a package in the mail all about Turmeric from Nature's Path Organic. I couldn't believe it because we had just discussed it at home!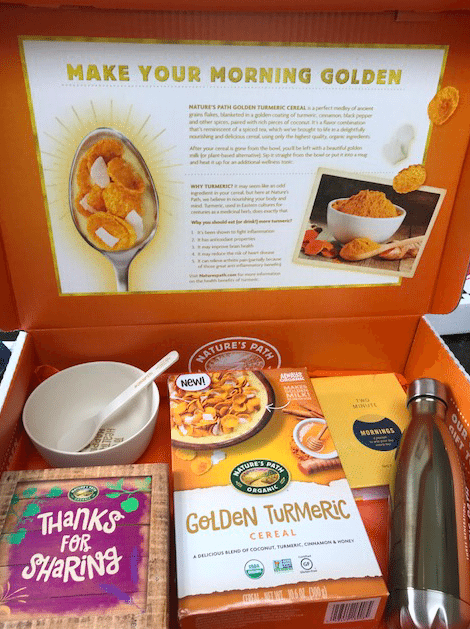 Why is Turmeric so important?
1. It's been show to fight inflammation
2. It has antioxidant properties
3. It may improve brain health
4. It may reduce the risk of heart disease
5. It can relieve arthritis pain
The package made me smile because it was filled with goodies and yummy Golden Turmeric Cereal! OK… so the Turmeric might seem odd in your cereal, but Nature's Path has made it work with Golden Turmeric. I love how Nature's Path wants to nourish your body and mind.
Imagine getting to do this every morning! The NEW Golden Turmeric Cereal combines deliciously crunchy flakes with nourishing turmeric spice for a totally unique breakfast experience. I have to tell you, the cereal was delish! You can taste the cinnamon and honey immediately! I thought it would taste strong with the turmeric, but it works! I'm telling you – great way to start your day and take care of your body!
For more info, head to Nature's Path Organic.
Disclosure: Gifted product.
Why You Need Turmeric in your Life #HealthyLiving #FitMom
was last modified:
August 21st, 2019
by