Disclosure: This was a press trip with Disney/ABC. All travel expenses were covered.
Bellamy Young Dishes on Scandal, A Wrinkle in Time and Social Media
WHAT!? Yes, this is ALL true!
I remember the second I watched the very first episode of Scandal. ABC (literally) hooked me from the start on this new drama series. I was immediately drawn to Melody "Mellie" Grant (originally the First Lady) because she was smart, determined and fierce. Watching her evolve throughout the seasons has been incredible. You never (ever) know what to expect from her and that's the beauty of her character and of Scandal in general. You're always on the tip of your seat. I mean – I never would've thought that Mellie would eventually became Madame President. What can I say… it makes for really, really, really GOOD TV!
Bellamy Young plays "Mellie" on the hit drama series and she is AMAZING. I mean truly, she's amazing. If you're someone like me who has been invested in the show throughout the seasons, you really have become to understand and love Mellie. As what I normally do when I become invested in a show, I love following my favorite actors and actresses online. It's fun seeing them in their real lives! Bellamy is someone who is very active on Twitter and Instagram and I just love that about her! She appreciates her fans and really takes the time to engage with her followers. I love that she really does appreciate the loyalty of her fans, it's so wonderful to see.
When I found out I was heading to LA for the A Wrinkle in Time movie event, I was thrilled to see that we would be able to interview Bellamy Young. If you haven't heard already or seen the trailer, she has a small role in the film that is awesome!
It was actually really funny because when we all sat down to have a Q&A with Bellamy, we told her we saw the film (we had a screening Saturday the 24th) and she informed us that she hadn't even seen it yet!
Her reaction was priceless, "You saw it? You guys. How is it? Is it so good? I can't wait, but I literally can't wait. I can't believe you've seen it… So now I have a million questions for you."
I don't want to give much away, but her role is fantastic. It's a bit creepy and funny all at the same time.

(Photo credit: DISNEY)
It was amazing seeing her part of this film and she was just as excited to be part of it, too!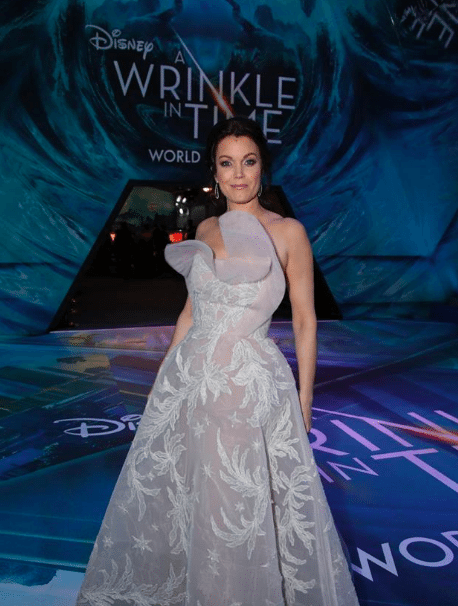 "Working with Ava is a dream. She's such a visionary, and it was a joy to go. But the book meant everything to me when I was a kid. So, even the tiny little bit, just to be a part of something that might get other kids to read the book, or get excited about it. There's a whole quartet of books in this family. So anything that engenders interest in that."
As a mom, I loved hearing Bellamy's take on that because reading and falling in love with books is one of the best gifts our children can possess. I loved hearing that she hopes kids will be taken by the book and the characters and the story and messages in the book.
"I loved in the book that there was a big point [from Meg] of saying 'alike is not equal' because alike brings everyone down. Individuality and equality is what we aim for, right? So, I hope what people take away is that being yourself is your greatest gift."
We were all very anxious to hear what it was like working with Ava DuVernay. Bellamy lit up in her response to us. You could tell there is a deep love, respect and connection to Ava.
"It's so easy when the gift is true and enduring and really, really in the marrow of who you are. She's such a great leader. She's such a visionary. So generous, because — why wouldn't she be, right? Again, it's back to the fear thing, so many — when you're afraid somebody can take something from you, that you'll be like, 'No, you're wrong about that, then do it my way,' but she is like, 'That's so interesting, yeah. Let's look at that.' Because her truth is irreducible, you know and you feel that."
I loved hearing that about Ava. I loved hearing that the people around her feel her spirit and kindness and gift of bringing people together. Bellamy also shared with us that when, "you're in her presence you are more because she is all that she is. And so, I was so happy to get to spend a little more time with her. She was amazing when she was with us. She's just such a generous spirit, and such a wise mind."
It really made me happy to hear that there was such a beautiful connection there and that Bellamy was proud and honored to be part of A Wrinkle in Time. I feel like I JUST know her as Mellie, so it was interesting and different to see her as someone else in the movie.
And – of course – as you can imagine, since we had Bellamy right there with us, she was beyond kind answering all of our Scandal questions! This was the part I was super excited about with her! With the final season here, I'm so sad to see this show end. These characters have become part of my week!
It was so interesting to hear right off the bat from Bellamy that her role as "Mellie" was only supposed to be a short lived one. I had know idea about that little fun fact!
"I was only supposed to be there five minutes. First of all, you show up and you do your best work, even when it's two lines, and you might not be there for a minute. You never know what's going to turn into your dream. You never know which lottery ticket might pay, so always show up for yourself, and do your best work, regardless."
This is such an amazing lesson for everyone in life. You never, ever know what something will turn into or morph into. Show up every single day and DO your BEST work. Don't coast. Don't just go through the motions. Really show up and do your very, very best.
But – you can tell that Bellamy does love playing "Mellie" and that was really cool to see firsthand. She knows she's a flawed woman, but Bellamy also knows that she's a good woman, too.
"She's so flawed, but she has such big dreams. And she's doggedly loyal and will fall on her face, but she will stand up and walk forward – like the Terminator, do you know? Like – all of that skin just hanging off her face? I marvel at her. It's been a great, great gift. Not just the fact of having a job, but the fact of getting to be her."
The beautiful thing is that you can really tell that Bellamy has appreciated working. I took that away from her immediately. She mentioned that a few times, how lucky she has been to have a job. I really thought it was so wonderful for her to keep acknowledging that point because it's something she's truly grateful for in her life.
As Scandal is coming to an end very soon (someone get me tissues!), I'm super excited for the upcoming Scandal/How to Get Away with Murder (#HowToGetAwayWithScandal) crossover episodes that air TONIGHT (Thursday, March 1) on ABC (Scandal at 9|8c and HTGAWM at 10|9c).
"I got to act with Viola Davis, ya'll!" was Bellamy's reaction! I'm telling you – 2 amazing shows coming together, it's going to be epic!
It was just really wonderful hearing about her talk about the cast and how much they all love and appreciate each other, too. They have truly been a team together and it's great to see that they do have such admiration for each other.
"The good thing is, like, Bellamy, loves Kerry, and she loves Kerry, and she loves Kerry, and so it's easy."
But it truly is the genius of Shonda Rhimes that has brought all of these characters to life in our worlds.
"We asked Shonda at the beginning of the year, 'Is it going to end where you thought it was going to end?' Because she has always been like, 'I know where this one starts, and it's not gonna be like Gray's, I know where it ends, and blah blah.' And she was like, 'No. I always thought it would end with the inauguration, and then the world changed, and I realized I had more to say with this forum.' So, I feel like this whole last year I remember her telling us and our last up-fronts and just all of it, we've been so present and mindful. It's just been really extraordinarily. It really, really has. And my therapist says this cast has re-parented me. And it's true. It's unconditional love."
I'm telling you, I'm just such a HUGE fan of Scandal, so hearing Bellamy gush was just really thrilling for me!
"I mean, we're so lucky because there's a lot of casts where people don't work as hard. So, there's a lot of casts where they're like, 'Please don't write me into a scene with this person, 'cause they're going to be four hours late, and they're not going to know their lines,' and, you know all of that kind of stuff. But we're just a bunch of wonderful humans, and so I'm like, 'Oh, I get to work with Jeff' or 'Oh, I get to act with Keri.' I haven't gotten to act with Guillermo, which kills me, because I love him so much, and I think he's amazing, and I can't imagine what that would feel like, whoa, coming at me!"
Pretty, cool… right!!??
Bellamy was just extraordinary! She really was so sweet and kind and funny to interview. We LOVED hearing that she loves engaging with fans on social media! That was awesome to hear as a blogger.
She even knew a Twitter handle of one of her fans! I thought that was tremendous! She's someone who deeply cares about the fans and wants them to experience something special each week!
I'm telling you, Bellamy is just amazing! I was a fan, but now I'm a super fan! She took the time to speak with each of us and snap a personal photo, too. That's truly a class act.
"I feel like getting to be an actor is like getting to live a million lifetimes in one little lifetime."
Thank you for bringing so much into our lives, Bellamy!
Amazing right?
I told you she was dishing about Bellamy Young Dishes on Scandal, A Wrinkle in Time and Social Media!
PS – If you've never seen Scandal, I highly suggest you get caught up or rewatch past episodes either streaming or on the ABC app.
PPS – Join us in trying to get Shonda to do a Scandal movie! #ScandalMovie
Bellamy Young Dishes on Scandal, A Wrinkle in Time and Social Media #WrinkleInTimeEvent #ABCTVEvent #TGIT #Scandal
was last modified:
April 14th, 2018
by