50 Things To Do with your Daughter.
My daughter.
2 words I always wanted to say and I'm finally glad to be able to say them.
We love to do everything together. I mean, everything. Maybe it is because I had 4 sons before her and the magic in having a little girl isn't lost on me. Having this little mini me to be with all the time is just amazing! One of the cutest things is when we do our twinning. I love to get dressed and my daughter asks to wear the same thing. We don't always have matching stuff, but I can get creative and usually make something work!
There's just nothing like sitting with my best girl. She's funny and sweet and loves to make me laugh! Thank you to my son Ben for capturing this moment this morning! She was telling me that Eskimos don't kiss on the lips, they rub noses!
Grab your girl!
Grab this list and GO!
Spa Day
Shoe Shopping
American Girl Doll experience
Manicures
Pedicures
Hair Salon
Library Reading Hour
Open Swim at the local Pool
Ice Cream Sundaes
Massages
Movie Night at Home
Build-A-Bear Workshop
Fancy Dinner
Tea Party
Playing Barbie
Playing Superheroes
Reading on the Couch
Bubble Bath
Horseback Riding
Dance Class Together
Cooking Class Together
Pottery Class Together
Game Night at Home
Bedroom Makeover
Hiking
Bike Riding
Day at the Beach
Day on the Slopes
Golf Lessons
Kayaking
Mini Golf
Baby Doll Playtime
Dress-up Night
Put on a Fashion Show
Beauty Station Makeover at the Mall
Make your Own Scent Night
Painting Night
Book Club
Mother/Daughter Date Night with a Friend and Her Daughter
Go to a Fashion Show
Museum
Roller Skating
Ice Skating
Trampoline Fun
Theatre Night
Volunteer
Cook Breakfast for Dinner à Brinner
Build LEGOS
Crossword Puzzles
Scavenger Hunt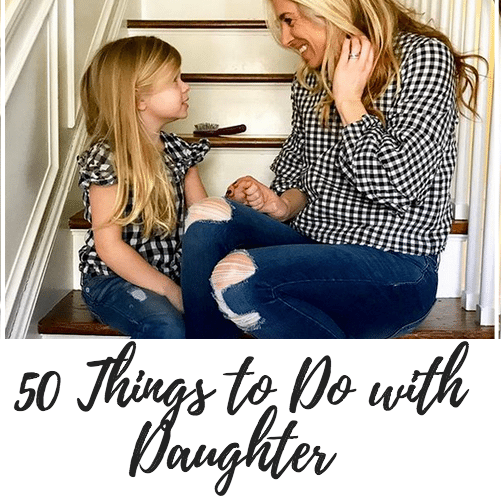 50 Things To Do with your Daughter
was last modified:
April 14th, 2018
by