5 Things You Need To Know About ALEX, INC on ABC! You're going to love this show!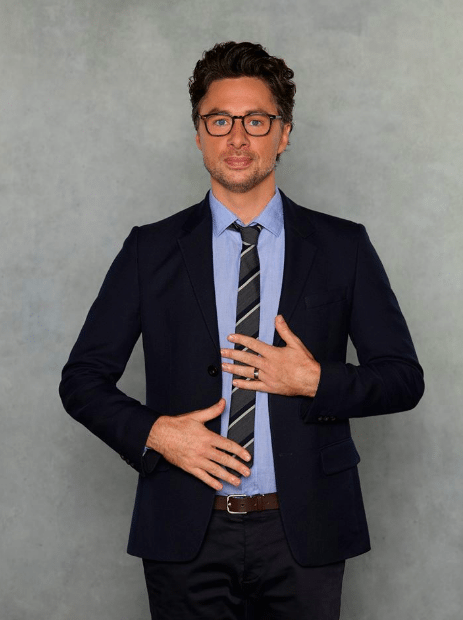 I'm a big Zach Braff fan! I remember watching the very 1st episode of Scrubs back in 2001 and just laughing out loud with my husband! We loved it! It was a show we watched all the way through to its finale in 2010! When I heard that he had a new show coming out on ABC I was thrilled! He's such a great comedic actor, so I knew whatever it was – it would be good! While in LA for the "A Wrinkle in Time" premiere I had the awesome opportunity to pre-screen Alex, Inc. I couldn't wait to watch it because I'm such a big fan of comedy, especially comedy I can watch with my teenager sons!
So what is Alex, Inc. all about? 5 Things You Need To Know About ALEX, INC on ABC
It's based on the podcast StartUp, Alex Schuman (Zach Braff) is a brilliant radio journalist, husband and father of two who is about to do something crazy – quit his job and start his own company. He quickly discovers it's going to be a lot harder than he thought.
We had the chance to watch 2 episodes and I truly found the show funny, sweet and inspirational! I'm an entrepreneur, so I really identified with "Alex" because it's not easy to do and it's not always accepted by the people in your life. I learned very quickly (as does Alex) that they only people you really need to worry about accepting this pivot in life is your own family. It really made me smile and feel connected to the show!
After we screened the show we had the chance to have a Q&A with Executive Producer, Director and star Zach Braff, Tiya Sircar ("Rooni") and Executive Producer Matt Tarses. They were so open and so much fun to interview! They shared so much about the show and why they all wanted to be part of it and see it happen. I truly hope this show is a gigantic success! 5 Things You Need To Know About ALEX, INC on ABC
I thought it would be fun to share with you all 5 Things You Need to Know about Alex, Inc.
Ready!!??
Here we go!!
5 Things You Need To Know About ALEX, INC on ABC:
1) Zach Braff wanted to set out and create a show that a family could watch together. With 5 kids, I yearn for shows that I can sit down with my kids with and watch! When I was a tween and teen, there were a bunch of shows I used to watch with my parents – Cheers, Who's the Boss, Family Pains, Hogan Family, A Different World, etc. It's NOT like that nowadays and I love that Zach identified that and really wanted to do something about it.
As he said, "I'm an uncle and I have a lot of godchildren and one thing that kept coming up is that even though there's so much great TV out now, I kept hearing there's not a ton that we all wanna watch together. Like, we all love these shows that you can't watch with your kids and your kids all have their shows that they love to watch. But a theme that kept coming up as the producer in me with the little lightbulb went — after dinner, before we put our kids down, there's not a ton of content that we all wanna watch together. And I actually was dating a woman for a bit who had a nine-year-old and I experienced that. I was like he wants to go watch his shows. We don't wanna watch that. So that was another thing in my head, it feels like to me like that's an area where there's more content. Obviously ABC's great at it with Blackish and Modern Family and stuff like that. So, I felt like a great space to do it."
BRAVO and I'm glad he did!
2) One thing we all loved was seeing a family that was multi-cultural. One thing that was really interesting to learn from Tiya, who plays "Rooni" on the show is that her family is from Calcutta. When she originally auditioned for the role they were looking for a Persian-American. Once Zach and Matt saw her, they loved her and wanted her for the role. They changed the script to make "Rooni" from Calcutta and tapped into Tiya's parents for advice and inspiration.
Tiya shared "Well… it was originally written, she was Persian-American as the woman who she's based on is in real life. And when I got this job I thought, 'Oh, Hollywood. Guys, I can't play a Persian-American, but these guys were like, well, let's change her and let's make her you.' And then the more we all got to know each other, they had me come in and meet the writers and we had this two hour conversation about my upbringing in Texas and my parents' upbringing in Calcutta and when they [her parents] came over as grad students and their experience as Indian immigrants. And we just talked for a long time and then slowly this character evolved from who she was on paper to so closely related to who I am in real life, which I have never gotten to play before."
How amazing is that!? I loved knowing that about her character on the show!
3) Make sure you tweet TONIGHT with the cast of Alex, Inc. because the will be live tweeting during the show! Zach is very active on Twitter and loves social media, too… which is awesome because podcasting is such a trending form of social media so it really ties into his character on the show, too.
Zach said, "I do think it's great — social media is wonderful for getting your word out there about obviously projects and saying, hey, obviously if you're following me, you might like other stuff I've done. I have this new thing that you might like. And then occasionally I can't help myself but get politically, but I try and curb it a little bit."
Are you loving the 5 Things You Need To Know About ALEX, INC on ABC so far?
4) Just as Zach and Matt thought it was essential to get to know Tiya and really bring HER into the story of who she plays. They did it for the kids in the show, too. I'm telling you, the kid actors are phenomenal! They are so great and so engaging!
It was great to see Zach feels the same, "We said, let's get to know these actors. Who are these people? Let's write to who Tiya is. Let's write to who Elisha, the little boy is and Audyssie, the little girl. Elisha – he's a very, very smart young man and he actually has his GED. He's 12. Yeah. He's like a Sivan. He plays the guitar so incredibly well that we started — we wrote it in — you'll see in future episodes that he's a ridiculous guitarist. They're just very special. And she's a wonderful little actress. And I think that that's one of the really special things about the show, because, as you all know from watching as many things as I'm sure you do with children, a kid actor that's not quite right can kinda really take you out of it. And directors and producers try and edit around them, but these kids were barely editing around. I mean they're improving. They're riffing. They're amazing."
It was very endearing seeing Zach talk so highly of these young actors!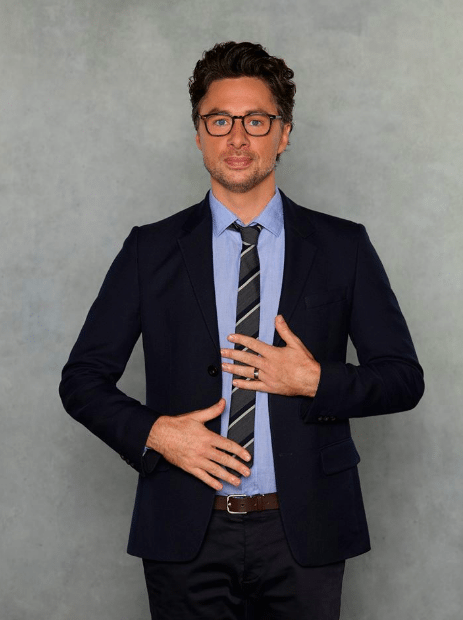 5) Very cool role reversals in this show, which I identified with immediately because it's very similar in my own life, so I loved it. You're going to really see this right out of the gate and it's superb!!!!!!!
Matt shared, "I kind of love that there is this general role reversal where, you know, there are two working parents, but it's the dad who has historically been the one that sort of handles the day-to-day parenting, you know, everyday things. And suddenly because this situation has shifted and now he's got this very demanding adventure that he's trying to embark upon, suddenly 'Rooni' is faced with PTA meetings and field trips and juggling her very demanding career that she's very successful at. But suddenly she's like, 'Oh, I have to bathe these kids before they go to bed. Huh? What?' I just love that it's flipped on its head a little bit and it's not like the normal familial dynamic that we generally see on network television."
Hope your  enjoyed 5 Things You Need To Know About ALEX, INC on ABC!!
I'm telling you, you're going to love this show!
TUNE IN TONIGHT with your family!!
Check out other ABC TV SHOWS, too!!!
Check out more about the show:
https://www.facebook.com/AlexIncABC/
https://twitter.com/AlexIncABC (#AlexInc)
https://www.instagram.com/alexinc_abc/
http://abc.go.com/shows/abc-new-shows/news/shows/untitled-zach-braff-matt-tarses-project-coming-soon-to-abc
http://www.disneyabcpress.com/abc/shows/alexinc/
Disclosure: This was a press trip with Disney/ABC. All travel expenses were covered.
5 Things You Need To Know About ALEX, INC on ABC #AlexInc
was last modified:
April 14th, 2018
by