Officially Registered Baby #5 for Kindergarten
She's my baby. She's my little one. She's baby #5 now she's OFFICIALLY signed up for Kindergarten! I knew this day was coming, so it was eye-opening to finally have it here!
Let me bring you through my morning. I had circled this day on the calendar for a full month! I knew we would go on Valentine's Day because it was the only day this week that both me and my husband could be there. We wanted to make it a special day for her! I woke up early! I did my hair and put on makeup! I put on a special outfit! I was READY!!
It's special to me because the school that Victoria is going to next year was the same school I went to for elementary school, too. I walked those exact hallways. I ate in that exact cafeteria. I played on that field during recess. It's "my" school that "my" daughter will be going to and it's really cool for me to see this happening! I LOVED that school when I was a kid, I've always had great memories from it, so I can't wait for her to begin on her own!
Because I love to chronicle and journal our lives, I captured a bit of it on video…
The funny thing is, I thought Victoria would be over-the-moon about registration. Fast fact – she wasn't. As a matter of fact, it was very uneventful for her. She walked in with us. She saw the fish on the wall. And then she kept asking when we could leave so she could get to school for her pre-school Valentine's Day party! Hey… I'm keeping it real with you ALL!! LOL!! She was very funny and adorable!!
But kindergarten… the last baby. The last one to hit these special milestones with in our family.
It's bittersweet. I will say, I'm not anxious to have more kids to repeat these things with, but I do wish time would slow down just a bit!!
But there she is… our girl!!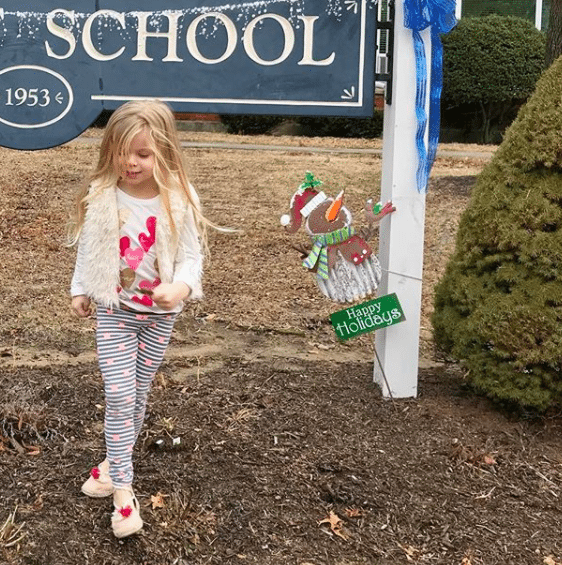 This is probably the funniest photo ever! Signed Victoria up for Kindergarten today! She's officially registered and at the same elementary school I went to, too!! I wanted to (obviously) capture the moment, so I told her to stand in front of the school sign. She wouldn't look up… so I asked her why she wasn't looking at the camera.
Her response?
"I want to be like the fashion ones you do with Daddy!" 🤣🤣🤣 I was belly laughing! So here she is looking but not looking at the camera on purpose… you know, for Instagram!
Well… here we go!!!!!
Officially Registered Baby #5 for Kindergarten! [VIDEO]
was last modified:
April 22nd, 2018
by