365 Days of Fashion Advice for Moms – are you ready for this series? I'm VERY into Mom Fashion. As a mom of 5 I know firsthand how important it is to feel beautiful inside and out. Clothing and fashion and style is a big part of it all. Mom Fashion has been something that I've been rocking and rolling for the last 13 years. It's something that I really take to the heart because I've always loved fashion and when I became a mom, my love didn't change for fashion. My budget did, but not my love and my passion for it!
Mom Fashion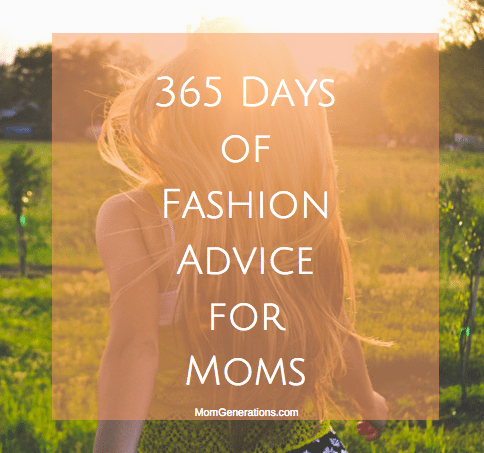 So MOM FASHION!! Are you ready? Because I'm about to tackle the nexy year full steam ahead with my love for it!!
It's a topic I'm passionate about and have been blogging about for the 10 years on MomGenerations.com. All you need to do is search "Fashion Advice for Moms" on my blog and you'll see 100's of posts throughout the years. It's something I really love because my background is in fashion. My very first job fresh out of college was working for Donna Karan in NYC. I started as her personal assistant (one of four!) and I got to see this fashion and creative genius rock the fashion world every single day. It was the coolest thing for me in the world! She is simply a fashion icon. To watch and learn from her was the best front row seat into fashion that I could have ever have gotten! She taught me how to layer. She taught me how to dress for my body. She also taught me that clothing is more than just clothing. I'll never forget hearing her say that a dress isn't just a dress on a rack, it's more than that… it makes a woman feel beautiful and confident.
That's something right there.
I'm excited to share that I am going to be amp'ing up my mom fashion advice and content on the blog throughout the year. It's something I love to talk about and dish about and give tips on to fellow moms, so I thought I would truly bring the content back as much as I could this year. In a world of Instagram (which I love, but come on.. filters are so not real!) where fashion has really exploded… let's have some fun!! Those gorgeous outfits and fashions that you see can be yours, too! The only thing different about the fashion for ME and the fashion on Instagram many times is the stylized photo. I mean… really how many times has YOUR husband captured you in the grocery store parking lot with a beautifully flowing maxi dress at sunset holding a baby and pushing a cart full of perfectly packed groceries? And if he has, more power to you mama! I'm usually chasing 5 kids to the car and hoping and praying my cart doesn't roll off while I'm getting everyone in!
I want this year of fashion to be about outfits and styles and trends. I want to talk real mom fashion here. I want to give real advice and tips. I want to share sales and discounts that are rocking the internet. I want to help you find the perfect weekend wear and work wear. I want to help you find clothing and outfits that make you feel gorgeous and beautiful and stunning and fabulous. I'm turning 40 this year… so this year is a BIG one for me! I'm all about sharing the MOM FASHION because once you hit a certain age and your kids are older and you're chasing them, but this time you're REALLY out and about with them off to activities and appointments and everything under the sun… you want to look your best. When you look your best, you feel your best. There's nothing wrong with that! When I apply that extra bronzer and toss on that lipstick, I'm feeling ready to slay the day! I want my kids to see that I care about myself and how I look because it goes beyond the vanity… it shows confidence and empowerment and love for yourself. As Donna Karan used to say… it's more than just clothing in your closet, it's pieces that will transform you.
With that being said, I'm excited to have you with me for the next 365 days!
Today's Fashion Advice for Moms?
Today is an easy one for all the moms out there.
TODAY.
FIND THAT ONE ITEM IN YOUR CLOSET THAT YOU LOVE.
You know what one I'm talking about. It's your go-to. That one item that you feel pretty in and when you head out with it on… you HOPE you bump into people!
Now stop and think for one second and answer these questions:
Why does this item make you feel that way?
What about it makes you so happy?
When did you get it? Did you buy it for yourself?
Is anything in your closet like it?
How can you bring more items LIKE THIS into your closet?
Let's kick off TODAY realizing why something makes you feel the way it does!!
JOIN ME FOR THIS AWESOME YEAR!!
Make sure you follow me on Instagram where I share my fashion all the time!!
My #1 Mom Fashion Tip?? Check out how you can try on a pair of jeans without ACTUALLY trying them on!! WHAT?? YES. It's possible! I used this trick the entire time when my kids were little! I couldn't try things on with all of them with me, so I grabbed – measured – and went! See my trick!
Mom Fashion: 365 Days of Fashion Advice for Moms
was last modified:
March 27th, 2019
by