Why You Should Volunteer with your Family this Holiday Season
I'm passionate about teaching my children about the importance of giving back. With the holidays upon us right now, many times (for kids) it's about "what they want" for the holidays, but I really want my kids to get into the mindset of "what can I do" during the holidays. This is a very important mind shift for me to bestow upon them.
Since my Grandma lived the last month of her life in a nursing home, I thought it would be meaningful for my kids to visit a local Elderly Home and see what we could do to help out and just volunteer our time. I know when I visited my Grandma when she was at her Elderly Home, many times the men and women didn't have regular visitors. I thought it would be nice to visit and chat and talk and do what we can to bring a smile on someone's face.
I'm telling you, it was one of the most impactful things we've ever done together as a family. It was actually very emotional for me to see just how much it truly meant to some of the men and women to have a simple visitor and a simple conversation.
The kids weren't too sure what to expect, but everyone was excited and geared up for a family volunteering experience!
I thought it would be nice to extend thanks to the staff, too. The men and women who work at Elderly Facilities are unsung heroes. They do so much and are so kind to the people there. I wanted to make sure we gave thanks to them, too!
And then we walked down the hallways and greeted people, wishing them Happy Holidays and finding a few people who looked like they'd be open to some visitors! I really wanted my kids to see how important it is to give someone time and attention and kindness.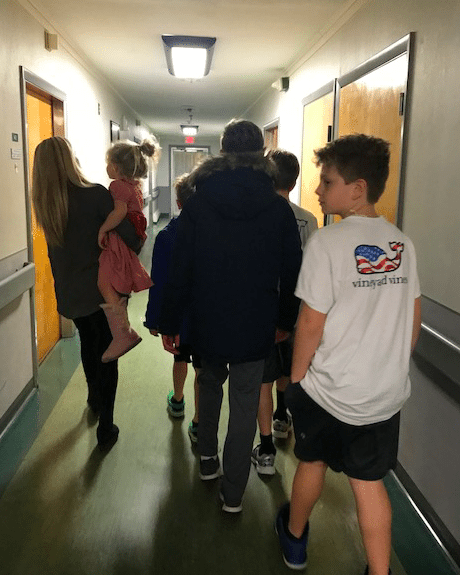 My kids saw first-hand how amazing it was and it felt to give someone time… and conversation. We stood and chatted with this wonderful lady for 20 minutes. You could tell she didn't want us to leave and it meant so much to see my kids engaging in the conversation. She kept asking them questions about their ages and sports they like and what grade they were in. Victoria even got into the mix, too!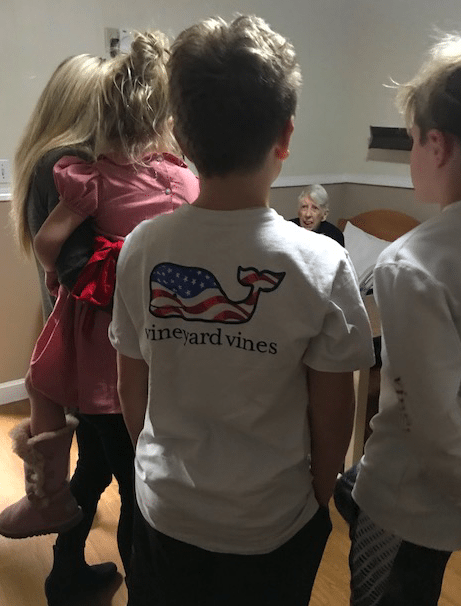 My big takeaway from this experience with my kids is that anyone and everyone can make a difference. We all hold the power within us to make a difference in someone's life. In this "small" experience of just making someone's day, I wanted them to see just how much it meant to them. It was important for me to show them this because I want them to hold this beautiful feeling and keep it there. I want them to remember how much it meant to the people we chatted with and met.
Thank you to Disney.com/BeInspired for this amazing opportunity to show my kids. You gave me the opportunity to do something special this holiday and I'm so glad that I did. It really meant the world to me to give this to my children.
This is us right before heading out… my eyes were a little blurry because I had teared up while we were there. Give your family the gift of volunteering this holiday and keep it going throughout the year! It will mean so much!
Disclosure: Partnered with Disney.com. All opinions are 100% my own.
Why You Should Volunteer with your Family this Holiday Season
was last modified:
April 23rd, 2018
by