Disclosure: I'm proud to be working with CVS Pharmacy to help spread the word about #BetterHealthMadeEasy and how to #FindYourHealthy. All opinions expressed are my own, and all product claims or program details shared should be verified at CVS.com or with the appropriate manufacturers.
The holidays are right around the corner and truthfully, I can't believe it! This really is such an exciting time, especially when you have kids! My 9 year old son has started his Christmas list and even though it's a mile long (already!), just seeing the magic of Christmas in his eyes is beyond adorable! Meanwhile, my 4-year-old daughter just keeps asking for "all the toys" and I quote! All of this means it's time for me to start looking for the best stocking stuffers for the holidays.
Putting Together My List of the Best Stocking Stuffers
It's usually right around this time of year (right before Thanksgiving) where I sit down and start making my holiday gift list. I literally just jot down every single person I need to buy a holiday gift for… from relatives and friends to coaches and teachers to neighbors and work colleagues. Usually, the list is pretty long, but it's something I love to do and I truly just cherish the gift of giving. It always gets me excited to hand someone a gift, I know many times it's unexpected and that's the part I love even more.
When it comes to finding the stocking stuffers for everyone on my list, I need to be smart. Shopping during the holidays can add up and since my list is long, it's something I definitely need to be aware of for myself. CVS Pharmacy is a wonderful shopping destination for the holidays.
They literally have something for everyone on your list!
What kind of items am I talking about? What can you expect to get?
For the fashionista in your life…
◦ Mini designer fragrances:
▪ Juicy Couture
▪ Vera Wang
▪ Jennifer Lopez
◦ Beauty must-haves:
▪ Beauty 360 makeup products & nail polishes
▪ Cosmetic bags
▪ Burt's Bees Lip Balm
▪ The Crème Shop Limited Edition Holiday Face Masks
For the coaches and babysitters and teachers…
◦ Chocolates:
▪ Hershey's Kissmas Gifts
▪ Lindt Lindor Truffles
▪ Ghirardelli Squares
For the health conscious people in your life…
◦ Healthier holiday treats:
▪ Gold Emblem/Gold Emblem Abound single serve snacks
▪ Healthier food brands including Larabar, thinkThin, Goodness Knows, EPIC Bars, That's It Bars, KIND and more
◦ Fitness must-haves:
▪ CVS Health Muscle Rub Spray
▪ CVS Health Athletic Tape
▪ Active Life Armband
▪ Mini Massager
For family and friends…
◦ Personalized Photo Gifts from CVS Photo:
▪ Mugs
▪ Ornaments
▪ Prints
▪ Phone cases
▪ Coasters
The Best Stocking Stuffers at the Best Prices with ExtraBucks at CVS
As you can see, you can easily get what you need during the busy holiday season at CVS Pharmacy, all while saving money and earning rewards through their ExtraBucks Rewards on every purchase. It's truly a win-win kind of holiday gift!
If you're not a member of the ExtraBucks Rewards program, you need to be – especially during this time of year!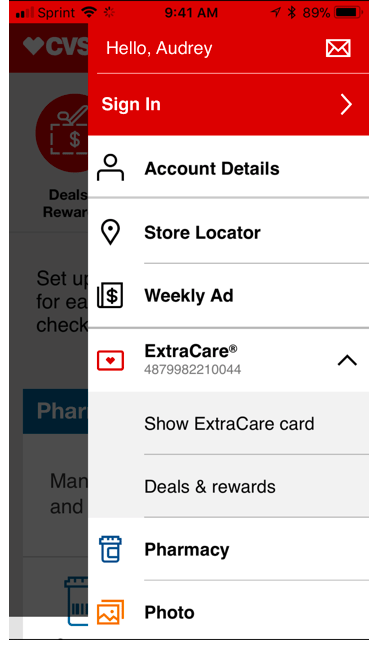 It's my "magic red card", that's what I call it to my kids! My kids are always so cute, they always ask if they can hold it up for the cashier to scan (and they also love to scan it when we first head into the store)! Being an ExtraCare member is amazing because you receive exclusive benefits including earning 2% cash back in the form of Quarterly ExtraBucks, personalized savings offers, and app-only deals. The best part is that you can also use the CVS Pharmacy mobile app to manage your ExtraCare Card, view current deals/rewards, and send the ones you love directly to your card. I love it because I don't have to dig through my purse at checkout, you can scan your ExtraCare card and pay all with your phone. It's fantastic!! You have everything accessible right to you!
I just love that I'm saving myself money on gifts that I need to buy anyway! It's a holiday gift right back to myself! Every single penny saved during the holiday adds up and for someone like me, that's a very big deal! It's important for me to shop for special gifts, but I love that I can do that while saving at the same time!
Bring on the ExtraBucks Rewards for the holidays!
Best Stocking Stuffers for Teachers, Coaches, Babysitters and Neighbors at CVS! #BetterHealthMadeEasy #FindYourHealthy
was last modified:
April 30th, 2018
by