In our family, our car is our second home. To put it simply for you – we're here, there and everywhere – every single day of the week in our car. As you can imagine, with 5 kids, we're going from school pick-up and drop-off, to swim practice and basketball practice, to bagel shops and pizza places, to flag football and soccer games, to road trips and family vacations (and beyond) and our car is truly a central part of our family because it gets us to where we need to be, together. If you're like us – you probably need to know how to shop for a car because you car needs to be your second home!
How to Shop for a Car at CarMax
I cherish the time that I'm in the car with my kids because it's precious time together. We talk. We laugh. We joke. We tell stories. We recap our days. And yes, there's even some sibling fighting! But the true beauty within this is that we're together and I love that so much. As my kids are getting older, I'm becoming more and more aware of just how special this time is to me.
It's pretty amazing, but you can truly see the evolution of a family through its car. You begin with car seats and strollers and diaper bags traveling with you… then you move to traveling a little "lighter" with lightweight strollers and totes filled with toys and books… and then you start traveling with (heavy) school backpacks and bags (and bags and bags!) filled with sports gear and equipment. Having kids that range in age from 4 to 13 years old, we're still in a mix of these different stages right now. The trunk of our car is constantly filled to the brim with THINGS!
OK – looking for How to Shop for a Car!? I've got you.
As you know, your car is an essential part of your family, so when it comes to finding the perfect one, it's important to know the exact wants and needs that will fulfill your wish list. We're currently in the process of looking for a new family car, so we've been (literally) on the hunt. We recently visited our local CarMax in Warwick, RI and were beyond impressed with the many, many selections to choose from and the wonderful and attentive customer service.
If you're not familiar with CarMax, they are the nation's largest retailer of used cars and they make it easy to find the right car for you at a price you can trust. They have over 175+ locations across the country (and growing) and they really do make it convenient to pop-in for a visit to test drive and compare a range of new or used cars, all in one place. It's a great place to go when you're looking into How to Shop for a Car!
When it comes to finding that perfect next McClelland Family Car, there are 3 things that are quickly acknowledged on my personal must-have list:
– Large enough for 8 people. With 7 people in our family, I always like to make sure I have room for an additional person, too. I don't want anyone to feel that they're being squished in like sardines. Since we do travel in the car so much, I really need to make sure it's large and comfortable for everyone.
– Plenty of storage space in the back. We have so many items that we travel with that we need to make sure everything can be stored, organized, and well, in the back.
– 4 Wheel-Drive, since we drive in all 4 seasons here in Rhode Island. I need to make sure we're safe and prepared for anything – snow, sleet, ice, rain, etc.
When we arrived at CarMax, we had a great guy named Roger work with us.
He sat us down and asked us what we were looking for and what price point we wanted to hit. He was a perfect guide for teaching us How to Shop for a Car at CarMax. By giving Roger that information, he was able to determine what they had physically on the lot that would work for our family.
There were 9 SUVs that fit the criteria we shared with Roger. 9! I couldn't believe how many! It was exciting to see that we would actually be able to see 9 different cars and really get a good gauge as to what would work for us, and what wouldn't.  I love it because I wouldn't have known how to figure out where to look.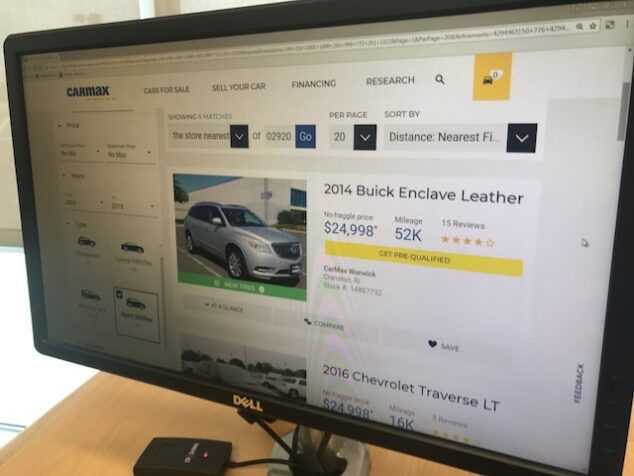 Roger took us outside and let us explore and look inside and really take our time seeing what jumped out at us. I have to say, I didn't feel pressured to make a decision on the spot or overwhelmed by over-selling at all.
Roger was wonderful and really answered any question we had, but let us figure out what would be a good fit for our family. As you can see, I was VERY concerned with trunk size! I know, with my 4 sons, we need a good amount of space.
We spent about an hour walking around, looking inside and around the SUVS and then also having a little fun exploring some more luxury vehicles that would fit our family, too.
I love that at CarMax you have the ability to see all different brands and car models. Not to mention, I was really impressed by the fact that CarMax works with YOU, too.  They make it super duper easy when you're learning How to Shop for a Car at CarMax. Whether you're looking for a Ford Fusion, Ford Expedition, Chevy Tahoe, Chevy Traverse or Suburban… they've got you covered!
They will buy your car even if you don't buy one of theirs. They have fast, free appraisals that take as little as 30 minutes, and their offer is good for seven days at any CarMax location, so you don't feel pressure on the spot to make a big decision. And – a great bonus – they will buy any car, no matter its age or condition.
When it comes to financing with CarMax, Roger explained how easy it is to do with them. CarMax believes financing should be stress-free. Their mission has always been to make buying a used car easy, and they (thank goodness) feel the same about financing.
Here's what makes financing with CarMax different and manageable:
– It's quick: most decisions come back in minutes 
or so
– It's transparent: if approved, choose the available offer that suits you best
– There are no obligations: if you can find better financing elsewhere, you have three days to change it, penalty free
– We're here for you: CarMax friendly associates can help
As you can tell, CarMax just makes it easy for YOU. Car shopping should be fun, it shouldn't be a task filled with stress and anxiety. To be honest with you, I had a ton of fun spending time at CarMax exploring and really getting a good feel as to what would be the next best option for my family. Our oldest son (someone hold me) will be driving in less than 3 years, so we are keeping in mind that our next "big" family car will eventually be his. It's kind thrilling and scary and exciting all at the same time!
We're BIG lovers of Ford and Chevy cars, so I love that I have the ability to just see these brands, too. CarMax is definitely a trip you should make with your family when you're on the hunt for your next car. We were so impressed and can't wait to make a purchase there! The price points and the options and the condition of the cars were just AMAZING!
We will be CarMax shoppers for years to come!
If you have any questions, feel free to ask in the comments below OR drop me an email: Audrey523 @mac.com.
Disclosure: This was a partnership with CarMax. All opinions are 100% my own.
How to Shop for a Car at CarMax
was last modified:
May 8th, 2019
by