Women's Winter Fashion Boots – hey hey!!! Are you ready??? It's definitely getting to be that dreaded "W" word in New England… WINTER! The temps are diving lower. The leaves are almost all off the trees. You can just smell cold in the air!As much as I'm a sun girl, I have to admit… there's something lovely about bundling up all cozy and comfy for the winter. I love bringing hats and scarves out! I love finding our warm, yummy sweaters and jackets! I love delicious sweatpants and sweatshirts! I love seeing all the different fashion aspects of winter come into play, especially FABULOUS BOOTS!
Women's Winter Fashion Boots
Here's the thing with winter boots, for my entire family I need them to and for me when it comes to Women's Winter Fashion Boots:
Be warm
Be comfortable
Stand up to COLD temps
Be the kind of boot that you don't want to take off
Is that too much to ask for?
It's not, thanks to Kamik!
Women's Winter Fashion Boots
We've long been fans of Kamik for our family and it's for a really good reason – they just have incredible products. It's as simple as that! They are constantly innovating their products with the latest technologies and materials, making them better and better for kids and adults alike.  I love and appreciate that Kamik is always on the hunt to make their footwear the best it can be, and it shows in their products. They do an incredible job at marrying fashion and comfort and fit. Kamik creates products that fit into everyone's lifestyle… and since we're always busy and always on the go, Kamik just seamlessly keeps up with our family!
We just received our latest Kamik winter boots and I'm excited to share with you what we picked and why we love them!
Women's Winter Fashion Boots
Fabulous Boots for the McClelland Ladies
Starling Boots for Me
I'll kick it off with my boots… I'm obsessed with my Starling boots. OMG – the softest, coziest, most comfortable boots ever! These are perfect for any winter condition – snow, sleet, freezing temps! What I love in particular is that they feature DriDefense waterproof membranes and a reflective NiteRays patch for after dark. With it getting dark around 4:30PM here in New England, I love having the reflective patch on my boots because I'm here, there and everywhere! But for me? It's all about comfort and these are like slipping into the most delicious slippers you've ever had in your life! I'm not kidding, I honestly have been just wearing these around the house! I love them THAT much! I can't wait for snow because I'll be ready for it! These also easily slip right over skinny jeans, adding to the fashion factor, too! After all (for me) that's important, too!
Women's Winter Fashion Boots
Even for kids – Ava Boots for Victoria
You've seen a little sneak peek of my girl Victoria, so let me talk Victoria's boots… they are Ava boots and she's in love with the PINK color! These are the cutest boots ever! Perfect for a little girl… full of style, full of color and ultra comfy! These are perfect for hanging out in a snowy schoolyard, backyard or for New Hampshire getaways throughout the winter!  These winter boots for kids keep feet warm and dry—thanks to Kamik's 100% waterproof DriDefense membranes and its foam insulation.
They're super cute, right? Doesn't matter your age – Women's Winter Fashion Boots – need to start young!!!
Fabulous Boots for the Boys
Griffon Boots for Daddy
We love having "Daddy" in some comfy, fabulous boots, too! He works so hard and he's such a great guy, so we love keeping his feet warm, cozy, comfy. He's always on his feet and he's the one shoveling and doing outside yard work and on his feet, so he needs good, solid boots. How do we do this for him? Griffon boots for the win! Whatever the weather conditions, step outside with confidence wearing Kamik's Griffon winter boots for snow. From running to catch the train to going out with your buddies for a guys' night, these warm winter boots feature seam-sealed waterproof construction and 3M™ Thinsulate™ insulation for extra warmth. How great do these look on him?
Takodalo Boots for Henry
We went with the Kamik's Takodalo boots. They are EVERYTHING! As a mom – you just want to make sure your kids are toasty and warm! These fabulous boots do JUST that for your feet and toes! Henry loved the look of these boots, which is huge when you're a 9 year old! The cool thing is that these boots are available in earthy shades and perfect for trudging and playing outside in. They're not heavy, which I like, too. I don't feel like they're weights on his shoes. These versatile winter boots for children feature seam-sealed waterproof construction to keep moisture out.
These are FABULOUS!
Griffon Boots for William and Benjamin
They chose the same boots… they both chose Griffon, just in different colors.
I love how versatile they are for the boys. They can wear with jeans, sweats or athletic pants. They really are fantastic for them! Just like for my husband, Griffon boots are warm winter boots that feature seam-sealed waterproof construction and 3M™ Thinsulate™ insulation for extra warmth. These boys are trudging through the snow, walking from the bus stop, playing with buddies outside (because they don't get cold!) and just being outside for regular things!
How great do they look? Love these smiling faces with their Kamik boots!
Takodalo Boots for Alex
Alex is my cool cat!
He chose the Kamik's Takodalo boots. He just thought they looked cool and he wanted them. I love that he's rocking them in sweats. As I said above for my son Henry, these boots are offered in earthy shades. I love it because they go with anything and everything on the fashion front! The feature seam-sealed waterproof construction to keep moisture out is KEY for me and as their mom. I love love love!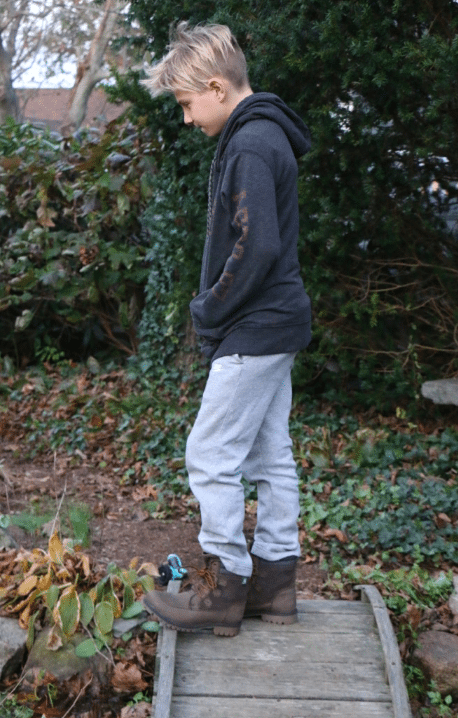 We're Ready and Set for WINTER with These Fabulous Boots
Women's Winter Fashion Boots – GRAB THEM WHILE YOU CAN!! It's the perfect time of year!!!!!!
If you're looking for some great family winter boots, check out Kamik! There's a style for everyone and the quality is AMAZING!
Disclosure: This is a sponsored posting. All opinions are 100% my own.
Women's Winter Fashion Boots
was last modified:
January 16th, 2019
by