The holiday season is almost upon us, crazy – I know! I can't believe that in 2 short months, it will be Christmas Day! I mean, it's almost impossible to process that, but it's true! In 2 months from TODAY, it will be Christmas! You know what that means, right? HOLIDAY SHOPPING IS STARTING SOON (if not already!)! I'm all about finding and getting the Dyson Supersonic Hair Dryer! There, I said it.
Dyson Supersonic Hair Dryer
Let me start from the beginning because I really am a tech freak when it comes to the holidays! I want the best gifts that are out there and I want to make sure that these gifts are worth the price and the fanfare behind them. I'm all for gifting and sharing with family and friends some of the hottest and top tech gifts for the season. I love gifting people with items that they will not only love but truly use… and truly help make their lives better, easier and more (I'm going to say it!) fabulous!
I've partnered with Best Buy to share with you some of their Top Products for the Holiday Season this year!! I'm excited to have partnered with them because I'm all about TECH gifts for my husband, myself, my parents and my kids! We're a tech-savvy family, so it makes perfect sense for me to be on top of the latest and greatest this holiday season! So what's the HOTTEST Top Tech Gift that's topping my list? Yup. Dyson Supersonic Hair Dryer! Hands down. Across the board. It's all I want and all I'm thinking about for myself.
My hair is super thick. Drying my hair is a process, it's not easy. I literally have started only washing my hair 2x a week because the drying process takes me forever! It's not like most people who can dry their hair in 15 minutes and go! Mine is so thick I need (at least) 30 minutes drying away. When I heard that the Dyson Supersonic Hair Dryer cuts down on dry time – I was ALL OVER IT.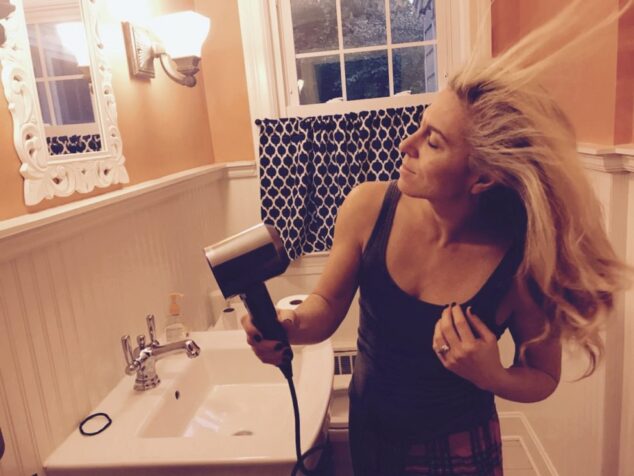 If you haven't heard about this Hair Dryer yet, you're going to be blown away (pun intended!). I know that I can write about t endlessly here, but wanted to show you a full review of the Dyson Supersonic Hair Dryer!
The Dyson Supersonic Hair Dryer in a nutshell:
A hair dryer with a high-speed, powerful, brushless digital motor for faster drying and intelligent heat control for shine. Helps prevent extreme heat damage to protect natural shine. Air temperature is measured 20 times every second, keeping the temperature under control. Drying shouldn't take forever. For fast drying you need controlled, high velocity airflow. Evenly disperses airflow to dry curls gently
and help reduce frizz. Recommended for use
on the low temperature and flow settings
Only the Dyson Supersonic hair dryer comes with magnetic attachments – so you can adjust quickly and easily. Dyson smoothing nozzle dries hair gently using smooth, wide air, allowing you to dry and style at the same time. Dyson styling concentrator – high-velocity, focused air that lets you style one section at a time – without worrying about disturbing the rest. Dyson diffuser is engineered to disperse air evenly around each of your ringlets. Simulates natural drying to help reduce frizz and improve definition.
With heat shield technology, the surfaces of the attachments stay cool. Dyson has turned convention on its head and put the motor in the handle,completely rebalancing the dryer's weight and shape. The powerful motor is tuned to produce one inaudible frequency, and it's enveloped by a vibration reduction system. 3 precise speed settings: fast drying, regular drying, and styling.
Key Features:
• Prevents extreme heat damage
• Ultra-fast drying
• Magnetic attachments
• Dyson smoothing nozzle
• Dyson styling concentrator
• Dyson diffuser
• Cool to touch
• Lightweight and balanced
• Acoustically tuned
• 3 precise speed settings
There are 3 things that POP out with Dyson's Supersonic Hair Dryer:
Why the Dyson Supersonic Hair Dryer is a Top Tech Gift This Holiday Season
1. Ultrafast Drying (as you see in my video!)
Drying shouldn't take forever. For ultrafast drying, you need controlled, high-velocity airflow. No joke, my hair usually takes about a solid 30-35 minutes to dry. My hair is long and very thick. I was shocked as to how quickly my hair dried with this dryer! It was CRAZY to see!
2. Engineered for Balance
Styling shouldn't be a pain. The Dyson Supersonic hair dryer is engineered for balance with the motor in the handle, not the head.
3. Intelligent Heat Control
Close-up styling used to be a concern. Intelligent heat control lets you dry without worrying about extreme heat damage. This is a big one for me because I definitely have fried my hair over the years with dryers. It was wonderful to see that I don't have to worry about heat damage, it's always been something I've had to keep in mind when choosing dryers in the past!
The Dyson Supersonic Hair Dryer is just an awesome Hair Dryer, there's no other way to say it! It's also lightweight and easy to control. There aren't a ton of settings that you have to study before you start it up, it's pretty much turn on and GO! I love easy, especially when it comes to my hair!
Can't say enough good things, this is a DEFINITE top tech gift for the beauty lover in your life for the holidays!! Mark this one down!!
I'm going to mention the biggest setback for people – the price is $499! Yes… it's expensive, I'm not even going to pretend it's not. I know this price point isn't for everyone, but if you're going to invest and thinking of investing – it's worth it. I will tell you right now – it's worth every single penny. I've been thrilled with mine and recommend it to everyone!
And stay tuned!!! Best Buy has identified the coolest and best tech to gift this season and I will be sharing them with you VERY SOON!!
Check out my Best Buy Dyson Demo post here!
Disclosure: This is a partnership with Best Buy. All opinions are 100% my own!
Dyson Supersonic Hair Dryer
was last modified:
March 18th, 2019
by