TODAY IS NATIONAL BRING YOUR TEDDY BEAR TO WORK DAY!! As a lover of Teddy Bears, I thought it would be fun to participate!! With the release of the movie Goodbye Christopher Robin, it holds even more of a special feeling to celebrate today! As I went off to meetings in Rhode Island, so did "Edward!"
Edward Bear Arrived for National Bring Your Teddy Bear to Work Day
If you're not familiar with Goodbye Christopher Robin – in 1921 Daphne Milne bought a teddy bear in Harrods for the 1st birthday of her son, Christopher Robin. The classic mohair bear, produced at the Farnell factory in West London, was named Edward and became young Christopher's constant companion. Following a trip to the London Zoo, Christopher decided to rename his bear after the zoo's resident black bear, Winnipeg or Winnie for short.
As you can gather… the magic of Winnie the Pooh was created from this very bear.
We were sent a replica of Edward bear, handmade by Merrythought, that Christopher Robin fell in love with and who inspired the stories that we have been delighted in for years and years.
Victoria fell in love instantly.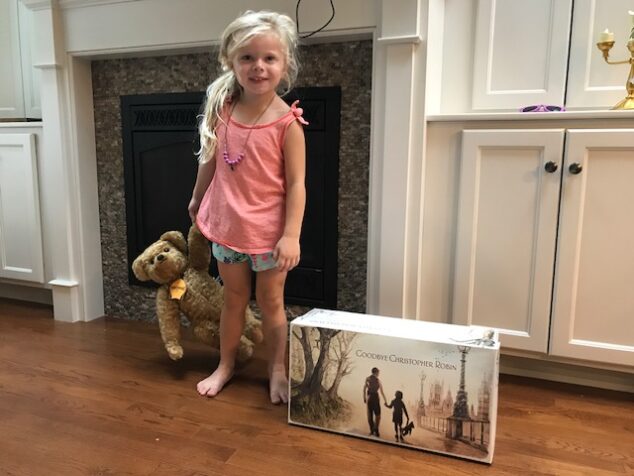 I am encouraging you to see this magical and extraordinary movie! It's beautiful and meaningful and just a wonderful tale!
National Bring Your Teddy Bear to Work Day #GoodbyeChristopherRobin
was last modified:
June 25th, 2018
by