It's SWEATER SEASON!! That means layering for the fall!
Ring the bell!
Sing from the mountaintops!!
Sprinkle glitter in the air!!
I LOVE LOVE LOVE SWEATER SEASON!! I have been waiting ALL summer to crack out some new sweaters and bring them out to play! The weather is perfect because it's not too cold and not too hot… so you have the opportunity to layer up without a jacket! I'm going to keep embracing the weather without jackets for as long as I possibly can right now!
I just put the bathing suits away and not it's time to take all of the sweaters out!!
Penny Lane Lovely Collection is Perfect for Layering for the Fall
Cabi has some GORGEOUS sweaters in their Penny Lane Lovely Collection this season and I'm GA-GA over their Short and Sweet Pullover! It's adorable and cozy and cropped, the PERFECT sweater for layering for the fall!
I love the beautiful baby blue hue, it's one of my fave colors for the fall! It's just soft and yummy and delicious!! As I got the kids ready and took off for the bus stop and then a few "mom" stops today, I loved having this layering combo on!! What's even better is that I'm layering it OVER my new fave cabi Regiment Pullover! Looks GREAT together, right?
Looks GREAT together, right?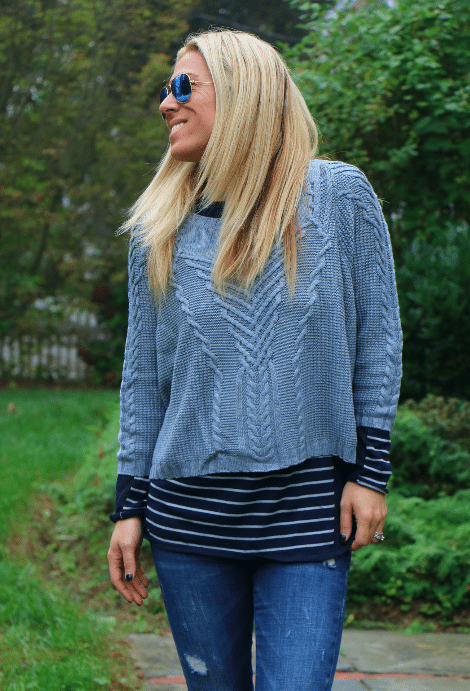 Get cozy this fall and winter season with some of cabi's latest pieces from their new COLLECTIONS!! As always, you can't go wrong with cabi! What I truly love is that their clothing is perfect for ANY woman… regardless of what your day brings, cabi has you covered (literally!). Not to mention… I always feel in style and on trend in my cabi!!
Make sure you find a stylist to help you scoop up all your FALL NEEDS!
Disclosure: Sweater sent as a gift from cabi.
Layering for the Fall #cabiClothing
was last modified:
May 23rd, 2018
by