cabi's Fall 2017 Collection, Fearless Pursuit is GORGEOUS! I mean, GORGEOUS! The new pieces are truly awe-inspiring and are infused with elegant, over-the-top details. From cropped jackets paired with leopard printed skirts, to tartan trench coats paired with printed dresses there are a variety of rich and bold statement pieces to choose from. What I love most about this Collection is that the pieces are fabulously versatile. You can dress them up and you can dress them down to fit your own personal fashion fancy!
4 Fearless Pursuit pieces GRABBED my attention this season and really were pieces that screamed (because I heard them) "AUDREY!"
What's on my MUST HAVE LIST?
I wanted to show how each piece could easily be paired with jeans. I'm a HUGE jean lover, so for me it's always about styling my outfits in different ways. I'm on the soccer field. I'm at work meetings. I'm at the grocery store with 5 kids. I wanted to show how each piece can adapt to your daily routine!
Let's kick off with the Regiment Pullover. Comfy, cozy and chic all at the same time. The Regiment Pullover is a lightweight crewneck, featuring panels of sheer fabric down each side and under the arms. Thin horizontal stripes of light gray frame the side panels to create a flattering, slimming look. With its longer hemline, this sweater looks great left loose or tucked in.
Next up I'm loving the Chill Tee. It's LITERALLY the best chill shirt EVER! Flowy and oversized for maximum comfort and on-trend style, the Chill Tee is made with a smooth baby rib and a notched high-low hem.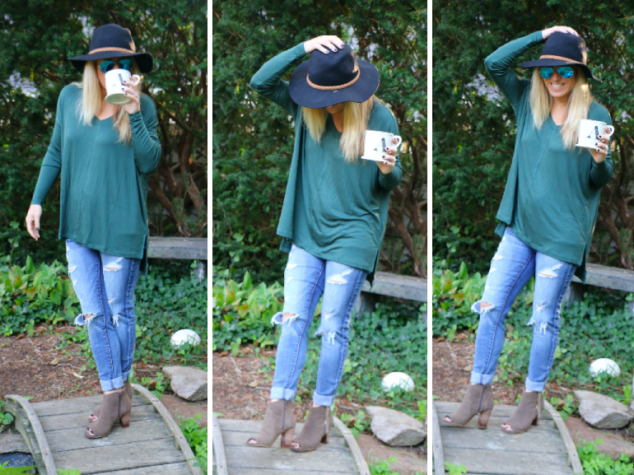 I'm loving the The Band Jacket. I'm all about bringing in a new blazer each season. I love blazers. I'm obsessed with them and this one just screams to me T! With a generous dose of rocker chic, this jacket features grosgrain bands across the chest accented by decorative metal dome buttons, hidden hook-and-eye closures, and our ponte twill fabric to keep you comfy as you make a statement.
Last up is the Pepper Cape. This is my most favorite piece of the Collection. It's everything for FALL. It's EVERYTHING. I'm obsessed with it's easy on-off and how versatile it is for the Fall! Effortlessly chic and ideal for travel, the Pepper Cape is knit with black and white yarn and edged in black fringe for a whimsical bohemian vibe. Store this drapey knit flat so it retains its shape.
You've hit it out of the ballpark with this COLLECTION!
Disclosure: Clothing was sent for review. ALL opinions are 100% my own.