Can you believe it's almost time for school? We start August 28th, so the countdown is VERY real in the McClelland household right now. This is the 1st year (ever) that my kids want and requested specific brands for their sneakers for the start of school. They want what's trending and what will stand out. They want the perfect sneakers. It's funny… I can't say I blame them! I was the exact same way when I was their ages and heading into middle school grades. It's fun for me as a fashion loving mom to see their style personalities emerge during the back to school time. Since all of my kids are BIG athletes, it only makes sense to make sure I'm getting them what they want, but also (most important) to make sure they're getting a great quality athletic sneaker.
Enter Rack Room Shoes.
The Perfect Sneakers from Rack Room
Rack Room Shoes is a go-to destination when it comes to finding trends in athletic brands for school-age children. If you've followed me for awhile now, you know Rack Room Shoes is a destination I frequent multiple times throughout the year for my kids (and myself, too!). I love that they offer all the athletic brands that we know and love, offering many different options. Right now this back to school season, athletic shoes – such as Nike Tanjun, core Adidas product, Puma and other athletic brands – are great (and on-trend) for school outfits. My guys are typically found in tees and shorts for the first few weeks of school, so the sneaker really stands out! It's a key back to school component for them (and my girl, too!).
We get super excited when it's time to grab some new sneakers for school… because if you know my kids, they never, ever sit still! They need the perfect sneakers that are going to keep them going!
Our Perfect Sneaker Picks from Rack Room
Are you ready to see what sneakers were the top picks for back to school season 2017 in the McClelland household?
The Perfect Sneakers for William
Let's kick it off with William, my oldest! He's heading into 7th grade this year – middle school! Big transition this year because we moved into a new town. William is my runner, he loves sneakers that are meant for training. He immediately chose the NIKE FLEX CONTACT sneakers. He loved the color blue, so that was easy for him… but he loved, too that these are meant for running. It's something to really keep in mind as your kids get older, they're going to need sneakers for specific needs. The NIKE FLEX CONTACT, includes a breathable mesh with exceptional comfort. Air circulates the foot easily to keep you cool and dry along with a rubber pod outsole providing flexibility and traction.
See… he's always off and running! Can't keep him still! Love this shot because this is truly his sneakers in MOTION!
The Perfect Sneakers for Alex
Next up is my Alex! He's heading into 6th grade this year! Alex is my guy who loves to buy sneakers that look good! He loves bright colors on his sneakers, so the second he saw these – he knew they were for him: BLACK AND YELLOW, his Steelers colors!!! These are the NIKE FLEX CONTACT BG and they're everything to Alex! I'm not kidding, these arrived last week and he HAS NOT TAKEN them off! These are a perfect every single day type of sneaker! Why do the NIKE FLEX CONTACT rock? Easy… You hit the pavement in style in the Nike Flex Contact boys' running shoe. It includes a breathable mesh with exceptional comfort. Air circulates the foot easily to keep him cool along with a rubber pod outsole for flexibility and traction. Highly recommend!
The Perfect Sneakers for Benjamin
My Benjamin heading into 5th grade LOVES Addidas sneakers! It's usually what he gravitates towards. He loves how they look and feel. They're the perfect sneakers for him. Ben has a wide foot, so Addidas always fit him really well, so this is always something I have to keep in mind when I'm picking him up back to school sneakers. I don't want his feet to be squished or uncomfortable! Ben's style is relaxed athletic wear and I feel like these ADIDAS NEO SE DAILY TEAM work GREAT for him! The ADIDAS NEO SE DAILY TEAM are a clean-cut classic, the SE Daily Team men's shoe by adidas looks forever fresh with its low-cut profile and authentic 3-Stripe design. The nubuck construction offers a luxurious fit.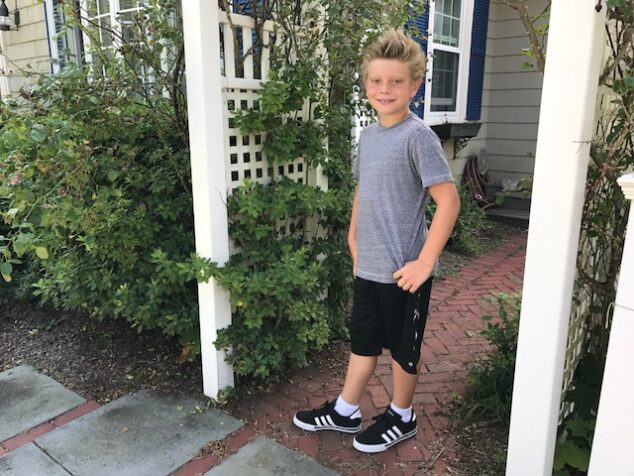 The Perfect Sneakers for Henry
My youngest son Henry is my style guy. He absolutely must have the perfect sneakers. He wants something (and I quote) "cool looking." He really loved the NIKE NIKE SB CHECK… and it's funny because I would have picked those for him, too! They are SO Henry and will be great for him to have for school! These work great because whether he's headed to the skate park or hanging out with friends, the SB Check boys' sneaker from Nike will keep him cool and comfortable. Its canvas upper is reinforced for impact protection, while a rubber outsole provides durable traction for his board. I love that these are just cool and comfortable. Can't get better than that for him! And as you can tell… Henry's been wearing these babies every single day, too!
The Perfect Sneakers for Victoria
I can't get over Victoria's sneakers! I actually let her pick what ones she liked the best and she chose (surprise, surprise!) something PINK! NIKE INFANT FLEX CONTACT were the ones for her! I love these because Victoria needs a sneaker that is going to keep her moving. She's a ball full of energy, she's never still… ever! I love that these sneakers fit her well and have great movement for her constantly moving little feet! Not to mention, they are precious as precious can be! If you're looking for a sneaker for your toddler or infant, check out NIKE INFANT FLEX CONTACT sneakers, there's a bunch of color options, too! Your little one will be just like you in the Nike Flex Contact infant sneaker. It has exceptional comfort and style with a breathable mesh upper to help circulate air. A hook and loop closure and adjustable laces provide a secure fit while she's on the go.
Everyone Found Their Perfect Sneakers from Rack Room
I love their back to school athletic sneaker choices… this year is a BIG year because they're the "new" kids, so there's nothing like feeling good in what you have on. They also will be depending on each other more than ever this year, which I love and I'm happy about as their mom. They had a ton of fun taking photos with me for this post! 🙂
Rack Room Shoes provides footwear and other school necessities to make it easy to check off all the to do items and get kids ready for the first day back!
Make sure you follow Rack Room Shoes on Facebook and Twitter for more information and update on trends and products!
Disclosure: This is a sponsored posting with Rack Room Shoes. All opinions are 100% my own.
Perfect Sneakers for School: Ready, Set, GO!
was last modified:
June 25th, 2018
by