I'm (literally) obsessed with Lands' End clothing for me and my entire family, I was THRILLED to see that Lands' End knows and understands that kids love learning so much that they oftentimes wear it. Oh, yes… from space tees to a love of animals for both boys and girls, this Back to School season kids can wear a love of learning back to class.
I'm in love with Lands' End Limited Edition Graphic Tees for kids, so much so that I had my kids get into the spirit today and show off their favorite ones! As you can imagine with the McClelland 5, it's not always easy to get those perfect shots of everyone smiling… we like to keep it real! Kids are always in motion, as are my kids!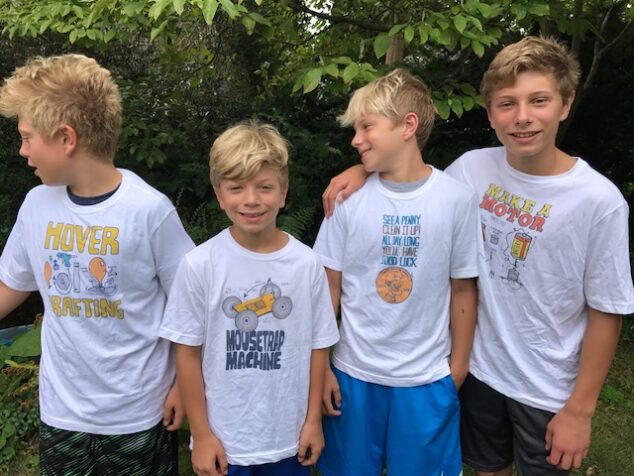 It was cute seeing them read each other's tees and see what was on them! It's funny because each tee fit their personality to a T (pun intended!).
Great tees, right?
My William…
My Alex…
My Ben…
My Henry…
In addition, each week a limited edition graphic tee will be introduced to coordinate with that week's science experiment… and this week it's all about FLOWER POWER!!
You gotta love some Flower Power! How cute is this tee, right? As I said, this is the Lands' End Exclusive Love Learning Tee of the Week! Only $17.50! There are so many other options, too!
Lands' End helped kids develop their knowledge this summer in a range of fields – from STEM hotspots to literature, fine arts, and simply having fun – with their Love Learning Campaign. Every Thursday this summer parents were able to check out some fun, informative and interactive ways to help their kids explore and learn. It was SO MUCH FUN to do this with the kids!
Check out: https://www.landsend.com/lovelearning/
Disclosure: I have partnered with Lands' End this summer for their Back to School program. All opinions are 100% my own.
Lands' End Limited Edition Graphic Tees #LoveLearning #LandsEndKids
was last modified:
August 23rd, 2017
by