Moving this summer was a major life decision for our family. It was something we've been talking about and mulling about since William was entering 1st grade (he's now entering 7th!). It's always been there in the back of our minds, but something we just never pulled the trigger on because of "something" else going on in our lives at the time. This past May something inside of me just pulled me to do something and so… well, we did!
We moved this summer into the same town that I grew up in. I love it here. I've always truly loved it here. It's funny, after I graduated from high school all I wanted to do was leave. Now being a mother, all I want to do is stay. I moved into this town when I was 6 months old. I went into the public school system in kindergarten and stayed through 12th grade. I LOVED the schools here, they were exceptional and pushed me on my way into the world… preparing me and prepping me for anything. There's comfort in being with the same kids from kindergarten through 12th grade. It's something I wanted for my kids, but the reality is… it's just not going to happen for them.
My BIGGEST concern about moving was the transition for my kids. They're my top priority and I knew that if we moved to a new town, they'd be the new kid.
New Kid. Or well, in our case… new kids.
I've been nervous all summer about it for them. I joined a local pool club right next to our town this summer with the hope that they'd meet some kids in their respective grades. I was thrilled to see that each of them met kids who they'd be going to school with, there's comfort in a familiar face in a sea of new kids. It was a good move for us to do that and really made me see that my kids will adapt and transition because they have to. They can't sit on the sidelines. They can't not go to school.
With school starting soon, we've begun the Orientation circuit for new kids. It's been good being able to get into the schools and walk my kids through them. I went to the SAME middle school as my 2 older guys, so it was really cool walking through and seeing that not much has changed (at all!). I think they were sick and tired of hearing me say, "Oh… there was my locker!"… "Oh, that was my science class!" I was proud of them navigating through and asking questions and looking excited. I was never the "new" kid, so this is an adventure and journey that I'm not able to help them with and that's tough. I want to be there on the 1st day of school making sure they get to class. I want to be there on the 1st day of school making sure kids play with them at recess. I want to be there on the 1st day of school making sure they aren't eating lunch alone. These things definitely are running through my head, but I just have to know and hope that they'll be OK.
Yesterday with the middle school orientation, Alex was assigned his very 1st locker. This is a BIG moment in his life… his very own LOCKER! I love that the school has a locker day where you can go and practice to make sure you can actually open it! I was really proud of my Alex taking the ropes and making it work. He was determined to get the locker quickly (and he did!), but also it was cool seeing him get acclimated to his new surroundings. This is important to me, so it was great seeing him show me where his classes would be and his homeroom.
Fortunately my guys had a GREAT time at their Orientation, it was so much fun to see them excited and not nervous!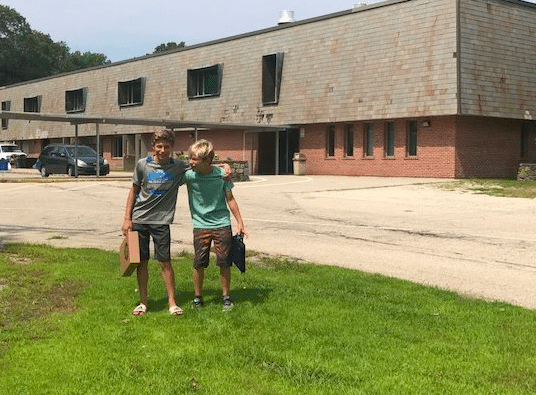 So yes… my kids will ALL be the new kids this year.
I'm praying all goes well.
I know that at this time next week, I won't be as nervous because the unknown won't be as unknown.
Being the NEW Kids
was last modified:
August 22nd, 2017
by