It's FASHION FRIDAY! I'm going to be honest with you, for years and years (and years) I haven't purchased long dresses for myself because I'm only 5 feet. I've been worried that I would just look silly or "lost" in anything too long on me. As much as I loved different styles throughout the years, I stayed away. I'm not usually a maxi girl, but I couldn't turn away from this gorgeous J. Crew Maxi Dress. The second I saw this J. Crew Maxi Dress I knew that it needed to be mine (and mine forever!).
Stay away from maxi dresses? Well… not anymore. I'm done staying away from clothing that I love. This past spring I started buying longer dresses and bringing them right into my closet. Best. Thing. Ever.
Who cares that I'm only 5 feet?
Who cares that I'm not tall? Anyone can make something work when it comes to fashion, especially if you love it.
J. Crew Maxi Dress
When I saw this gorgeous J. Crew Maxi Dress   last week, I knew I had to have it. Granted – I need to wear it with extra tall heels, but still – it's worth it!
I'm obsessed with the colors, the striped print and the lightweight fabric. And then that ribbon belt? In fashion love.
Details on this score from J. Crew Maxi Dress?
This pretty maxi dress is the perfect pick for all of your summer plans. Plus, the tie at the waist makes it extra flattering. It's one of those dresses that just makes you feel pretty and gorgeous and summer ready. I can't believe that I was edging away from this J. Crew Maxi Dress for so long! I'm obsessed with it and will never be scared to rock a long dress again!
What makes it awesome?
Cotton.
Machine wash.
Import.
(And you read that correctly – MACHINE WASH.)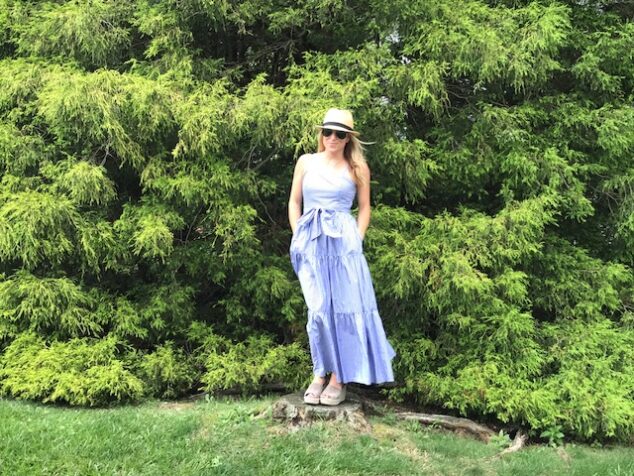 How adorable is this!? I'm just gushing Gushing like you can't believe!
See more dresses at J.Crew (my dress love).
Now check out me POPPING SOME PINK!
J. Crew Maxi Dress
was last modified:
February 8th, 2019
by