Are you ready for some FUN NEW things happening at Disney World this summer? If you're a Disney lover, you're going to want to book a trip ASAP! I was so excited hearing what Disney World had in store for the summer of 2017! There's so many cool things that they have planned for families! Disney World really is the most magical place on EARTH!!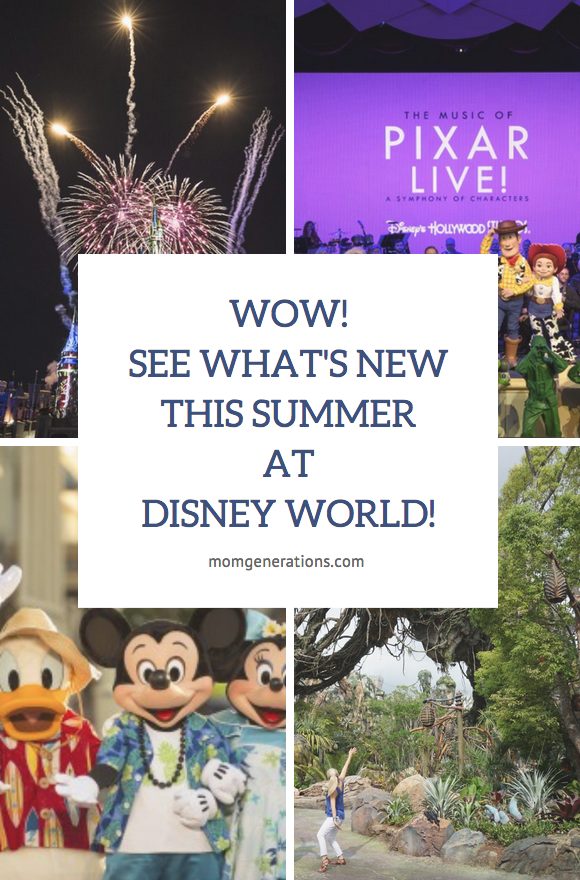 While at Disney World for the opening of Pandora at Animal Kingdom, we also had the opportunity to head over to Hollywood Studios to see what Disney World had ready for the SUMMER!! To make it even more fun, we filmed it on Facebook Live (which I'm attaching below!) – but I will outline everything, too!
First up, "The Music of Pixar Live! – A Symphony of Characters" at Disney's Hollywood Studios. We got to see the Show LIVE and it was spectacular, perfect for families! I know my kids are going to ABSOLUTELY LOVE IT!
WDWNews.com shared some info on it which I'm excited to highlight:
From the moment arriving guests are greeted by Green Army Men until the closing finale of You've Got a Friend in Me, in which the audience is encouraged to sing along, it's a Pixar celebration like no other. Throughout the show, beloved Pixar characters add moments of comedy and fun before their featured segment. As an example, Mike and Sulley take the stage to collect laughs as Mike tries stand-up before the "Monsters, Inc." segment comes on-screen. Woody, Jessie and Buzz Lightyear unwrap the "Toy Story" segment and "Up" is fronted by a special appearance of Carl Fredricksen and Dug. Can't forget Dory (though she might!) – appearing before the "Finding Nemo" and "Finding Dory" segment. Showtimes will vary for "The Music of Pixar Live!
Next up, Happily Ever After! I got to see the show on May 23rd (my birthday) and I was mesmerized! It actually made me tear up, it was that kind of extraordinary! If you're a Disney lover, this will give you goosebumps! My daughter didn't stop staring throughout the 18-minute show!
Ready for his news from WDWNEws.com about "Happily Ever After"??
The 18-minute spectacle features moments from classic Disney films such as "The Little Mermaid" and "Aladdin" to modern blockbusters "Moana" and "Zootopia." Cinderella Castle becomes part of the story itself, with dazzling projections bringing heartfelt Disney stories to life on and around the iconic 18-story-tall castle. Quasimodo from "Hunchback of Notre Dame" swings from the turrets. Woody and his pals from Disney•Pixar's "Toy Story" recreate the castle entirely out of toys. And Maleficent from "Sleeping Beauty" envelops the castle in her signature green flames. The story begins with scenes of fantastic dreams full of hope, wonder, magic and light. Disney villains soon become part of the story, attempting to quash those beautiful dreams and forcing the heroes to fight for what they believe in. Overcoming their fears, the heroes triumph and are celebrated with spectacular fireworks. Characters and scenes from more than 25 Disney films are featured through state-of-the-art projections, enhanced by more than 50 choreographed spotlights, brilliant lasers and plenty of awe-inspiring fireworks. Paired with an emotional score, the new spectacular drives the message home that anyone can grab hold of their dreams and make them come true as long as they are brave enough to listen to what guides them and bold enough to pursue their destiny. The score for "Happily Ever After" was recorded by a 75-piece orchestra in London and includes tunes from a multitude of Disney movies, including "Aladdin," "Brave," "Tarzan," "The Lion King," and "The Princess and the Frog."
Pretty amazing, right?
Enjoy these 2 incredible additions, not to mention the FULL Pandora EXPERIENCE!
Disclosure: Press trip. All opinions are 100% my own.
Save
What's New this Summer at Disney World #SummerHappenings
was last modified:
June 3rd, 2017
by