My sons have LOVED Ben 10 for years! It's always been a joke in our family that eventually our Ben would be 10 years old and be… (drum roll!) actually Ben 10! Well – it happened this year! My Ben turned 10, so he is actually Ben 10!
If you're not familiar with the Cartoon Network show Ben 10, it's pretty cool for kids. It's about a young boy (Ben) who has the power to change into 10 different alien heroes. What's so cool about the show is that it really does keep kids tuned in and watching because you never know who Ben will change into! It's awesome to see that Cartoon Network just started a fresh take on the beloved series that my sons have loved for years and years. Cartoon Network's new series is now centered around fun loving, 10-year-old, Ben Tennyson, his cousin Gwen and Grandpa Max as they travel the country during summer vacation. Once Ben finds the Omnitrix, a mysterious watch that transforms him into 10 different heroic aliens, a world of extraterrestrial superpowers opens up to him.
In a nutshell, my sons are kind of obsessed with the show and I love the new take on the season!
As you can imagine, I was excited when Playmates Toys reached out to me regarding the company's new Ben 10 toy line. The toy line is inspired by Cartoon Network's fresh take on the beloved Ben 10 animated series, which premiered in April 2017. When the toys arrived, my Ben was THRILLED!
He's pretty happy right now! 🙂
The toy line features:
Action Figures: The highly detailed and articulated basic action figure assortment features Ben Tennyson, the 10 different heroic aliens that he transforms into and key villains. Also included are "Power Up" Figures and Giant 10-inch Figures.
Vehicle & Playsets: The Rustbucket Vehicle & Playset is a vehicle that transforms into a giant 3-level playset that stands over 2 feet tall and is packed with action features including an alien transformation chamber, plasma blaster, alien lab and more.
Role Play: With the basic and deluxe Omnitrix, kids can transform into any one of Ben's 10 aliens.
The best was seeing my Ben 10 play with the toys!
His favorite?
The BEN 10 Rustbucket Vehicle Playset. It's the center of our Ben 10 toy line in our living room! Ben set it up easily (which I love how user-friendly it was for him to do on his own) and immediately started setting up his action figures in it with his little sister watching! The Rustbucket Vehicle Playset is awesome! The van literally transform into a 3-level playset that's over 2 feet tall! It's truly a showpiece of the toy line and is fabulous to have for your kids to play with at home!
Features:
The Rustbucket is a 2-in-1 vehicle that transforms into a giant 3-level playset standing over 2 feet tall!
Packed with action features, kids can create their own adventures with all of the Ben 10 Basic Figures!
Features include an alien transformation chamber, plasma blaster, "alien-vator", grabbing claw, alien lab and more!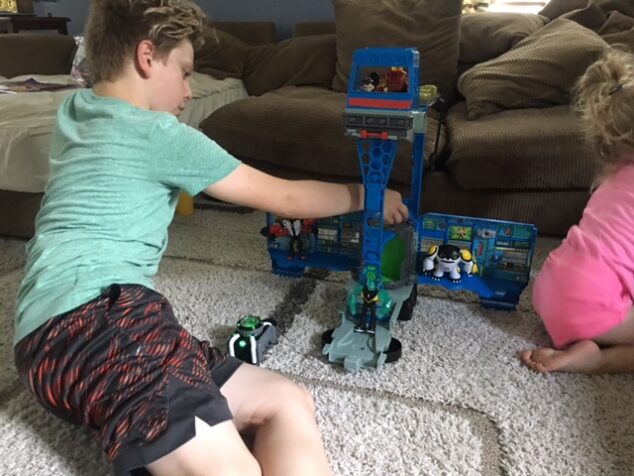 Pretty cool, right?
Well… check out the Ben 10 Role Play – Basic Omnitrix!
What's so cool about this toy?
The Omnitrix may look like just a cool watch, but the minute Ben discovers this device from another galaxy, his world changes forever! That's because the Omnitrix has the power to transform him into 10 different Alien Heroes, each with their own special powers. Ben just dials in the Alien he needs to get the job done and slams down on the Omnitrix to activate it. And once Ben activates the Omnitrix – It's Hero Time!
The Basic Omnitrix has 40 plus Alien Phrases and SFX! Use the power of the Omnitrix to transform into 1 of 10 aliens!
It's absolutely AWESOME!!
And then… of course, you can't play without action figures!
You'll be covered on this Ben 10 front!
You definitely need the core people… Ben & Grey Matter!
Ben uses the power of the Omnitrix to help others and stop the bad guys… but isn't above a little superpowered mischief now and then!
Grey Matter is small in stature but huge in intellect! This slimy alien is stronger than he looks. Grey Matter proves that sometimes brains really do beat brawn!
Highly detailed, uniquely sculpted and fully articulated action figure with 12 points of articulation!
Figures range in height from 4 inches to 5 inches
Say hello to… Four Arms.
He's super strong! Four Arms can lift the heaviest objects and packs the most powerful punches. He creates shockwaves by clapping all four hands together and uses his brute strength to solve any problems!
And then there's Diamondhead!
Diamondhead can transform his body into diamond weapons such as swords and shields. He can also fire crystal shards from his hands and resist attacks with his sturdy crystal chest. Guess diamonds really are the hardest substance in the universe!
Heatblast.
The master of all things scorchio! Heatblast can generate intense heat and fire and uses flaming punches to defeat his enemies. Heatblast's favorite attack is throwing balls of fire from his hands to light up the bad guys!
And last…   Cannonbolt.
The big guy! Cannonbolt can curl himself up into an unstoppable, nearly invulnerable sphere. Like a life-sized pinball, he can ricochet off surfaces and knock down his enemies at super speeds! He has no trouble getting moving, but sometimes he has trouble stopping!
My Ben played for hours with these toys! I'm telling you, if your kids are Ben 10 fans, they're going to love this toy line! It's perfect for summer play!
The collection of toys are available at Toys"R"Us® stores now (rolled out early June) and at additional retailers beginning in August.
Disclosure: Toys sent for review.
The Latest Ben 10 Toys Your Kids Will LOVE #MyOwnBenIs10
was last modified:
June 11th, 2017
by