This post is in partnership with Warner Bros. Pictures
I'm beyond excited for the movie The House to come out on June 30th starring Will Ferrell and Amy Poehler. First off, they're 2 of my favorite comedians and second… the movie just looks HILARIOUS! Will Ferrell and Amy Poehler play Scott and Kate Johansen and the premise of the movie is that they lose their daughter's college fund. They become desperate to earn it back, so with the help of their neighbor they decide to start an illegal casino in his house. I mean, you would do the same thing, right!? LOL!! This movie just looks laugh out loud kind of funny and I can't wait to see it!
Let's face it, once you're a parent, it's only natural to have a moment (or moments) when you've gone completely and utterly overboard for your kids. I'm talking the kind of overboard where you are *slightly* embarrassed to tell other people what you're doing or what you did (or you don't tell them at all!). I've been there NUMEROUS times for my kids only because I truly want to support their dreams and wishes and I'll do anything I can to make it happen (that's humanely possible).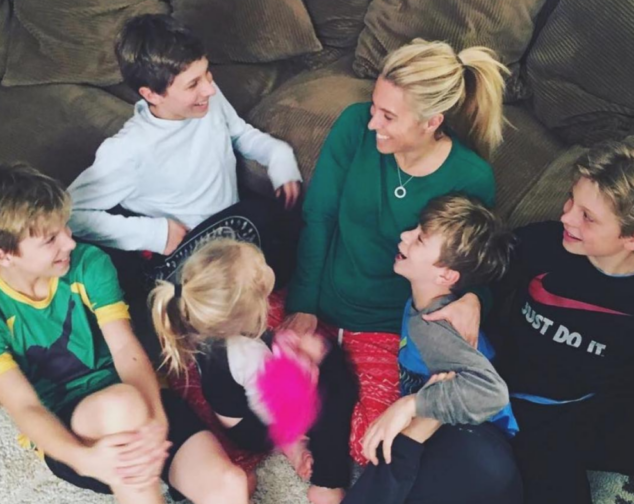 It got me thinking about things that I'm doing now that are crazily overboard… and all I could think about was our swim commute every single day.
If you follow me… you know that my kids are big athletes, specifically into swimming. They BEGGED us 2 years ago to join a swim team that is about 20 miles away from our house. Now 20 miles doesn't seem so bad, right? Yeah, it isn't when you're not rushing to get there during the evening commute.
There's nothing I hate more in this world than traffic. I get claustrophobic. I get irritable. I get nervous. And I get (so my kids say it) a little "mean!" LOL! OK… I'll admit it, I've even been known to shed a few tears and totally pull a "housewives" drama queen act! I just can't with the traffic!! I just hate sitting there and it's something that (literally) occurs 3 days a week!!
But I do it. I do it because my kids want to swim for this swim team, even though there's one less than 5 minutes away from our house! I do it because my sons love the coaches, the swimmers and the facility. I do it because they don't want to swim for anyone else. I do it because they're my kids and I love them with all my heart… and I'll do anything for them.
I'll do it… even leave my house at 4:30PM when practice doesn't start till 6PM, just to ensure we'll get there on time. Even though we don't walk back into the house till 8:15PM… I'll do it.
And let me add one more thing… there's NO WIFI ON THE POOL DECK. So yes, kill me now!! For a girl like me, it's usually a line in the sand, but for my kids… I'll sit and (gasp) read or talk to other parents! LOL!
So… I'm excited to see the movie The House because I feel like I get the premise of the movie. I feel like if I lost my kids college tuition, I would do just about anything to get it back, too! You start early doing crazy things for your kids and I love that this movie makes it look (dare I say it) normal!
The comedy "The House" also stars Nick Kroll ("Vacation," TV's "Kroll Show"), Allison Tolman (TV's "Fargo"), Michaela Watkins (TV's "Transparent"), Ryan Simpkins ("Arcadia"), Jessie Ennis (TV's "Veep" and "Better Call Saul"), Rob Huebel ("Horrible Bosses 2," TV's "Transparent"), Cedric Yarbrough (TV's "Reno 911!") and Oscar nominee Jeremy Renner ("The Town," "The Hurt Locker," "Arrival"). We're talking top notch here!! I can't wait!!
Anyone else excited for June 30th?? (And bonus… that's my 16th year wedding anniversary, too!)
The CRAZY Things We Do for Our Kids (Because We Love Them!)
was last modified:
June 30th, 2017
by