Have you ever wondered what to wear to work today? I'm all about sharing some What to Wear content with you! Since a majority of work, the one question I get all the time is about work wear. Every woman needs 5 Easy Work Outfits in her closet. She needs to know she can rely on 5 easy look in the matter of minutes. I'm all about making it work the easiest and best way possible! Work wear is different than "play" wear. Different styles and looks for different occasions. I'm all about dressing for the part, especially in business.
What to Wear to Work Today

I wanted to curate 5 outfits that are easy to toss on for work if you wake up wondering what to wear to work today. As you'll be able to tell, I wanted to take a fashionable approach, too. I love adding feminine and elegant touches to my outfits and styles. I'm all about taking key pieces that mixing them with trendier, stylish items, too. Since color is also a big thing for me this spring and summer, I wanted to add flairs of colors in here and there – that was important to me, too.
As always when it comes to fashion, I'm also aware that certain styles won't be appropriate for everyone and their profession of choice. I know for a lawyer, some of these looks won't be good for work. Just tweak and work them the best that you can for your profession of choice. Since I'm a entrepreneur, I can tailor my looks and styles for meetings, trips, video projects and photo shoots. Or – I can just wear jammies all day sometimes! LOL! I prefer not to wear jammies all day and everyday.
I love sharing looks for working moms because it's something that we can have fun with on the fashion front. It's super easy to look and feel fabulous. What to wear to work today is something that everyone needs to ask themselves when they wake up in the morning. You can't go to work naked! You need to wear something! It's not always easy peasy for people, so it's great to have ideas in mind! You just finding the right outfit that will work the best for you! I'm super excited to share these with you!
What to Wear to Work Today. Are you ready!? Here are my 5 Easy Work Outfits! I'm excited to give you an inside look at what I would wear to work. I hope you can find some inspiration from what I share today!
Enjoy my looks, I have 5 of them curated here for you – What to Wear – 5 Easy Work Outfits
Look #1 – I like this look because it's colorful and bright! If you aren't in love with your job, this might be fun because it adds some living color to your day! I also like a beaded camisole. I like being able to dress something up under a classic blazer.
Look #2: I love this look because it's simple. The tunic is easy because it's a fun longer layer. I love that it's something that anyone can wear. I love that it's elegant looking and also classic. I love that there's also some colorful jewelry to add to the look, too!
Look #3: Anyone like a blouse with a bow!? This is the perfect elegant top to wear to work. I love a pair of white pants, too. They are crisp and classic and timeless. I love that this blouse is something that really works with your look. I think that pale blue is a perfect color for work. I think it's professional, yet fun at the same time. It's the kind of look that I feel you pull together super quick!
Look #4: Ever dress up shorts for work? If you CAN, this is a way to make it work. I love a linen pair of shorts because they are super classic. I feel that if you're going to do shorts, you need to make sure you have a scallop edge or a cuffed edge. I know that these give off more of a professional look, not just a day at the beach.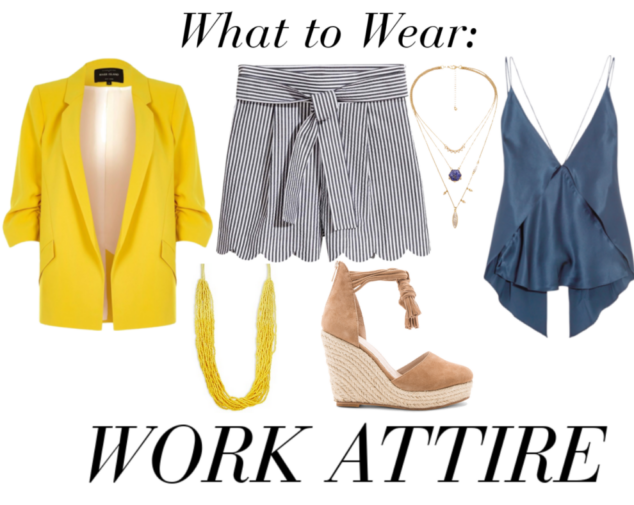 Look #5: I love a good bow (as you can tell). Look at how adorable this blouse is too! You can easily wear this blouse to work. I feel like it's the best way to combine fun and style at work. I know this sounds silly, but why can't you actually have some fashion fun and flair at work? you CAN!!!
What look did you like the best?
What look works for you the best?
What colors and patterns do you love the best?
How often do you replenish your work clothing?
Love all of this!!!
See my other What to Wear styles, too!! What to Wear Running, What to Wear to a Spray Tan, What to Wear to a Baby Shower,  What to Wear Skiing, What to Wear in 60 Degree Weather.
If you're looking to shop for work clothing, check out ZARA, ASOS and J.Crew.
What to Wear to Work Today
was last modified:
September 9th, 2019
by