Ready for the Ultimate Sidewalk Chalk Guide!? I love having my kids outside having some fun. I'm so sick and tired of my kids JUST wanting to play in front of the TV or the computer. They really want to be doing things all the time, so with the weather hotter and warmer I'm ALL about getting them outside to play. There's nothing sweeter than the sound of the kids outside having a great time and just being in the moment and loving the outside air with some super duper fun! I love seeing them get so excited and involved in things, too! I also know that not all kids are into sports, so it's always great to have some fun projects on hand for them!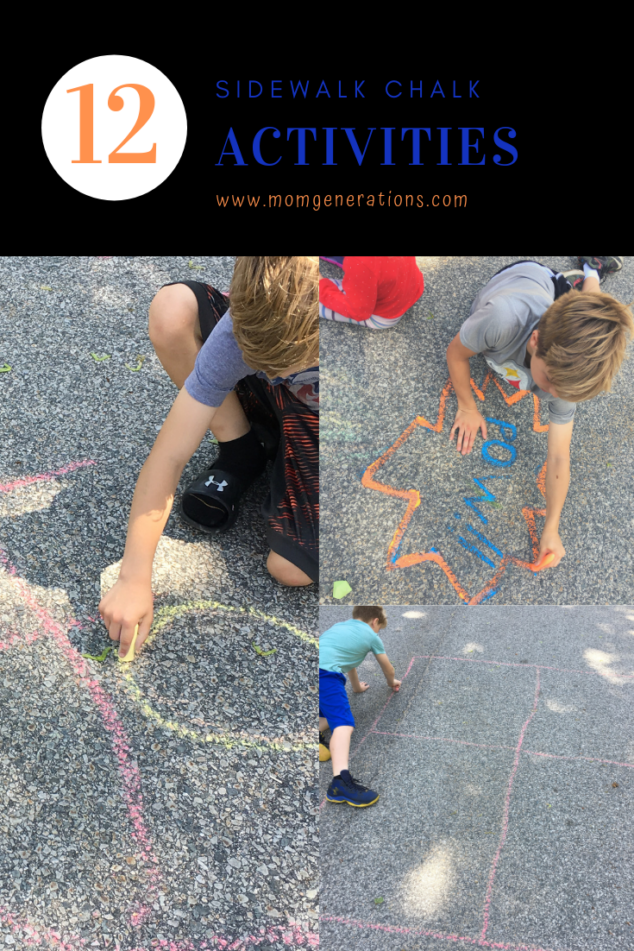 I put my kids to the challenge this morning! I told them to create as many things as they could with sidewalk chalk that Yoobi sent us. I thought they'd do maybe 2 or 3 things, but they kept coming up with some cool and fun ideas! It got me excited to see them outside working together and laughing and having a great time! It truly filled my soul right on up!
With Memorial Day Weekend here, summer has OFFICIALLY begun! Woohoo! I've been waiting ALL year for summer! I love the weather in the summer, it's so gorgeous here in Rhode Island. I love being outside with the kids as much as possible, it's important for me to have them run, play and just be kids outdoors! When I was a kid I was outside ALL the time. It was one of those summer things!
I love finding cool toys and products that capture my kids attention and keep them creatively busy! Yoobi Sidewalk Chalk is awesome! They sent as a box full of goodies that put a HUGE smile on their faces! I mean… chalk shaped like popsicles and donuts?? It can't get much better than that, right!? It was so cute to see them get so excited about the chalk goodies!
What I love extra extra about Yoobi is that for every Yoobi item purchased, Yoobi donates an item to a classroom in need right here in the U.S.! As a mom who values education, this is incredible to me. I love how they give back and continuously pay it forward to kids. HUGE bravo! This spirit of giving is exactly what we need more of in the world today!
So… when the Yoobi Challenge for my kids – WHAT CAN YOU CREATE OUTSIDE WITH SIDEWALK CHALK???
Ready to see what they all came up with!!??
Alex drew a 1.2 basketball court for himself! He kept trying to hit the 3 pointers! Loved this, he played all morning once he created it and got his brothers involved, too!
2. Stencil time! I loved how Yoobi had chalk stencils, too! So creative and so easy for kids to use!
3. Fun sayings all over the driveway! Alex drew POW!! And he added some extra fun around it, too!
4. Paint chalk! Nothing like creating some cute creations! I loved seeing Ben create a rainbow for Victoria!
5. Tic-Tac-Toe! The best ALWAYS! Henry was playing with Victoria and letting her win!
6. Chalk hurdles! Jumping time! They loved this, the competitions started ASAP between brothers!
7. State Drawings! Who could create Rhode Island the best?
8. NAMES! It's ALWAYS fun to personalize your street!
HELLO MCCLELLAND BOYS!
9. Race Track!
Oh, yes! Race tracks were created and used! LOL!
10. 4 Squares! One of their fave games to play!
11. Body Tracing! This is Henry dabbing (yellow) and Victoria wanted her ponytail traced (green).
12. Hopscotch!
An oldie, but a goodie!
As you can tell, he had a ton of fun this morning! Bring some CHALK into your life and create some cool things outside! Thank you Yoobi for the wonderful summer activity for my kids!
The line is available in Target stores nationwide and on Yoobi.com.
If you're looking for other activities to do in the summer with your kids, here are some of my suggestions:
101 Summer Activities for Kids
Fun Things to Do in the Summer
Summer Happenings at Disney Springs
Disclosure: Sidewalk Chalk was sent from Yoobi.
Save
Save
Sidewalk Chalk Guide: 12 Things to Create this Summer
was last modified:
May 14th, 2019
by