Are you ready to hear about Samsung's Family Hub Refrigerator?
It's everything and then some. Truly.
I've always said that my kitchen is the heart of my home.
It's where we gather. It's where we eat. It's where we entertain. It's where we do homework. It's where I work (a majority of the time). It's truly, as I said… the heart.
Ever since we moved into our home 11 years ago, we've loved bringing in appliances and products to our kitchen that make our lives easier. We're a busy family of 7, so anyway that we can make our lives easier and more convenient, we're all over it.
I recently partnered with Best Buy to review their Samsung Family Hub Refrigerator, I had heard about this fridge online and couldn't wait to get it home and really dive in! The Samsung Family Hub is a revolutionary new refrigerator with a Wifi enabled touchscreen that lets you manage your groceries, connect with your family and entertain like never before. Our refrigerator really is the hub of our kitchen, it's an appliance we use multiple times and one that we rely on. To say that I was thrilled to be able to review this is an understatement!
The incredible thing about Samsung's Family Hub Refrigerator is that it goes beyond just keeping your food and beverages safe for consumption… it (literally) helps run your home. We got ours installed the 1st week of May and we've been enjoying it and really diving in throughout the last couple of weeks. Whenever I receive something to review for my family, I love seeing everyone use the product and really get an idea of how and why it works for us. The Samsung Family Hub Refrigerator was welcomed into our home with arms wide open from the start! It was actually funny, when the boys came home from school the first day and saw it in our kitchen, they asked couldn't get over the (as they called it) "gigantic iPad" on the door! It was incredible for them to see it!
So what cool features does the Samsung Family Hub Refrigerator offer?
It's pretty extraordinary, so I'm going to run through the different features that we love and explain why it works well for our family.
First, you get unbelievable Food Management. You can create shopping lists and see what's inside your fridge from anywhere with 3 built-in cameras. It's absolutely incredible. I can be at the market and check back at home to see if we have enough milk or eggs or butter or anything!
How amazing is that!? There's also a way to set expiration notifications to make sure everything is fresh, this is HUGE for us because our fridge is always full, so this way we aren't missing any dates where food is about to go bad. This is a great way for us to save money, too – we're not tossing away food that we're not using!
Second, a wonderful way to keep the Family Connected.  We have 5 kids with 5 different schedules and agendas. Each one has important school dates and swim meets and – well, just about anything that they have on their plate! Then toss in my work schedule and my husband's, too! To say we're busy is an understatement!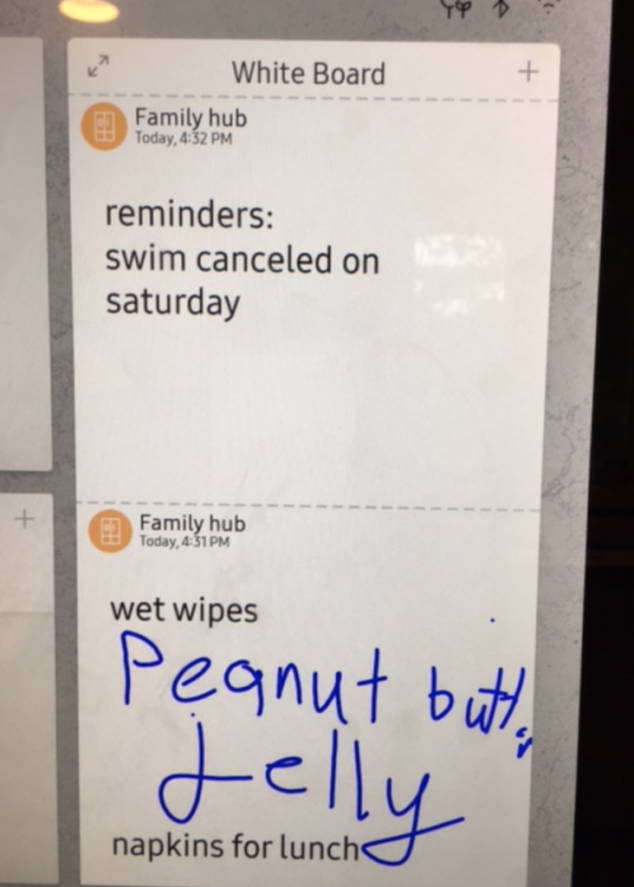 We have the ability to  share multiple calendars, photos , notes and memos right through the Samsung Family Hub Refrigerator! Talk about game changer for busy families with busy lifestyles! Everything is right there! As I'm getting milk in the morning, I can easily see what's on the daily agenda! I love this so much because it has been keeping everything streamlined for us in the mornings and at night.
Not to mention the kids know what's going on, too! There's no guessing or wondering when mom's going away or when dad needs to work out of town! You can create up to 6 character avatars to share calendars, notes, and photos – which is perfect for us because it's everyone that can read and needs to be in the know!
Third, absolutely game-changing Entertainment. Basically this is when my kids just about lost it – and in a very good way! You can stream music, videos, watch your Samsung TV directly on your Family Hub right in the kitchen! I mean, it's just insanely cool. I can be making dinner and watching videos! I don't have to worry about running in and out of the living room or changing my playlist on my laptop, everything is right there for me at my fingertips!
And that's not all! You get an information center, too that is a wonderful way to make your life easier in the kitchen. New to Family Hub 2.0 is Samsung Voice by "Bixby" which is an Integrated Voice Activated Feature. You can actually talk to your fridge from anywhere in your kitchen by asking "Bixby" questions like "Bixby, what is the weather forecast?", "Bixby, play Pandora" or "Bixby, show me what's inside." You can also get recipe suggestions with voice read-out and text enlargement, which is something I need! I just love that it's a wonderful way to integrate our love of technology and social media into our family kitchen.
The world is a changed place with technology and I love that Samsung is making the transition so easy and streamlined for families everywhere with their Samsung Family Hub Refrigerator. There's even new apps such as Spotify (which we LOVE), iHeartRadio, and GrubHub.
I mean. It's like Jetson living!
What else can you be excited to get with the Family Hub?
FlexZone™ Drawer –

Designed for maximum flexibility and convenience.

Auto water fill with infuser –

Easily create delicious, refreshing flavored water right from your refrigerator.

Twin Cooling –

Maintains both high levels of refrigerator humidity to keep perishable fruits and vegetables fresher longer and dry freezer conditions, which means less freezer burns for better-tasting frozen foods.

Generous storage –

Includes a divider and a take-out box to create plenty of space to organize frozen food.

Organize contents with ease –

Includes a metal shelf, a slide-in shelf, a foldable shelf, 2 crispers, 5 tempered glass shelves, 2 fixed shelves and 3 gallon storage door bins to provide ample space for storing items.

LED interior lighting –

Bright lights to illuminate interior.

Door alarm –

Alerts you when the refrigerator door is accidentally left open to save energy.
I really want to note here that the food storage is phenomenal! I'm all about trying to find a fridge that will work well for our family of 7 and all the food that we need and buy (daily!). I was pleasantly surprised with the incredible storage and organization features. We go through 1 gallon of milk a day, so that should give you a little inside peek as to how important it was for me!
I highly suggest checking this out for your family. If you have any questions, please feel free to email me! I'm here and can answer anything for you!
Disclosure: This is a sponsored post with Best Buy. All opinions are 100% my own.
Save