How to Wear White Jeans
White jeans (for me) are in style all year long. I'm "that" girl who is wearing them in the winter, spring, summer AND fall! I just love the look and really feel that you can make a fashion statement with them whenever you want!
White jeans are 2 things for me: timeless and classic. They look good on everyone and they're super versatile, which is a win-win.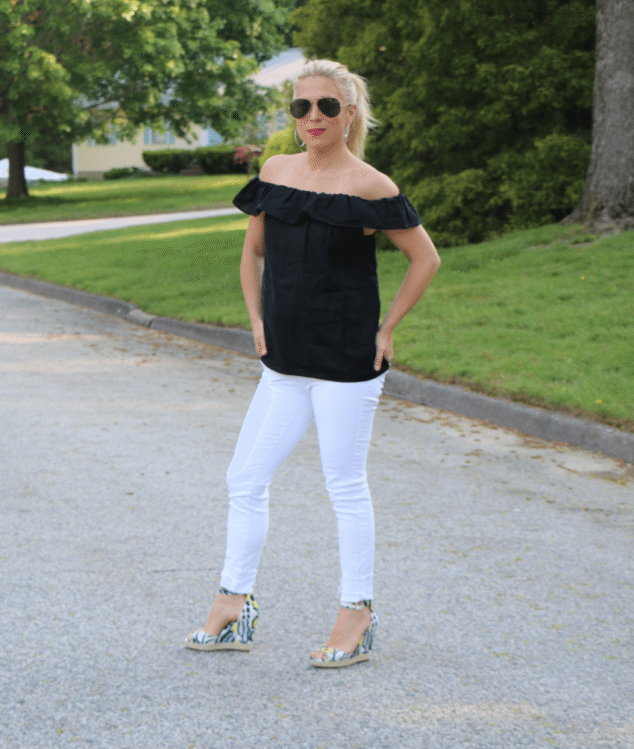 Since many of my readers know that I LOVE fashion, I'm asked all the time about fashion questions. One that ALWAYS pops up during this time of year… "How do you wear white jeans?"
And it's a wonderful question because there are fashion rules when it comes to white jeans.
1. Always, always, always wear NUDE underwear with them. You will never, ever see a line. So many people think to wear white underwear and that's not the case… it's all about the nude.
2. Make sure you find a pair that fits you like a glove. The one thing with white jeans is that you really want a pair that works with your body. Find one and embrace it.
3. Wash your white jeans after every use. I know… I know… basic and simple advice, but white jeans are magnets for stains and dirt and just about everything, make sure you keep them clean.
4. Really try to stretch the longevity of them. Dress them up and dress them down. Experiment with different tops and shoes and accessories. You could (literally) wear white jeans 7 days in a row without anyone noticing that you're wearing the SAME pair!
5. Always look for a statement belt with white jeans, it really makes a style POP.
I'm obsessed with these ZARA white jeans because they fray at the ends, so I love the edgy trend – but they also fit like a glove. I tried on 5 pairs before I landed on these! I'm short, so I always need to make sure length wise they look good, so rolling them on the bottom worked well for me. With the frayed edges, it actually made it look even chicer!
Happy Friday everyone!