Shapewear for women should be (if it's not already) your fashion best friend.  I don't wear a dress, skirt, tighter top or slim pants without shapewear on underneath. They're there for me when I need them and I can ALWAYS rely on them. Truly – a fashion must-have for me. When it comes to fashion and creating seamless, flattering looks – shapewear is an item that you should definitely look into for your different looks and styles. Not every fashion outfit is created equal, so it's important to make sure you have shapewear that helps you feel confident and beautiful.
Shapewear for Women
I teamed up with Kohl's to feature my favorite shapewear for women pieces to wear with different styles and looks (that I wear on a weekly basis). Since I'm traveling for work a ton lately, I'm all about fashion items that are professional. I love this time of year because I can take out my dresses and get some good use out of them for the spring and summer months ahead! I've always felt pretty in a dress, so I love that I have found some perfect ones to wear to various meetings with clients. Whenever I wear a dress, shapewear is always a go-to. I actually have a hernia in my abdomen, so for me… shapewear helps disguise it. It's something I'm VERY conscious about, so I love that there are fashion options that make me feel comfortable and beautiful at the same time – and allow me to wear clothing I want to wear!
Kohl's has an incredible Shapewear for Women Collection with something for everyone – every shape, every size, every preference. You have the ability to shop by brand, style, features and sizing. Kohl's makes it very easy for you to peruse the different styles that they offer and find the best ones for you and your fashion needs. I love how there really is something for every need, it makes shopping that much more enjoyable!
I'm excited to bring you through 3 Shapewear pieces that I bought at Kohl's that work for me and my fashion needs. Again, I'm all about trying to find Shapewear that works beautifully and seamlessly under my work dresses, so all of these pieces are fabulous for me!
Kohl's has a Shapewear for Women Guide to help you navigate, too. It's worth checking out to make sure you're getting exactly what you need.
1st up?
ASSETS Red Hot Label by Spanx Sleek Slimmers Tank Slip.
Why do I love this one? This women's ASSETS Red Hot Label by Spanx tank slip smoothes your silhouette from shoulder to mid-thigh and is a medium slimming level. I personally love the wide, tank-styled shoulder straps, they make it very comfortable to wear throughout the day. Also, the material is a soft matte fabric, so it's cozy against your skin. I love wearing this one with my dresses that are a tighter fit. I have some sheath dresses that I love to wear to work meetings and this Shapewear item really holds everything in for me and allows me to wear a tighter fit dress without feeling self-conscious.
I'm a HUGE lover of this this! PLUS! A bonus – its machine washable! As you can tell, you can't even see that I have it on! It's smoothing to your body and fits like a glove!
My 2nd Look Features: Naomi & Nicole Comfortable Firm High-Waist Brief 775.
Why do I love this one? This women's Naomi & Nicole brief lends high-waist styling that gives firm-control coverage for your entire midsection. As I mentioned earlier, I have a hernia in my abdomen so I'm very conscious about that area on my body. I like to make sure it's covered/disguised as much as possible. You really get amazing coverage with this item. It's all about making sure you personally feel beautiful and comfortable well this item makes me feel just that! It's also VERY comfortable to wear, which I appreciate! I wore this recently with a favorite striped dress of mine and felt very beautiful it in… everything was smooth! I haven't worn this dress in a couple of years because I had been so self-conscious about my stomach region!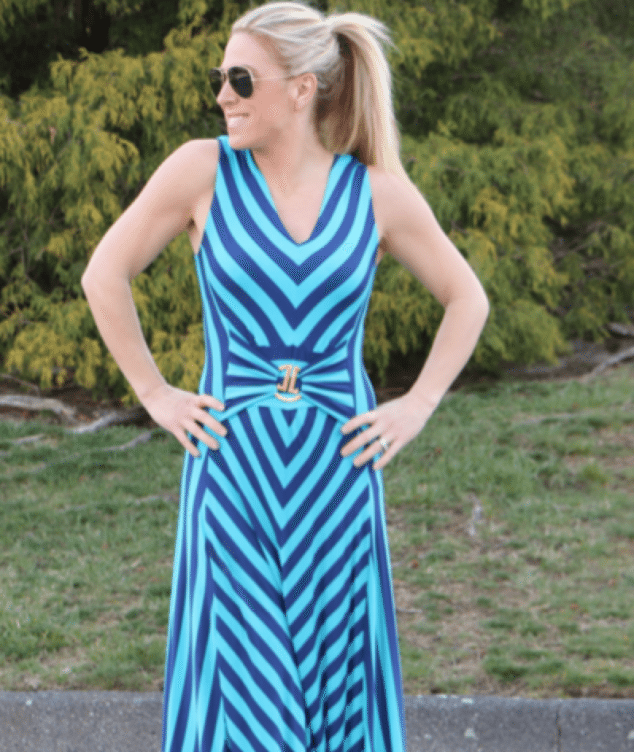 The fabric on the body is nylon/spandex and the gusset lining is cotton/spandex. Also… score – it's machine washable!!
My 3rd Look Features: Maidenform Shapewear Sleek Smoothers Boyshorts 2060.
OK, I'm going to show off a jumpsuit style for this one! This Shapewear targets the hips, thighs & tummy – which is exactly what you need targeted with this baby! With a light-control design and irresistibly smooth fabric blend, these women's Maidenform Shapewear boyshorts lend complete comfort and a sleek finish. I'm a BIG boy short fan, so for me – this was a logical and practical choice. I love how smoothing they are and as you can see from the model above, they hit in the perfect spots.
What I love is that it also features:
Silicone elastic waistband
Elastic-free leg openings
Now important to note, these are hand wash only. I'm telling you right now, it's worth it!!
OK, ladies… head to Kohl's and find Shapewear for Women for YOU!
You can shop online or in-store! Have some fun and really find something that's going to work for you and your body the best!
The most important thing?
Feel beautiful and confident!
Also check out my fashion links because they showcase shapewear underneath!
I love this Little Black Dress because it's just beautiful to be able to wear and showcase something slimming underneath!
You can even wear a basic tee with some slimming items – love it! 
Enjoy! ♥
Disclosure: This is a sponsored post with Kohl's. All opinions are 100% my own.
My blog may contain links to other websites. I am not responsible for the privacy policies of those other websites. When you click on a link, your information may be collected by those websites, so I encourage you to read their privacy policies.
Affiliate links are not associated with Kohl's.
This post is sponsored by Kohl's. I received the included shapewear as compensation.
Shapewear for Women
was last modified:
April 7th, 2019
by