I've found the perfect Little Black Dress for Spring. I mean – FOUND it and I'm never taking it off (OK, I'm kidding!). But truly – I have the perfect Little Black Dress that would look good on every body type and any age! That is fashion magic, ladies! Oh, yes… I've found it. I've worn it. And I love it.
Perfect Little Black Dress
Want it? Because you need it — Lands' End Canvas Women's Popover Dress. Simple, simple, simple. That is the catchphrase for this dress. It applies to the shirtdress styling, to the clean, tapered silhouette, to the light, uncomplicated silk fabric – and to the way you can just pop it on and head for the door.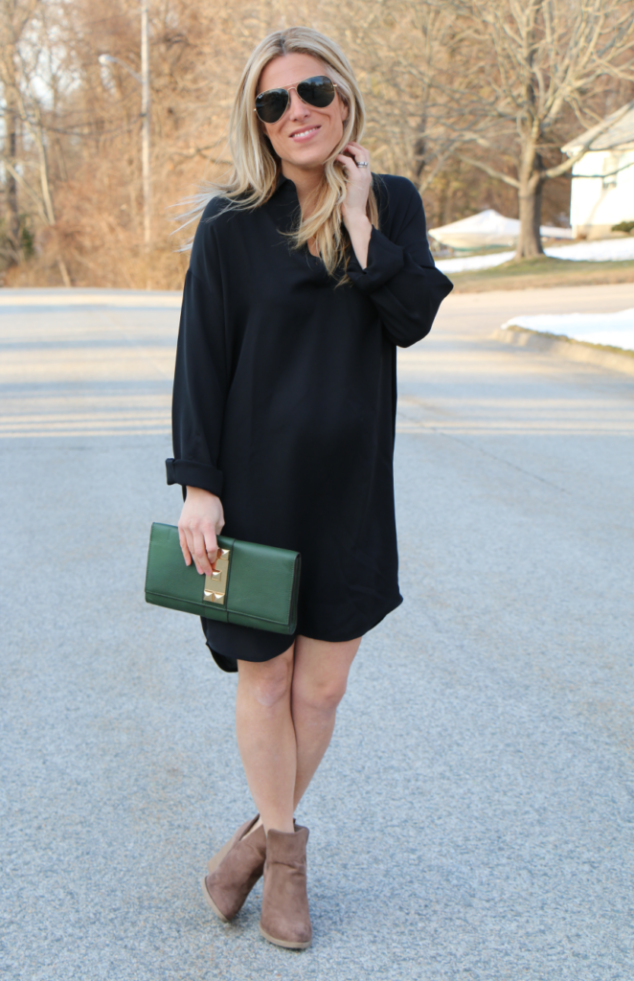 Here's why I love this dress. I'm always on the hunt for dresses that are east and comfortable and can be dressed up and down easily with a change of the shoes! With 5 kids, I also need something that can stand up to the test of toddlers, kids and tweens. I'm running. I'm lifting. I'm rushing around. This is the PERFECT dress to be everywhere and do everything with!
I'm also an entrepreneur, so I love to be able to have clothing that can work for work (!!!) and also for my every day life. I love that this dress I can wear to a meeting, but also to the bus stop! It's also the kind of dress you can toss in a suitcase and travel with VERY easily.
It's just perfect. Sleeves can be rolled up easily! My son Benjamin (who is 9 years old – shout out to him!) took photos of me with Victoria while waiting for the bus last week! As you can tell, this dress is perfect for moms! Not to mention… she's my favorite accessory to "wear" with it!
You need this Popover Dress for the spring from Lands' End.
Yes, need it.
Head there now to grab it before they sell out!
See me and my daughter twinning our perfect little black dresses!
See more dresses like this over at Macy's!
Disclosure: Dress sent to review. All opinions 100% my own.
Perfect Little Black Dress for Spring #50DressesforSpring
was last modified:
February 15th, 2019
by