I've said it before and I'll say it again, my daughter is obsessed with dressing like a princess. If she could wear a costume every single day, she would. She's THAT kind of obsessed and I (secretly) love it, especially after having 4 sons!! It really is precious and absolutely adorable to see her get so excited about wearing something pretty and magical!!
If your daughter is like mine, you must check out Little Adventures. They have the BEST costumes for kids… the selections are just incredible! They sent us a couple to play with a few weeks ago and Victoria has been living it up! She decided to take her Spanish Princess dress out for a whirl last week in our neighborhood, you know… as she was "ruling" all the boys!
I adore the backstory of Little Adventures… In 2002, when two moms discovered the lack of clothing-quality dress-ups and princess costumes available for their children, they decided to take action. Jenny Harrison, mother of ten, and Heather Granata, mother of five, began their own little adventure by sewing and selling their very own dress-ups at local craft fairs. They made them soft and machine washable! They engineered them for everyday, all-day adventure! It didn't take long for Jenny and Heather to realize the potential of their little endeavor. During their first year in business, they sewed over 2,000 dresses in Jenny's basement…and with that, the Little Adventures brand was born.
This specific costume is special to my daughter because she loves Elena, so when she saw this one… it was perfect! Made with durable red stretch velvet sewn into a printed china silk fabric, it is soft to the touch and has elegant ruffle details in both the collar and the skirt (which is extra fun to twirl in)! Elastic waistband makes for easy wear. Comfortable, machine washable, and play friendly.
As you can tell, my princess sure got some use out of it! She was here, there and everywhere! That's what I love about these costumes, they move and flow with your child! They are MEANT for play!
Love a fabulous costume! Check out @littleadventuresdressups on Instagram for some adorable photos, too!!!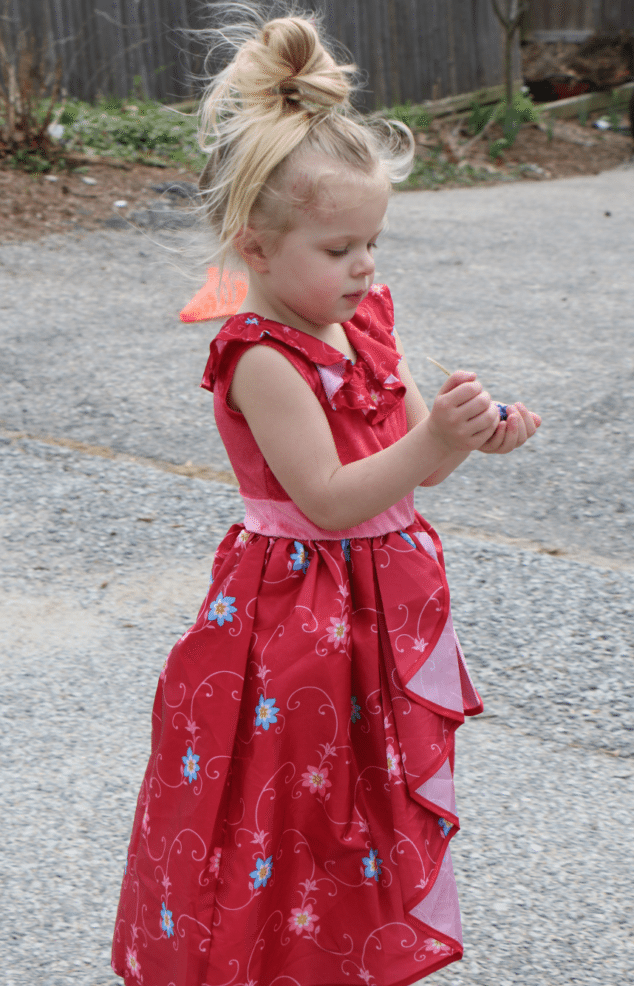 Disclosure: Costume sent for review. All opinions are 100% my own.
Save