Remember making Friendship Bracelets when we were kids? I would sit for hours with my buddies Tara, Heather and Lee and just create, create, create! It was always so much fun. The cool thing was wearing them after you made them because it was something special and beautiful on your arm. Also… the meaning of Friendship Bracelets… you were able to gift them to your friends. That meant something very special.
Well… I'm happy to share a beautiful story with you guys about Friendship Bracelets doing something beautiful and GOOD.  One of my friends has a daughter named Annie that is doing some extraordinary and beyond touching with Friendship Bracelets, she's making them for her friend Mavrik. ♥ Mavrik is a 6-year-old boy who is recovering from septic shock & double amputation after 3 cardiac surgeries in Boston, MA.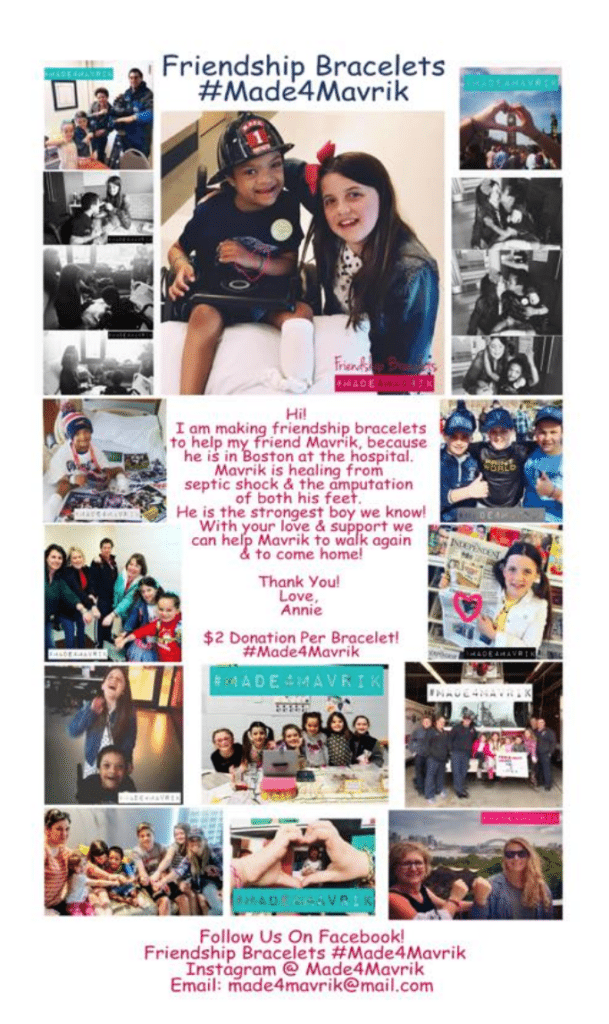 Beautiful, right?
I'm am just blown away by the compassion of Annie. It is truly beautiful and she is doing such good for this little boy.
I would love for you to read about Mavrik and if you're interested – purchase a Friendship Bracelet or donate on their Go Fund Me page.
I donated this morning and I'm wearing my bracelets proudly!
I just adore this so much.
Thank you to Annie for being a beautiful soul and doing what she can to help Mavrik.
You can learn more about Friendship Bracelets #Made4Mavrik, Mavrik's Recovery: https://www.facebook.com/FriendshipBraceletsMadeForMavrik/posts/646257638890850
Facebook: Friendship Bracelets #Made4Mavrik
Twitter & Instagram: @made4mavrik
Email: [email protected]
Friendship Bracelets – Made for Mavrik #Made4Mavrik
was last modified:
July 1st, 2017
by