Moana is famous in our house. If music from Moana isn't playing, there are clips from Moana playing on my iPad for my daughter. In all seriousness, Moana truly is a fixture in our house. I fell in love with the movie the second it started. I've always felt a connection to the ocean, so for me – I understood the magic and the beauty of Moana instantly. I loved that the ocean was a character in the story and most of all, I loved seeing a strong female character for my daughter to look up to and love. The Moana Disney Movie is one of my all time faves.
Moana Disney Movie
When I found out that we would be experiencing a Polynesian-themed dinner, drinks and presentation all centered around the MOANA Blu-ray release including a bonus features showcase, I was ecstatic. But then I heard the extra-special news that we would be having a Q+A with Directors Ron Clements & John Musker, Producer Osnat Shurer, Costume Designer Neysa Bove and "Mini Maui" 2D Animation Supervisor Eric Goldberg… and of course Polynesian dancers!
I'm not kidding when I say this, I was literally floating into the theater to kick off this presentation. Moana has had such an impact on me and my daughter, so to know that I would be able to chat and meet the geniuses behind it… talk about a pinch me moment. I don't get nervous for much when it comes to work, but I had butterflies in my stomach for this presentation as I was heading in!
Moana Disney Movie Presentation
Our Moana presentation kicked off with an incredible Polynesian dance! It really got me into the spirit of Moana immediately. The movements. The music. The beat. The costumes. Everything was just absolutely beautiful and thrilling to watch!
We kicked off our Moana presentation with screening some of the bonus features from the Bluray. One of my favorite bonus features on the Bluray is the Voice of the Islands – An in-depth look at how Pacific Island people and cultures inspired the filmmakers to create the story of "Moana." This bonus feature in particular just mesmerizes me. It is so beautiful to see all of the time and the research and the effort and the passion that Ron Clements and John Musker put into creating Moana. They wanted to make sure they had the most accurate story and they surely took the time to make sure that they did by traveling to the islands of the South Pacific. As John said, "We met with so many incredible people and we learned so much from them from archaeologists, anthropologists, linguists, villagers, sailors and navigators." It was just phenomenal to see the story behind the story of Moana. I literally can't watch this bonus feature without crying, it touched me to the core that much.
Moana Disney Movie Interviews
Seeing Ron Clements and John Musker from the Moana Disney Movie up close and personal for this presentation was just the coolest thing ever! If you're not familiar with them, Ron Clements is a renowned storyteller and filmmaker at Walt Disney Animation Studios. With his longtime collaborator, John Musker, Clements has written and directed iconic feature films that have become part of Disney's legacy, including beloved classics like "The Little Mermaid" in 1989 and "Aladdin" in 1992, as well as Disney's 2009 return to hand-drawn animation, "The Princess and the Frog." Clements teamed up with Musker again, this time venturing to ancient Oceania for an epic adventure about an aspiring wayfinder. "Moana is a vibrant, tenacious 16-year-old growing up on an island where voyaging is forbidden," says Clements. "But Moana has been drawn to the ocean since she can remember. She's torn between what's expected of her and what she is compelled to do."
What really was interesting to me (when we had our Q&A) was hearing John talk about what he truly embraced from the culture in making Moana. "They had a real respect for their ancestors in the past. I think we could take a cue from that in terms of moving forward. That's one of the things I really liked. There's a big emphasis on connection, and interconnectedness. They're connecting to the people around you, the people that were before you, and the people who will come after you. And connecting to nature and that sense I think that people have on an island – this kind of, we're all in this together attitude. The ocean doesn't divide people, it connects people. I think that's what this film did really well in a way that celebrates a culture. We're trying to get a window to a culture that we don't know about. And so, I think that kind of connection and feeling that we can learn things from another culture, I think it's a valuable." This. All of this. I sat there truly understanding exactly what John and Ron really wanted to get with Moana in this quote. And they did it. They highlighted a completely different kind of culture in Moana and it's a beautiful thing. Like Ron said, "It is kind of like when people need something, and they just make it." I mean, you don't have that today.
Moana Disney Movie
It was fascinating listening to Moana's Producer Osnat Shurer about the connection with nature because it really is such an important part of Moana. "The respect for nature, the relationship with nature. I talked about it a little bit in the piece [bonus feature], because we were on this island and we had a ceremony there and this great food was prepared to us and for us in a very traditional manner. And nothing in that entire meal was manufactured in some other country and shipped. Everything was local. Everything." What was really interesting to learn during the presentation was just how taken everyone was with the people of the South Pacific. It was just BEAUTIFUL.
I couldn't help but ask during the presentation a question that I always wonder after I see a movie I just love. What's one of the highest compliments that you did receive? After seeing all the passion that went into the Moana, I was truly interested in finding out from everyone what REALLY sticks to their bones from people. What IS the highest compliment they could receive?
"Mini Maui" 2D Animation Supervisor and Disney LEGEND Eric Goldberg gave an answer that just brought ME to tears. "I've done a few presentations for art colleges around here that have animation programs. And at one of them, a woman came up to me afterwards who was from the Pacific Islands and she was practically in tears. And she just said, "I can't believe you guys did it. You got us on screen." This to me was emotionally impactful. With that kind of compliment, you know you GOT it. You know you NAILED it.
Meeting Moana Disney Movie: Neya Bove
For me, it was also incredible to listen to Moana Disney Movie Costume Designer Neysa Bove during our presentation. She is the creator of the iconic Moana dress that she wears. What I adore about this Moana costume is the power and femininity to it. She created a perfect balance of girl power and wonder. Creating the costumes for all of the characters wasn't easy, she worked hours and hours and created tons of different versions. Obviously the Moana costume sticks with me the most because it's all my daughter wears, but I LOVED hearing what Neysa said, "And at the end of the day… I would always look at it and think, "If I was a little girl, what would I wanna wear?" So, I always think that when I look at it. Like, would I be excited to wear that?" I loved that her mind went to a little girl wanting to be Moana. A little girl wanting to be happy and proud and powerful and bold and brave. She just hit it out of the park with the costume design because it's everything and anything a little girl would want to wear (I know this firsthand).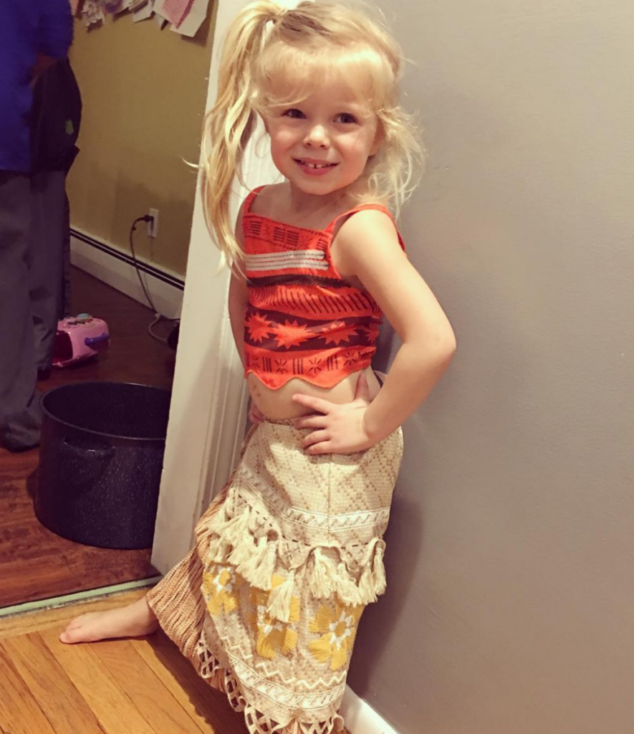 But this Moana Disney Movie costume here!
I'm telling you, the presentation to celebrate the release of Moana on Bluray was so much fun! It was so wonderful to watch different bonus features and then HAVE the people responsible for the movie right there to chat about it with us! They were able to really give us additional insight about the who, what, where, how and when of Moana and that was extraordinary! I kept sitting there thinking to myself, "These are THE people who made this!" I almost couldn't process how amazing it was to have them there!
But that wasn't it! After the Q&A, we all went to celebrate with an incredible Polynesian-themed dinner and then had the opportunity to see dance choreography from the movie Moana from Tiana Lirufau.
She was INCREDIBLE teaching us about the reason behind the dance moves.

(video from my friend Kim Ritter)
The night ended with a dream come true for me! I got to take a photo with Costume Designer Neysa Bove. I showed her Victoria in the Moana costume and she was so sweet about it! She told me how cute Victoria looked! She was kind and gracious and just truly humble about her contribution to the film. I was like a true fan girl, trying to stay cool!
And then I grabbed a photo with with Moana Disney Movie Ron Clements and John Musker! Talk about the coolest photo ever for me! I know Victoria doesn't understand exactly who these guys are, but someday when she's older – I can't wait to show her this photo!
Amazing, right!?
Check out this Disney content on Peter Pan!!
Moana Disney Movie on BluRay #MoanaBluRay
was last modified:
March 8th, 2019
by