Williams Sonoma is one of my favorite stores in which to shop with my husband. My husband Matthew is a big foodie, so he's always looking for the best kitchen tools, decor and cookware for our home. Whenever we walk in, it's pretty simple – we just want every single thing in the store. When I found out that we'd be celebrating a Beauty and the Beast celebration at Williams Sonoma while in LA for my #BeOurGuestEvent, I was ecstatic!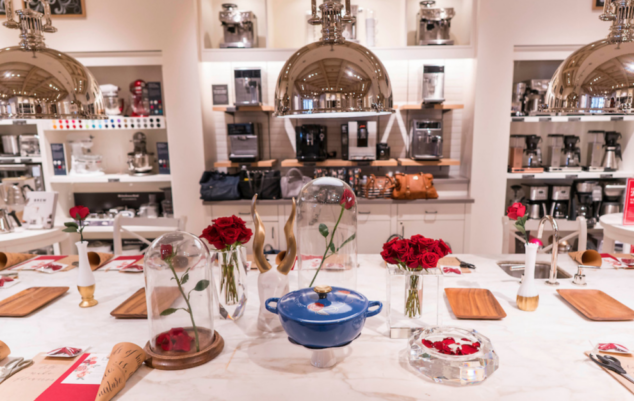 Beauty and the Beast AND Williams Sonoma?
How are these 2 worlds converging!?
Well, they have teamed up on a really cool partnership. Williams Sonoma created in honor of Disney's live-action adaptation of Beauty and the Beast, a vibrant blue-enameled chef's oven by Le Creuset that casts an enchanting spell over the kitchen. Featuring an iconic red rose design and a golden knob engraved with "Be Our Guest," this special-edition piece is available in limited quantities.
It's absolutely beautiful and gorgeous and just the perfect addition to any kitchen. I love the color blue, so soft and elegant and classic. It's such a gorgeous statement piece, the kind of item everyone will ask about and everyone will want!
The features are amazing:
– 2 3/4-qt. cap. chef's oven is ideal for cooking soup, risotto or stew.
– Enameled cast-iron construction boasts superior heat retention and requires no additional seasoning.
– Enamel interior's light sand color makes it easy to monitor food while cooking, ensuring less sticking and burning.
– Ideal for use on any cooktop, including induction.
– Hand-applied red rose-and-vine appliqué design on lid.
– Stainless-steel knob with gold metallic finish is engraved with "Be Our Guest."
– © 2017 Disney.
– Made in France.
While we were at our Williams Sonoma event, we were able to enjoy an up close and personal look at what you could make in this pot, along with other incredible dishes you can create with Le Creuset items, too. They really are such an awesome brand and you can do so much with their products in the kitchen.
We were able to see (3) dishes be created featuring the limited-edition "Be Our Guest" cookware, and (the best part!) we were able to taste-test them, too! The dishes were – Cheese Souffle, Meat Ragu and Squash Soup du Jour. They were absolutely incredible, the perfect bites during our Williams Sonoma Celebration.
I was OBSESSED with the Meat Ragu, such a yummy and hearty dish. I could see my 4 sons devouring Meat Ragu at home after swim practice. The best part, even though it seems like it would be very difficult to make, I was surprised as to how do-able it really is to make. I could do it, and that's saying a ton – believe me! We also got to sip on some out-of-this-world Rose Lemonade! I think I filled my glass 4 or 5 times! I was trying to be discreet, but it was so yummy – I couldn't help it!
After we had our cooking demonstration, we headed over to another section of the store where we learned how to make paper roses from Handmade by Sara Kim. I'm not a big crafter, so I was a little hesitant as to how difficult it would be, but it was super fun and we had such a great time creating!
Sara walked through each step with us and I loved how it tied back to Beauty and the Beast. The rose is such an iconic symbol in the movie, so it was really cool to create a paper rose that we can have forever. I tried to remember all the steps so I could redo it at home with my kids! It was also a great activity where we were all able to talk and be together and just catch up. Part of these trips that is so exciting to me is really getting to know bloggers whom I adore online. I loved having this special time with people during the paper rose creations.
I have to say, I think mine came out pretty good! I was rather proud of myself! You can ACTUALLY tell it's a rose!
It was a perfect event at Williams Sonoma to further celebrate Beauty and the Beast! Everyone had so much fun and really got into the fun activities!
Make sure you check out Williams Sonoma for their Beauty and the Beast Le Creuset limited edition "Be Our Guest" cookware! I actually won a raffle during the event and had one delivered to my home! I was THRILLED! I will share the meals I create with it (and meals my husband creates, too!).
Happy cooking everyone!
Disclosure: Disney Press Trip. All Travel was Covered.
Save
Beauty and the Beast Celebration at Williams Sonoma #BeOurGuestEvent #MyWilliamsSonoma
was last modified:
June 4th, 2017
by