I met my husband when I was 19 years old, right on the main green of campus at Brown University. It's funny, I still remember the day (October 28th, 1998) like it was yesterday. We had "known" of each other, but didn't really know each other well. As he was passing by me that day, we locked eyes, smiled and just started talking.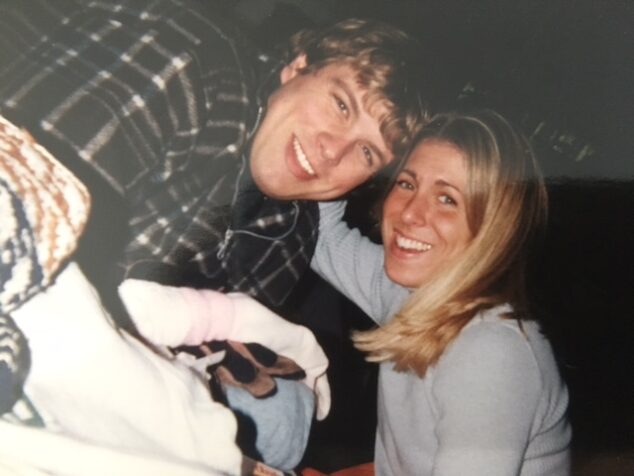 The rest… as they say, is history! Here we are, 19 years later. We've been married for 15 years. We have 5 kids.
We've been through a ton together in the last 19 years, but through it all… the one thing that has remained is how much we LOVE being with each other. My husband is my best friend and having him to laugh with, chat with, share with and just be my best friend is the best thing in the world.
As you can imagine, with 5 kids… finding special time to be together has changed (dramatically) over the last 19 years. Finding babysitters for our 5 kids is challenging. Finding open time in our schedules (between the kids' activities and our work schedules) to have a date night is challenging. Finding a weekend to get-away (just the 2 of us) is, well, nearly impossible!
So what do we do? How do we find sweet moments to be together?
Well… Werther's Original Sugar Free has inspired me to find the sweet moments in our everyday lives! Werther's Original Sugar Free is on a mission to spread sweetness in 2017 by celebrating life's little moments and encouraging others to do the same. Personally, I love this. I love this to the core. It's about getting back to basic sweet moments, which in my opinion are the best kind of moments. Hugs, love-letters, compliments and smiles – these are the best.
Werther's Original Sugar Free really got me thinking about some sweet moments that I can do with my husband at home, even on our busiest and craziest kinds of days. I mean, an average day for us has us up at 5:30am and then it's just full steam ahead until bedtime for the kids. We somehow, some way, get everything built into the day with work, with the kids and with all other activities that we have on our plate. But! When it comes to us, it's important for us to embrace and create sweet moments.
I am committed to creating some sweet moments at home with my husband through some fun date nights – yes, right at home. Date night doesn't have to mean heading out somewhere. It can be right at home, in the warmth and comfort of our own home.
What are some sweet moments we can create?
Playing Scrabble again.
When we first moved to NYC after college, we could barely pay our rent, so we always had to come up with some fun things to do (on a budget!) and Scrabble was always on the top of our list! That Scrabble game hasn't been played in years, so it's an awesome feeling to take it down, dust it off and play! It brings back such good memories from our first days back in NYC!
Watching a movie on the couch, while holding hands.
Our very first date was to the movie theatre. We saw the movie Practical Magic. I'll never forget my husband reaching for my hand and holding it. I could tell he was nervous, but it was so sweet. I love the thought of just renting a movie at home and enjoying it together, right on our own couch, just the two of us.
And probably, the sweet moment that I will always cherish most of all is just time spent together chatting.
My husband is my best friend, so sitting with him and just talking about anything and everything, this is my favorite. We don't do this enough anymore because our lives are so hectic, but carving out the sweet moment to do it is easy and ensures it remains a priority. And of course, we can indulge in some delicious sweet treats with Werther's Original Sugar Free caramels at the same time.
I've actually been a fan of Werther's Original for years. My Nana and Papa used to ALWAYS have Werther's Original out for guests in their home. It brings back a rush of good memories for me form my childhood. I love that Werther's Original Sugar Free, from classic hard caramel to new chewy varieties, provide caramel lovers with a guilt-free variety of smooth, rich and creamy caramel goodness without sacrificing that delicious Werther's Original taste.
It really is the perfect treat to sweeten your day – plus, because they're so rich and creamy, you'll never (ever!) believe they're actually sugar free and 40% fewer calories than regular Werther's Original caramels!
With seven delicious flavors, including Classic Caramel, Caramel Coffee, Caramel Apple, Caramel Cinnamon, Caramel Chocolate, Chewy Caramel and Chewy Chocolate Caramel, there really is a sugar free flavor for everyone!
As you can see, creating a sweet moment with anyone in your life is easy to do. Maybe it's taking a walk with a neighbor, calling your grandmother, taking a bubble bath, writing a love note to your spouse, popping a special note in your child's lunch or enjoying a piece of caramel as you open your favorite book at night. I love that it can be something as simple as a hug or kiss in the morning, or an over the top romantic dinner for 2.
Share with Werther's Original Sugar Free what you're doing in your life to embrace everyday moments of sweetness!
You can take part in the brand's Real Moments of Sweetness challenge by posting your own joyful moments on Instagram, using hashtags #WerthersMoments #SugarFree, to win weekly prize packs. By participating, this will automatically enter you to win the grand prize of a three-day weekend getaway for two with Pack Up + Go, a travel service that plans a unique, three-day vacation in the United States, customized based on the winner's location, personality, interests and favorite activities, but keeps the destination a sweet surprise! Oh, yes… a surprise!! The grand prize winner will also get a year's supply of Werther's Original Sugar Free!! To learn more, visit sugarfreemoments.wertherscaramel.com.
Enjoy and embrace sweet moments in your life, believe me… it will make a world of sweet difference!
Disclosure: This is a sponsored posting with Werther's, all opinions are 100% my own.
How I Create Sweet Moments with my Husband #werthersmoments #sugarfree
was last modified:
June 4th, 2017
by