Ahoy!
I'll be setting sail on the high seas soon, so I thought it was only appropriate to rock my Anchor hat today! Not to mention – there's also snow in the forecast, so I'm getting my head ready for the ultra cold blast! As you know from my style posts, I'm "kinda" obsessed with hats. I just love them and think that they are such a fun fashion accessory!
During the Christmas break while scouring my Instagram feed, I came across my friend Alyson wearing the cutest anchor hat ever! Since we're new boat owners, I – of course – am now buying everything nautical. I immediately messaged Alyson asking here where she got it and she let me know… Anchored Heart! ♥
The extra bonus? Anchored Heart is based out of Barrington, RI… my hometown! I ordered my hat ASAP and when it arrived, I was in anchor love! It's adorable and super sweet – perfect to keep my head warm during the winter!
I went with the red, white and blue theme today! I'm all about mixing prints, so I thought the stripes with the anchors looked fun this morning! My sons got a kick out of me at the bus stop because what you don't see are my red flannel plaid PJ's on my legs!
It's just the cutest pom pom hat!
If you're looking for any adorable hometown items, check out Anchored Heart. They have the best stuff, especially for New Englanders!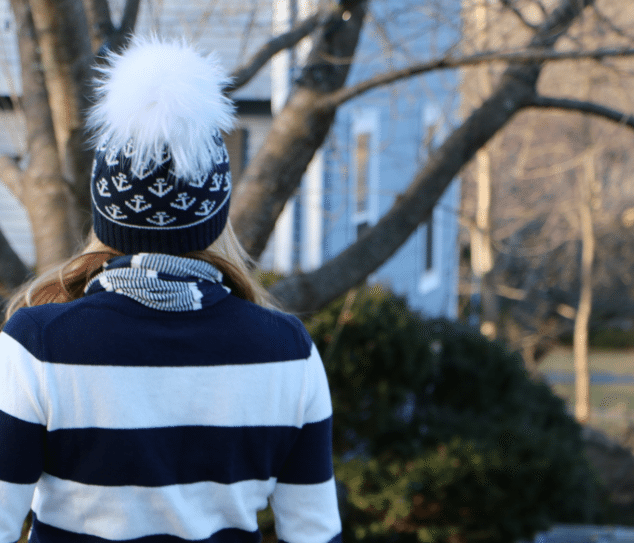 Have a great day everyone!
Anchors away!
XO,
Audrey
Red, White, Blue and Anchors!
was last modified:
July 1st, 2017
by