Re-arranging furniture in our homes can create very special effects ~
This past holiday season, Barry and I moved our antique server from our dining room into our kitchen to make room for more tables in our dining room in order to accommodate lots of dinner guests (wow, long sentence).
Our dining room is not large, and this photo is with the missing server that usually sits underneath the mirror to the left…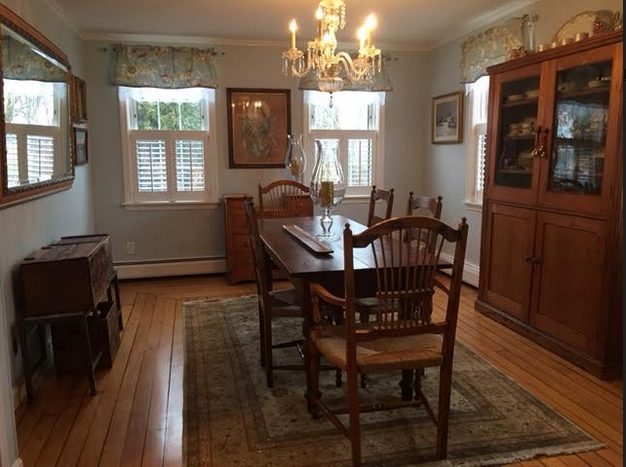 But we were able to sit, rather comfortably, 30-or-more people at our Thanksgiving Dinner, Christmas Eve Dinner and New Year's Day Buffet just by temporarily moving the server to our kitchen…
So all of these l-o-n-g sentences bring me to the re-arranging furniture thing that has brought some very special effects (and guests' comments) to our home.
This is where we "temporarily" placed the server, underneath a formerly porch/outdoor exposed window that we kept in place when we renovated our kitchen…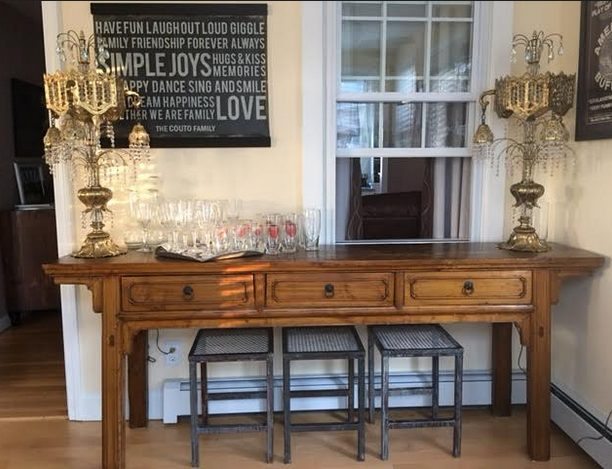 The lamps are another story by themselves. We had purchased a coffee table and two end tables at our local food kitchen/thrift shop and the lamps were included in the sale. I didn't want the lamps because they are not what I'd call "us" — as in Barry and me. We happily paid full price for what we wanted, and asked to re-donate the lamps. But the sales person rather insisted that we take them because, well… she just did. She was very friendly in her insistence, so Barry and I took them home, figuring we would donate them somewhere else. They are all crystals and fabulously not "us", but as I began cleaning the crystals one-by-one, I came to fall in love with these not "us" lamps.
I placed the two of them on each end of our dining room server and turned them on as often as I could remember, but we don't often use our dining room.
Anyway, long story shorter.
Everyone who came into our kitchen from before Thanksgiving 'til after New Year's Day has loved the server and the fabulous non-kitchen lamps in our kitchen.
Where did you get the lamps?
I love the server!
What a perfect place for the server AND lamps!
I repeated time after time that we've had the server and lamps in the dining room.
But no-one had really, really noticed them in there.
They were kind of lost.
Now they've been found!
They bring glorious shadows and rainbows and fabulous light, both morning and evening. They are such a kitchen surprise. They are conversations pieces. They are Simply Joyful!
Welcoming and reflecting each ray of sunshine and each beam of moon every single day and night from the kitchen windows opposite our newly placed server and lamps…
The server and the lamps are mixed generations and unintended friends.
I think they ARE US, after all!
I think re-arranging furniture for fun or necessity is a pretty good thing!

Re-arranging furniture in our homes can create very special effects ~
was last modified:
January 6th, 2017
by