I don't pump my own gas ~
If I am famous (or infamous) in my family for one thing, it's that I don't pump my own gas.
And second, but related, I AM famous for knowing where just about every Full-Service station is located from one end of my tiny state of Rhode Island to the other.
Don't get me wrong. I am not frivolous with my hard-earned cash and I am cognizant of those extra pennies at Full vs Self serve gas. Generally, my wonderful husband has a second sense of sorts for when my gas tank is nearing empty, and generally I find my gas tank filled to the brim at exactly the right moment. Thanks, Honey!
But anyway.
I have tried this gas pumping thing. Barry and my kids have tutored me in Pumping Gas 101. Many, many times. But it's like those credit card swipe/chip machines in every single store — those and every gas pump in the universe has some minute little difference that has forced me to ask for help and help is generally not available at self-service gas stations. For obvious reasons. They are SELF-serve.
Anyway, I have spent too many frustrating moments pumping and getting no-where, slow.
Now, my car automatically drives to Full-Service stations in cases of "oh crap I have no gas."
This happened a couple of days ago while I was driving with my beautiful, talkative, funny, entertaining 3-year old granddaughter Victoria, aka Sissy. I had picked her up from pre-school, then met Pop-up, Auntie Janie and cousins Brian and Eve for lunch, then headed to Sissy's home to drop her off. This little journey had me almost traversing my little state of Rhode Island. Which lead to my gas levels shrinking with each mile. Heading right on down there toward that "E"… taunting me.
Sissy loves to sing in the car and she had pretty much exhausted her repertoire when she asked me to sing. OK. I love to sing, although I cannot, repeat cannot, carry a tune. Sis doesn't care. She loves to listen to the oldies that I sang way back when I was in grade school — Shoo Fly Don't Bother Me, Oh! Susannah, I've Been Working on the Railroad, The Ants Go Marching, She'll Be Comin' Round the Mountain and the like, even if some of the lyrics are my own after all these decades (i.e.: I make up lyrics if I forget the real ones). Sissy particularly loves She'll Be Comin' Round the Mountain…
She'll be driving six white horses,
She'll be driving six white horses,
She'll be driving six white horses
When she comes!
But as I depleted my own repertoire, my gas tank was depleting itself, too.
No prob.
I headed to a Full-Service gas station near Sissy's home, hoping that it was still full-serve. I hadn't had to make that particular stop for quite awhile and more than a couple of times I've met with the pretty much personal nightmare of a full-service station change to self-service when I wasn't looking.
Ah, but this gas station had me smiling at the word FULL (and thank God, because I didn't want to have to call my daughter to rescue Sissy and me and hear that familiar refrain, "Mom, you still don't pump your own gas?")
Yeah. No. I won't be Comin' Around to that anytime soon.
I pulled into the gas station. I parked. I asked the serviceman to fill it up.
But as I reached for my purse to get my credit card, Sissy was whispering, "Grandma, there's a man behind your car washing your window."
Yes, he was.
This is Full Service, after all.
But Sissy was obviously enthralled with this service and whispered more loudly, "Grandma, there's a man behind your car washing your window!"
I know! I practically sang, "I love full service!"
I also snapped a quick photo of this alien phenomenon to Sissy…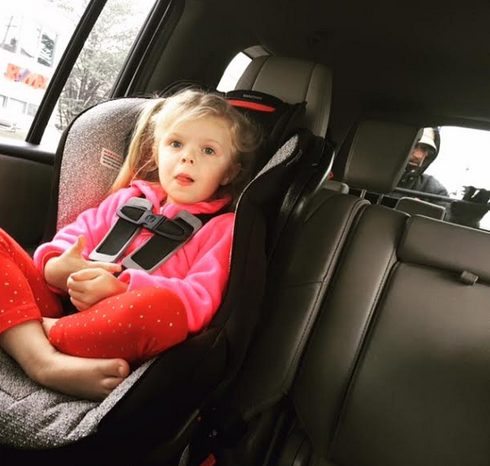 … to document this unusual, perhaps once-in-a-lifetime experience whose very explanation is in question.
I gave Sissy the short version of Full Service, including the thorough window washing (yes, "the man" washed both front and back windows, maybe the highlight of Sissy's week!).
I'm quite sure she came over to Grandma's side of the gas pump…
FULL SERVE!
Yep, the two of us are most delighted to be Comin' Round the Mountain with a full tank of gas and clean windows without ever leaving the car.
Just without the six white horses, that is!
Why I don't pump my own gas ~
was last modified:
January 7th, 2017
by