5 years ago today, I sat in a hospital waiting to see what was wrong with my husband. We thought it was appendicitis. he had severe pain in his abdomen area, fever and was very disoriented. To say that I was worried about him is an understatement. I wasn't prepared for the doctors to tell me he had a (potentially cancerous) tumor that needed to be removed immediately (it turned out to be cancerous).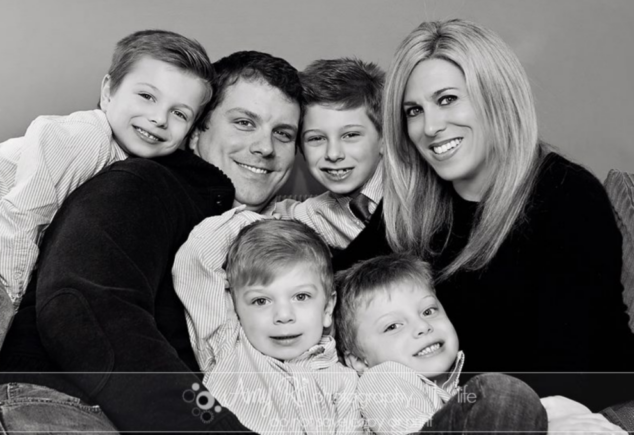 In that moment, my life changed.
It was all a blur and all of a sudden our lives moved in fast forward motion. It's been a roller coaster ride over the last 5 years, but it's something that truly changed us as a family for the better.
We learned to appreciate every single day.

We learned to go after our dreams and believe that anything is possible.

We learned that "that other baby" we yearned for, needed to be born.

We learned that health and happiness and love and family and friends… they are the glue to our lives. It's all that matters.

We learned that you must live a happily-ever-after – regardless of how that is for you – each and every day.

We learned that a "night-of-nothing" at home with the kids is the most special kind of night of all.

I never thought 5 years ago that good, beautiful and wonderful things would come from that moment… but they did, we made sure of it.
And yes, I would be lying to you if I said I didn't worry about my husband all the time. With every routine cat scan done, I'm a ball of nerves. I imagine it will always be this way for me. I don't know how you stop worrying. It's part of my fabric, part of who I am. The scary thing is just not knowing. I'm very happy that he has been vigilant with his routine scans, but they are very tough days for me.
He's my world. He's my rock. He's my Superman.
So much as happened in our lives over the last 5 years. 2 things really jump out at me… I'm become more fearless about things. Starting a business. Talking in front of people. Shooting videos. They're nothing to me now. I don't have any fear built around things like that anymore.
And the greatest gift of all that we got… Victoria.
Count your blessings!
Live every day to the fullest!
5 Years Ago Today Changed my Life… #LiveForEachDay
was last modified:
January 30th, 2017
by