Garage Headquarters for the Win over Winter ~

I just want to bust into song.
Oh the weather outside is frightful,
But our garage is so delightful –
And although we've got lots of places to go,
Let it snow, let it snow, let it snow!
I'm singing about our beautiful new garage doors from Garage Headquarters, and I'll be singing with no signs of stopping…
And, my dear, we said our goodbye-ing to these old, back-breaking, arm-wrenching garage doors…
… giving our detached garage not only an elegant presence at the home we love, but the most functional, state-of-the-art remote-controlled access to it, as well.
All of this happiness began with an appointment at our home, with Joyal Ciesynski, a Garage Headquarters representative from the Rhode Island Showroom in Warwick, RI. Joyal brought samples for my husband Barry and me to see and touch the quality of Garage Headquarters' products, and answered every question we had regarding the process of selecting garage door design, color, window style, cost, remote/manual/both operating systems, and so much more. She answered questions that we never thought to ask and got answers to our questions that required some research back to Garage Headquarters.
We were sold on not only the garage doors, but the thorough knowledge that Joyal brought to the process. Let's face it, garage doors are an investment not only in our home, but in our lives. We wanted the process to be as perfectly seamless as possible.
Six or so weeks after our final decisions were made, our garage doors arrived for installation. We were told that it would take a couple of hours to install our new doors, but I just couldn't believe this could happen with our old doors being removed (as well as removing the antiquated, non-functioning, door-opening system, etc.), and for the new doors to be perfectly functional…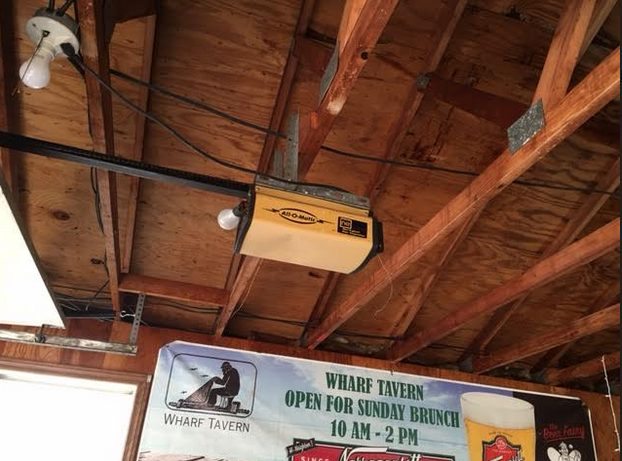 All in a couple of hours?
And once in the garage, I'll be warm?
Believe me, it happened…
One skillful step at a time, by the two most friendly, answer-every-question Barry and I had, competent and confident installers…
Right down to a very useful and easily explained tutorial in how to use all the brand-new technology and gadgets…
This all brings me to this very morning in Rhode Island.
Frigid. Icy. It was a morning that would have Barry and I otherwise searching for the window scrapers, ice scrapers that we would not find. Believe me!
But Barry and I were not concerned. Note his smile? We used to hate going out in the storm — or ice, to break our backs and arms and hands scraping, scraping, scraping.
Not any more. Our cars are safely, wonderfully, peacefully protected from the ice and elements that had decided to paint our world this morning…
A couple of clicks later, and…
Beauty and Function.
Function and Beauty.
For the Win over Winter and all year 'round, too.
Barry and I have lived in our home for almost 5 years. We've renovated the house, but delayed the garage doors replacement due to all of the stuff that got tossed in there while renovations were being done.
5 springs and summers of weather.
5 autumns and winters of weather.
No more.
I'm now really, really Dreaming of a White Christmas!
Barry and I highly recommend Garage Headquarters for your garage door and related needs.
This is a non-sponsored post. I write from my own personal experience with Garage Headquarters.
Garage Headquarters for the Win over Winter
was last modified:
July 3rd, 2017
by