Today's the DAY!
The Secret Life of Pets DVD and Blu-ray are now available in stores everywhere! Oh, yes… from the humans behind Despicable Me, The Secret Life of Pets with 3 Mini Movies is now OUT!!! The new release features nearly an hour of bonus content, including three hilarious mini-movies: the all-new Norman Television and Weenie PLUS Mower Minions which debuted in theaters and is now available to own.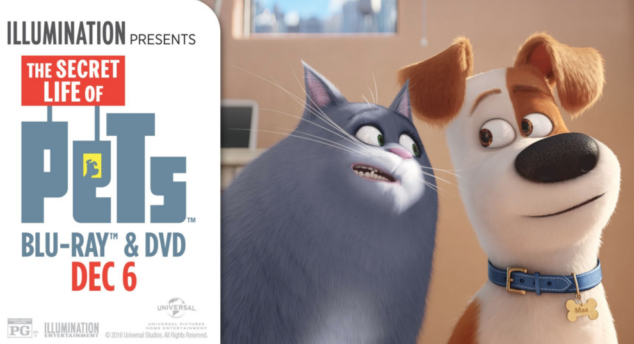 Let me just say, my kids have been BEGGING me for the DVD! From the second we saw the movie in the theater, they were in LOVE with the story! They are GIGANTIC pet lovers, so this was such a perfect movie for them! Just PERFECT! What I love is talking to my kids about what pets do when you're not home. Do they just sit and relax? Do they look for things to do around the house? The Secret Life of Pets is a comedy about the lives our pets lead after we leave for work or school each day… and it's so much fun to see everything come alive in the movie.
If you haven't seen it yet, check out the trailer… the all-star voice cast includes Louis C.K., Eric Stonestreet, Kevin Hart, Jenny Slate, Ellie Kemper, Lake Bell, Dana Carvey, Hannibal Buress, Bobby Moynihan, Steve Coogan and Albert Brooks.
Adorable, right?
It's the PERFECT movie for a Family Movie Night! With 5 kids, it's not always easy finding a movie that everyone is going to agree on! The Secret Life of Pets was an instant family fave! I love how the story is all about friendship and adventure and togetherness and truly finding HOME. It's a sweet message and fun for our family to enjoy together!
We received the Blu-ray/DVD Combo Pack Target Exclusive featuring 4 pages of decals. The combo pack comes with the Blu-ray, DVD, and a Digital copy. Plus, you can decorate your room, car, office, laptop, or wall with 4 pages of decals featuring main characters and their funny personalities. My daughter wouldn't put them down!!
But here's the thing, in a world of instant social media, family movie nights are what keep us bound together. They're the perfect way to end a night. Everyone together, laughing and cuddling and enjoying. There's something very powerful in bonding together with some family entertainment.
5 Reasons Why You Need a Family Movie Night (with The Secret Life of Pets):
1. Movie everyone in the family will enjoy
2. Wonderful activity to do together
3. Great way to start conversations post movie by talking about everything you just saw
4. Fun time to enjoy snacks and just UNWIND
5. As the kids get older, embracing this time is priceless!!
Make sure you get your copy today!!
Disclosure: This post is in partnership with Universal Pictures Home Entertainment.
Family Movie Night with The Secret Life of Pets #TheSecretLifeOfPets #PetsPack
was last modified:
June 5th, 2017
by