Audrey's school project at 9 years old ~ with an Angel tucked inside!
I've written about my late Dad and his Christmas Angel Tree-Topper. This Angel is my most treasured Christmas decoration and the warmest, most wonderful Christmas memory for me.
I believe in Angels.
I believe that Angels come to us in the most amazing ways.
And I believe that children are tuned into the presence of Angels.
Yesterday, as I was turning the pages of the many, many Christmas books that my husband and I have collected for our 4 kids and 12 grandkids over many decades, I came across a little booklet tucked inside a larger, hardcover book — a booklet with a green construction paper cover.
Its title: Christmas in Bolivia
Its author had scribbled her name and the year in the upper right hand corner: Dec. 1987 Audrey
Audrey was 9 years old.
I opened its pages and remembered that Audrey and Jane's elementary school had sponsored a child from Bolivia that year, and I believe that one of Audrey's class projects was to research Bolivia's history and customs, specifically Christmas customs. I think pages 2 & 3 may have been very fun and interesting to research…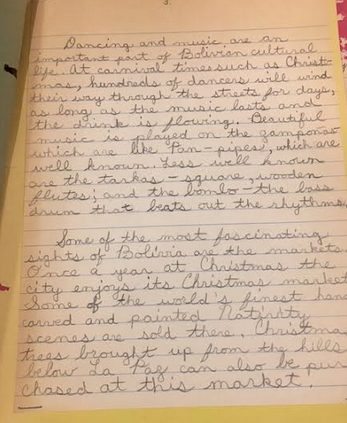 As I read Audrey's full 12-page research project, in her own hand of a 4th grader, I was transported back to days of my own motherhood of trips to our local library, to the craft store for colored paper and pencils, crayons and markers, to supervising the packing of backpacks each morning with lunches and books, homework and projects such as this one.
But it was the very last three pages that hit both home and my heart ~
#4 on Audrey's list of our Couto Family "customs and traditions for the Christmas holidays."
My Dad's Angel…
A little grandchild girl's pencil & marker illustration of an Angel that to this day means everything to me, an Angel "fixed" by a Grandpa, a man she never met.
An Angel whom has had a place of great honor atop every Christmas tree I have ever had. Since 1965.
Here she is this year, 2016…
"It is special to my Mom."
Yes, it is.
She is special because of the love she represents, the love of a man with heart of gold ~ or maybe whimsical gossamer & silver ~ a love of a Dad who died before his great dream to become a Grandpa was realized here on earth, but who always finds his way into our home and hearts each day, and especially each Christmas, through his Christmas Angel.
The discovery of this project of Audrey's that I must have carefully tucked away long ago is really about Angels as much as it is about Bolivia.
An Angel tucked inside a booklet with a green construction paper cover, smiling at me as I write these very words.

Audrey's school project at 9 years old ~ with an Angel tucked inside!
was last modified:
December 13th, 2016
by