We're HUGE toy fans in the McClelland household! As a matter of fact – throughout the year we're buying, playing and reviewing tons of toys in our family!!! So when this opportunity came up for us, it was perfect for us!! The Toy Industry Association has unveiled their TOP TOY CHOICES of the year and I'm thrilled to share with you all the toys in the VEHICLE category!
Here's where you come in… cast your vote for your favorite toy, over on toyawards.orgwww.toyawards.org!!! The cool thing is that with every vote on toyawards.org, you will also be entered into the TIA's sweepstakes to win all the nominees within the voted category!!
Without further adieu, let me share with you the top picks for the VEHICLE CATEGORY!!!!

*I would love to thank the Toy Industry Association for letting me get an inside peek before they were revealed, my kids thought it was the coolest thing ever!
So let me go through each toy and share with you some of my favorite features on each one! I have to say – what I love the most is that each toy is just super cool and super fun to play with and engage with! There's something for every age category here, too!
Air Hogs – Star Wars X-wing vs. Death Star, Rebel Assault – RC Drones from Spin Master Ltd.


Features: If you're a Star Wars fan, you're going to love this… believe me! My sons couldn't get enough of this and have wanted this ever since they saw it at a holiday toy showcase last month! They loved that it was non-stop fun! As a mom of 4 boys, I can definitely give this a double thumbs up!
• Pilot the X-wing drone and shoot down the autonomous Death Star by firing 3 direct hits! Careful not to get hit!
• Enjoy a smooth, high-performance flight with gyro-stabilization, 4-channel control, and 2.4GHz communication for up to a 200ft range.
• Pair the X-wing vs. Death Star, Rebel Assault with the Air Hogs Star Wars TIE Fighter Drone (sold separately) for even more epic battles.
• The Star Wars X-wing vs. Death Star, Rebel Assault is for ages 8+ and requires 6 AA batteries (not included).
Disney Princess Carriage from Dynacraft

Features: If you've never seen Dynacraft's Disney Princess Carriage, you're in for a real treat. It's everything princess fairy tales and dreams are made of for a little girl! The 24-Volt Disney Princess Carriage is an elegant coach ready to whisk your little princess off to the ball or to her next big adventure! The beautiful pink carriage is thoughtfully designed with graphics of her favorite Disney Princesses, gold accents, working doors and ornate interior details.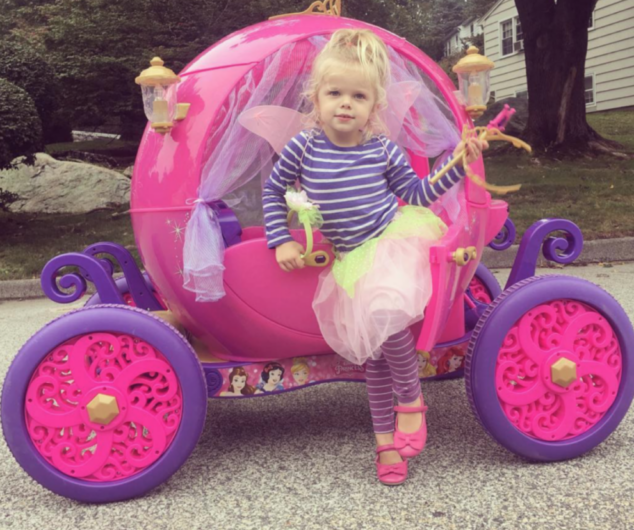 Full video review here.
Go! Go! Smart Wheels® Treasure Mountain Train Adventure™ from Vtech

If you have a little one that LOVES trains, this is IT!!! This is the perfect toy for him or her!! My daughter (and sons!) had a blast reviewing this toy this past fall!! It really is a great way to have fun and learn at the same time!!
Product Features:
Toy train playset combines learning and pretend play
Fun role-play features include an electronic train station, bridge and tunnel, conveyor belt hill and more
SmartPoint vehicles respond to 10 SmartPoint? locations with fun phrases, music and sound effects
Includes one motorized, SmartPoint Train and cargo car that teach the letter 'T' through pretend play
Includes 32 interchangeable track pieces for 15 feet of play
Full review video here.
Hot Wheels® A.I. Intelligent Race System from Mattel, Inc.

OK, where are my racers? If your kids love to race – they need this NOW!  They play this in my kitchen!! LOL!!
Features:
Hot Wheels delivers the ultimate racing set with enhanced Artificial Intelligence smart cars that help you stay on track

The A.i. also controls rival racers who will stop at nothing to overtake you and speed to victory

Play in Championship Mode for high-tech, head-to-head racing and test your driving skills to launch virtual hazards, like oil spills and tire blowouts, to be the ultimate Hot Wheels champion

There is plenty of reconfigurable track to experiment, create and compete- 16+ feet of track and 40+ layouts!

The Hot Wheels A.i. Intelligent Race System Starter Kit includes 2 high-performance smart cars with scale speeds up to 180 mph, 2 gaming controllers with gameplay modes for all ages and 20 pieces of track for over 40 race configurations
LEGO Technic Porsche 911 GT3 RS from LEGO Systems, Inc

For LEGO lovers out there, this VEHICLE will surely put a SMILE on your face! This is incredible! My oldest 2 sons have been working on this for the last week, it's super cool with over 2000 pieces!!
Features:
Experience the iconic Porsche 911 GT3 RS with this authentic LEGO® Technic replica. Inside the box you'll discover a special collector's book chronicling the history of LEGO Technic and Porsche GT cars, together with 4 original-design rims bearing the RS emblem. The sets of elements are boxed, and the building sequence gives an insight into the real-life vehicle's assembly process. The model features detailed, orange bodywork, red suspension springs, detailed headlights, taillights, brake calipers and rims with low-profile tires. The accessible cockpit features a detailed dashboard, working gearbox, steering wheel with gearshift paddles, racing seats and a glove compartment containing a unique serial number. Functions include opening doors and hood with storage compartment and suitcase, and an opening rear lid that houses a detailed flat 6 engine with moving pistons. This 1:8 scale model has been designed to provide an immersive and rewarding building experience.
Tesla Model S for Kids from Radio Flyer

Ride-on toys are super fun for my kids! All of my kids were excited when this was delivered and they ALL fit in it, too! It's really just meant for Victoria and Henry… but everyone got some good play and love! Our neighbors think this is awesome!
Features: Every Tesla Model S for Kids is a battery powered ride on that comes equipped with high-end features to recreate the ultimate Tesla experience. Just like the full size Tesla, you choose the paint color, performance, accessories, and personalization. 
XPV® RC Skateboarding Mikey from JAKKS Pacific

If you have Ninja Turtle fans, this is a super cool VEHICLE toy!!!!  My Henry loves the Ninja Turtles, so he's been having a blast with this toy! He had this on his Santa list! 🙂
Features: RC Skateboarding Mikey brings the most extreme member of the Teenage Mutant Ninja Turtles to life with this innovative, new remote control vehicle. Mikey loves to have fun, and kids can do the same by controlling Mikey and his skateboard in radical ways. Skateboarding is known for its stunts, and by using the remote control you can watch Mikey perform awesome moves like 360's, 720's, 1-foot spins and wheelies. Mikey even includes self-righting action, which means if he falls over you can use the remote to get him back up and keep going. RC Skateboarding Mikey comes with 20 of Mikey's most popular catchphrases from the Teenage Mutant Ninja Turtles animated series, which gives this toy personality as well as extreme performance.
Again, make sure you GO VOTE RIGHT NOW!!!! There's a bunch of categories!!!!!!!!!
Make sure you follow them along on social, too!!!!!!!
Facebook: @GeniusofPlay
Twitter: @ToyIndustryAssn
Instagram: @GeniusofPlay
YouTube: https://www.youtube.com/user/TIAssociation
Disclosure: Toys were sent to our home for the Vehicle Category. All opinions are 100% my own.
TOTY (Toy of the Year) Vehicle of the Year Nominees #TOTY2017
was last modified:
June 5th, 2017
by