Disclosure: I'm a sponsored Align Influencer, but all opinions are my own. Please see below for additional disclosure.
I'm someone who is committed to making sure that I'm taking care of myself.  Especially as I've gotten older, it's become a top priority for me. I want to do everything I can to ensure that I'm healthy and doing what I can to keep myself that way. This past summer at my annual well-visit appointment, my doctor suggested that I start taking probiotics. I actually had never thought to take probiotics before, so this was something new for me and something I was willing to add into my regular health routine.
If you're not familiar with probiotics, probiotics are good bacteria that provide a health benefit and are essential for many vital body functions, including healthy digestion. As someone who is pretty proactive in keeping myself healthy, I had completely overlooked my digestive heath. As you know, I'm a pretty busy-never-stop kind of person. With 5 kids and working full time and helping my husband manage our house/family schedules, life is pretty hectic. Common issues such as travel, stress, diet and changes in routine can disrupt your natural balance of good bacteria, so I was open to the idea immediately of taking care of myself with Align Probiotic.
But what about for my kids, too?
Probiotics are there to help boost the good bacteria in your body that can destroy harmful bacteria and reduce infection.
My kids are always on the go with school, swimming, baseball, basketball and well – just life!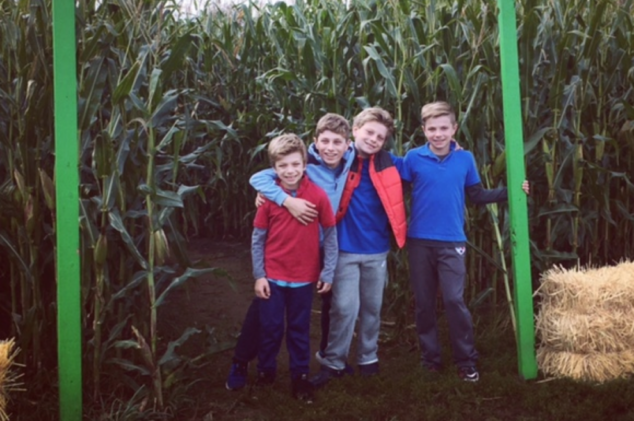 Between school, school homework and regular after school activities, there's definitely a level of stress in their lives that I try my best to keep at a minimum, but it's still there. We travel a bunch as a family, so at least 2 weekends out of every month we're away for a swim meet or traveling to visit family/friends.  When I truly stop and think about it, for the same reasons why I'm taking Align, I'm thinking the same reasons for my kids, too. Let's face it with busy mornings (and afternoons!), stress, diet and changes in routine (along with the changes of the seasons), this could be disrupting my kids' natural balance of good bacteria. If it does for adults, it certainly could do the same for kids.
I was thrilled to hear that Align has come out with Align Jr.! Align is a brand I trust, so I feel comfortable knowing that my kids will be benefitting from the brand I use, too. Music to this mom's ears!
As parents we often try several approaches to help our kids fortify their healthy digestive systems, but a great option is to offer your kids a daily probiotic supplement, like Align Jr.  What I love is that Align has made it very kid-friendly by offering Align Jr. in great-tasting cherry chewables for kids 6years and above.
Align is the #1 doctor and gastroenterologist-recommended probiotic brand‡, so I think it's really smart that they've expanded their offering to children. Align Jr., which contains the unique pure-strain probiotic B. infantis 35624™, can help support your child's digestive health* with a simple daily dose, easily taken every morning! My kids take a morning vitamin, so this is so easy to add right on into our "normal" morning routine.
Join me as I partner with Align throughout the next few months. I'm also excited to share with you an Align coupon!! Get a coupon here and join me as I share my experiences, as well as update you on information, advice and tips regarding digestive health.
As I love to say to other moms and dads, we're all in this together! It's important to share what works best for us and pass that information along!
Align partnered with bloggers, such as me, to get the word out about its great product benefits. As part of this program, I received compensation for my time. Align believes that consumers and bloggers are free to form their own opinions and share them in their own words. Align's policies align with WOMMA Ethics Code, Federal Trade Commission (FTC) guidelines and social media engagement recommendations.
ǂ Among gastroenterologists and doctors who recommended a brand of probiotic in an AlphaImpactRx 2016 Survey.
*These statements have not been evaluated by the Food and Drug Administration.
This product is not intended to diagnose, treat, cure, or prevent any disease.
Introducing Align Jr. – Probiotics for Kids
was last modified:
June 5th, 2017
by