Accessories complete an outfit.
It's that simple.
I'm obsessed with finding key accessory pieces that I can wear over and over, with many different looks. For me – the best part is when I can dress my accessories up and down. It's really getting that full fashion versatility with my accessories. I love elegance. I love simplicity. And truly, most of all I love classic pieces.
I'm excited to introduce you to one of my accessory faves, Nambé Jewelry.
You may already know the name Nambé and (yes) it's THAT Nambé. For 65 years, Nambé has been recognized as a global leader in design. They have collaborated with the world's most esteemed designers to develop products that bring function and style into your home. Now with those countless accolades and museum recognition that they have received, the brand has introduced its celebrated design heritage to jewelry (and it's gorgeous).
Nambé Jewelry is a gorgeous contemporary line of sterling silver necklaces, bracelets, rings and earrings, designed by notable jewelry designer Carolyn Pollack. The collection is hand crafted in America by skilled artisans, and made from the finest materials. Each piece of jewelry is a unique work of art that can be worn every day.  What I personally love is that each piece is created with the stylish woman in mind, each piece of Nambé Jewelry is a work of art designed for everyday wearability.
Nambé Jewelry is hand crafted in America from the finest materials, including 925 Sterling Silver. The pieces are Rhodium plated for a tarnish-resistant finish, which the key to them keeping their fashion life. An added touch of beauty is that there are semi-precious stones, such as Smokey Quartz and Mother of Pearl on many pieces. It really adds to the elegance!  For all my fellow necklace lovers, the pendants hang on either a sterling silver chain or black leather. Your pick! ♥
There are dozens of styles to choose from, here are some of the beautiful options…

One of my personal favorite from Nambé is the Cross Necklace. It's absolutely stunning and fits my style perfectly. It's the kind of accessory that can be dress up and dressed casually. I can wear it to work. I can wear to playdates with my kids. I can wear it on date night with my husband. It really is the perfect piece.
It definitely makes a statement with your outfit. It stands out in such a pretty way.
Some details on the Cross Necklace… A thinly looped design creates the delicate, familiar motif of the Cross Necklace. Hanging from an adjustable box link chain, it is an elegant representation of this beloved symbol.
Made of 925 Sterling Silver
Rhodium plated for tarnish resistant finish
Pendant: 2" L; Chain: 18 + 2"
For me, the length is ideal. It's long enough to wear with turtleneck sweaters and button-down blouses. I love that it can carry a look all by itself without any additional accessories needed.
As you can tell from my casual style with a monochromatic look, the Cross Necklace is everything with this outfit.
Now to dress it up!  Part of the beauty of Nambé Jewelry is its ability to work seamlessly with your already existing jewelry assortment. It's a collection that can easily be mixed and matched, which I adore!
With the holidays around the corner, I wanted to show how the Cross Necklace can easily be a standout piece. I'm all for bold colors for the holiday, especially red… so I grabbed my fave red dress and paired it together!
Perfect fit, right!?
As you can see from this design (and the others) is that the sculptural and shape-driven forms draw inspiration from Nambé's mid-century, modern home and decorative pieces, to create contemporary, on-trend designs. They have style and fashion in mind.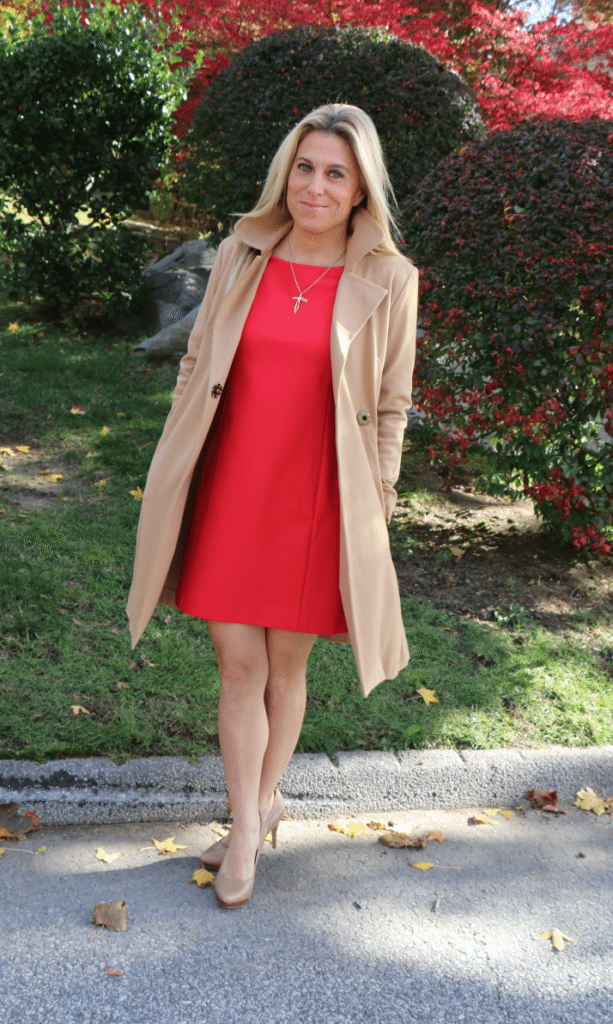 Perfect pieces for the perfect outfits.
With the holidays coming, such wonderful pieces to add to your accessory collection. The collection's price range is $95 – $550. You can really find what it going to work best for you and your style.
Macy's is Nambé's exclusive retail partner in the US for the jewelry collection's launch; also available at nambe.com and Nambé stores.
Gotta love some Accessory LOVE! ♥
♥ Don't forget to visit Nambé.com to shop!! ♥
Disclosure: Sponsored posting. All opinions are 100% my own.
Accessory Spotlight: Nambé Love #MyNambé
was last modified:
June 5th, 2017
by