When it comes to back-to-school shopping for my sons, I'm all about getting them fashion ready! What can I say – I'm a total mom fashionista! When I was a little girl, I would get so excited about heading out with my mother to get some new clothing for the new school year! I always had a list of everything that I (absolutely) needed and my mom completely played along with the excitement. With my sons, I'm the same exact way. I'll have 4 "big" guys hitting the hallways this year in the same school.

(from left to right – William, Alex, Henry and Ben)
William will be in 6th grade. Alex will be in 5th grade. Ben will be in 4th grade and Henry will be in 3rd grade. They won't be together again until high school! I'm going to embrace this year with arms wide open!
When it comes to prepping their wardrobes, I've already gone through their clothes and weeded out what can stay and what can go from last year. All 4 of my sons have had a little growth spurt this summer, so shopping for some new items is a definite must for back to school.
One must-have item on my list for my sons?
JEANS. JEANS. And JEANS.
Jeans seem to be the only thing all my sons love to wear. What I love about a perfect pair is that they go with everything – tees, sweaters, stripes, solids, polos – you name it, jeans match it. I'm gearing up my guys with the right jeans to get them through the school year. I need jeans that will stand up to the test of active BOYS, so it's pretty easy for me… Signature by Levi Strauss & Co.™ Boys' Jeans are my go-to. They provide the comfort my guys love (because who wants jeans that aren't comfortable), with the quality that I trust and don't mind investing in. The Signature by Levi Strauss & Co.™ brand offers premium quality, comfort and style – truly the very things that have made Levi Strauss & Co. brands famous for generations. There's a reason they've been around since 1853! Not to mention, I love how the Boys' jeans are offered in go-to fits with authentic denim styling and finishes. There's a fit and a style for everyone.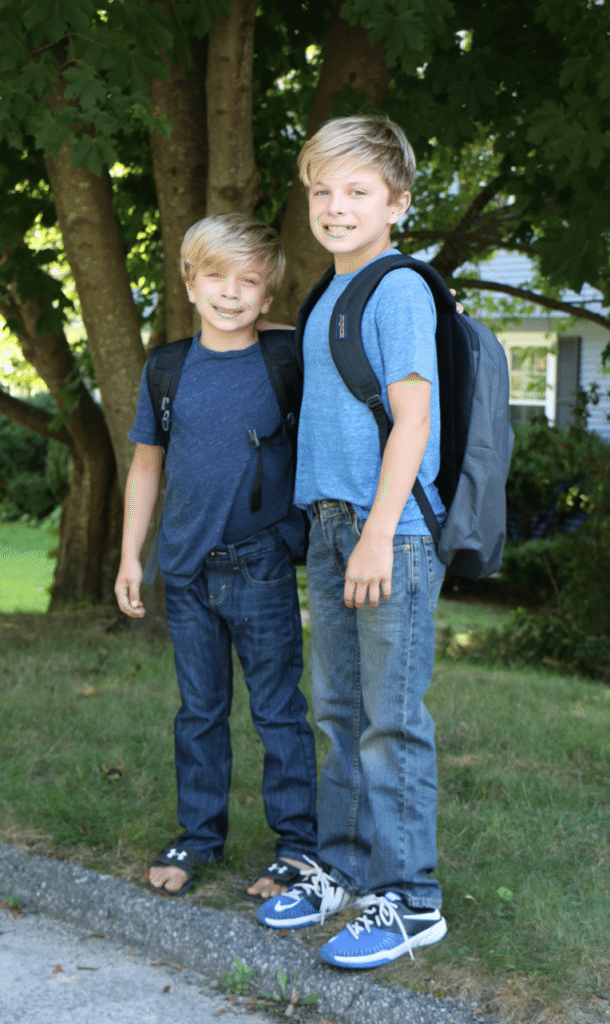 As you can tell, they truly are an essential for back-to-school 2016! Just look at how adorable you can style them!
And… OK, I have to admit it I had my eye on some of the styles, too for myself! Back-to-school shopping isn't just for the kids – I want to look good, too! With 5 kids I'm always on-the-go, so I love easy and effortless style. Jeans are always a go-to for me because they're so versatile and I can dress them up and dress them down! I can be at the bus stop in a puffer vest with them… or at an after-school meeting with heels and a blazer with them! Signature by Levi Strauss & Co.™ Women's jeans fit, flatter and keep their shape ALL DAY LONG. It doesn't matter if you've been at meetings, running errands, picking up the kids or hosting a playdate (and everything else we do!), the jeans are made with premium, super-stretchy Simply Stretch denim that loves your body and your curves! You will stay looking good and feeling good all day long!
My Skinny Style…

My Bootcut Style…

I personally love that I can chase after my toddler and still have my jeans keep their shape all day long! The best part? There's something for every body type – available in modern, curvy and plus fits.
So with this back-to-school season here, grab some Signature Levi Strauss & Co.™ jeans for your wardrobe! You'll fall in denim love!
Follow them on Twitter and Facebook for updated information!
And!! Please join us on Twitter THURSDAY NIGHT at 8PM (ET) for a Twitter Party!! Jean GIVEAWAYS!!!!!! You don't want to miss it!!!! Hashtag: #SignatureJeans Twitter handle to follow: @SignatureJeans
Disclosure: Sponsored posting – all opinions are 100% my own.
Fashion Must-Have for School? Denim. #SignatureJeans
was last modified:
June 5th, 2017
by