When I was a little girl I would sit for hours and color. My mother would always find me tucked away in my bedroom with notebooks, coloring pages and loose sheets of paper. I was obsessed with drawing rainbows and waterfalls and any coloring book with animals. It was away to quiet the world for me. It was a time to just be. Coloring was just always a calming and relaxing activity.
Fast forward 30+ years, my children are the same exact way, especially with the summer upon us. My youngest sons Henry and Benjamin LOVE to color. They remind me of me when I was their age and it's adorable. Every night since summer began – as I've been winding down for the day – my boys are around the kitchen table coloring.
I thought it was time for me to join them! I loved it as a child, so I knew I'd love it just as much as adult, too! When I went hunting for the perfect coloring tools, I knew I needed to check out all the Prismacolor products at Staples. Prismacolor are adult coloring supplies and they are INCREDIBLE, absolutely incredible! The coloring pencils make blending and shading easy!
What were my favorite Prismacolor products to "play" with?
1. Prismacolor® Premier Colored Pencils – 48 pack


High-grade pigments and rich color saturation make these Prismacolor® Premier Colored Pencils perfect for all artists. This pencil set of assorted Prismacolor® Pencils offers ultra-smooth color lay-down.
2. Prismacolor Watercolor Pencils, Assorted – 12/Pack


These are wonderful because they can be used wet or dry and offer superior lightfastness!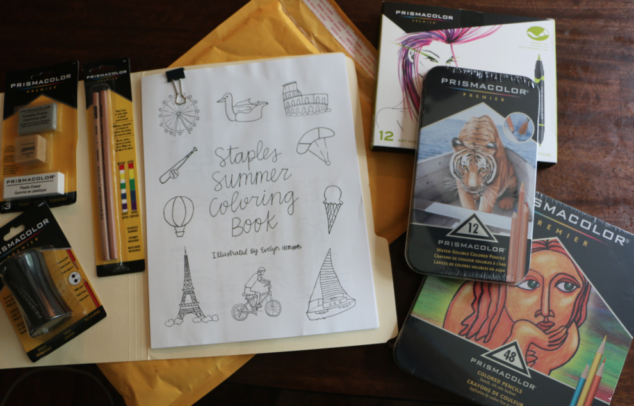 Here's the best part from Staples, you can download the exclusive to Staples – Evelyn Henson coloring book!
Illustrator Evelyn Henson creates colorful and happy art that fills you with joy and inspires you to lead a more brightly decorated life! Her art makes you celebrate the little things and always spark fun wherever we go! For Staples, Evelyn has designed a summer coloring book, filled with fun summer travel destinations and summer scenes. It is beautiful!! I had so much fun working through the pages.
AND!!

I have to say, even though Prismacolor products were meant just for me, my sons jumped in and played with me, too!
We all sat around the table talking and coloring and enjoying a fun activity. And!! Since Evelyn's coloring pages featured different cities, we had some fun talking about these cool destinations, too!
Shop for your favorite Prismacolor adult coloring supplies at Staples now with 20 percent off regular-priced products!
Coupon code is 51563 and is valid in-store and Staples.com through 7/31.
Come have some coloring fun!
I know I did! ☺
Prismacolor Summer Fun Happening at Staples!
was last modified:
July 3rd, 2017
by