I'm a HUGE Erin Condren fan. HUGE! I had the opportunity to meet her this past fall in Boston at a Staples event and she was beyond gracious, kind, funny and super helpful in chatting about making (and keeping) your life organized.
What I loved about Erin immediately was that she's passionate about helping people organize their lives, but in a fun way! With 5 kids, schedules and appointments and calendars can be an overwhelming thing for me. Sometimes I just sit and stare at my calendar and shake my head! We are definitely a busy family. It's a balancing act trying to make room for everything, but somehow, someway, it gets done! What I love about using Erin Condren products to keep me organized is that they make me happy. The colors. The inspiration. The motivating words. The vibrance and fun of her products! They add a bit of flair into my life when I'm trying to structure it all together – and I love and appreciate that about Erin.
If you're an Erin Condren user and lover like me, you're going to be thrilled with the latest in her bold and inspiring organization solutions!  You can now find Erin Condren's line of products for the first time on
Staples.com (holla!) and at nearly 500 Staples stores across the country! Pretty amazing, right??
In addition to the Erin Condren desk sets, teacher planners, and notebooks that are now available to Staples
customers, the expansion of products also includes exclusive-to-Staples Erin Condren 18-month LifePlanners™ that reflect her signature style of bold, trendsetting color patterns and inspirational messages.

"It's such a thrill for me to offer and design a special assortment of my stylized products
to more Staples customers," said Erin Condren Founder & Chief Style Officer. "My
motto has always been 'let's get it done so we can have some fun.' This happy, colorful
collection of organization solutions is designed to inspire people to get organized and
stylized!"
Personally I am obsessed with her 18-month planner! It really allows me to layout a full year and a half for my family. It's essential for me to plan ahead because I always have to work with so many schedules, so the 18-month planner really helps me achieve this for my family.
What are the features?
A mixture of lined pages, designer blank pages, graph pages and motivational quotes help you maximize your positivity and productivity.
Plan the week vertically with three columns per day!
This 7″ x 9″ coiled book is filled with monthly spreads, weekly page views and colorful quotes.
Erin Condren's collection now at Staples include:
♥ LifePlanners and planner accessories: In exclusive-to-Staples patterns and
colors, Erin Condren's LifePlanner includes daily, weekly, and monthly views
and can be customized with a number of accessories.
♥ Teacher's Lesson Planner: Brings color and organization to the classroom, with
40 weeks of lesson planning, 12 monthly double-page calendar spreads, doublepage
checklists, reusable sheet protector, plan for it pouch, keep it together folder
and dry erase board inside covers.
♥ Carry-all clutches: Bold colors and inspirational quotes printed on stretchy
neoprene cases make it the perfect bag for the LifePlanner, tablet, cell phone and
accessories.
You just can't beat her fabulous accessories! She thinks of everything and really takes the time to add that extra love. It's all about creating a harmonious and organized life, Erin really does help make that happen!
Check out some of my fave Erin Condren accessories that I just got…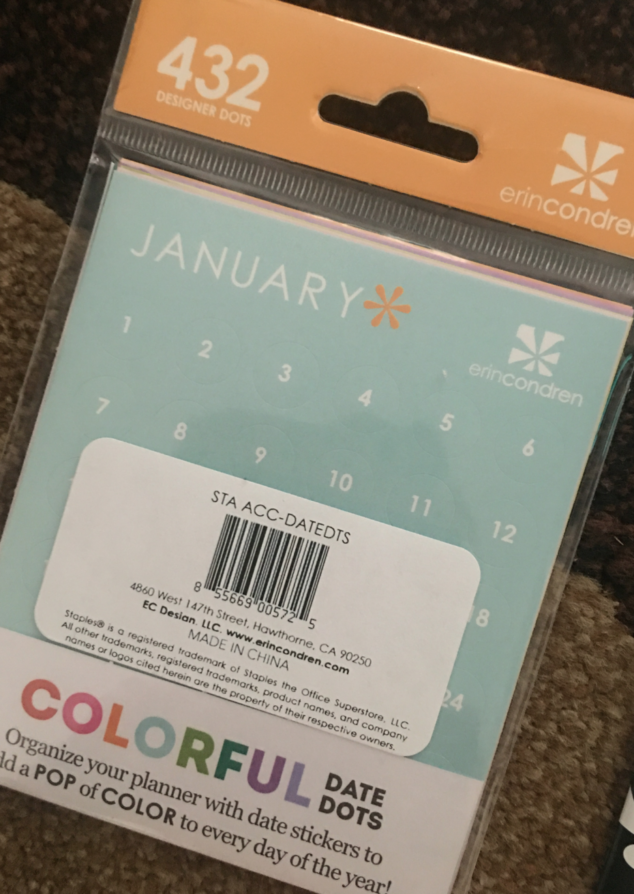 Erin Condren's collection of LifePlanners, planner accessories, notebooks, teacher planners, markers, carry all-clutches, desk sets, pads and memos retail from $2.99-$64.99.
To shop Erin Condren's organization solutions, visit the Staples store locator or shop Staples.com (www.staples.com/erincondren).
Disclosure: This is a sponsored posting with Staples. All opinions are 100% my own.
Erin Condren Collection has Expanded at Staples to Online and More Stores! #ErinCondren
was last modified:
June 5th, 2017
by