Back to School. It's my favorite time of year.
What do I love about it?
Sprucing up the closets! I love, love, love adding items in that I know they need and love for the new school year! During the summer I don't go crazy on their wardrobes – they live in tees/shorts/Crocs. For me, it's pretty easy. We're always on a pool deck, so summer style is laid back and relaxed. School time is different. As my sons have gotten older, what is extra exciting for me is that they have their own styles. They know what they like. They know what they want. They know what they need. Instead of me picking – they pick – and that's fun for me to watch because I know they have items on their list that they excited for!
This season for back to school it's all about athletic shoes for the boys and glitter for Victoria!
Rack Room Shoes (as you all know from last year) is one of my  the go-to shoe destination for my family's Back to School shopping needs. They carry the most popular styles and brands of great footwear for men, women and children of all ages. My sons are obsessed with brands like Nike, Vans and Converse and I love that I can get at Rack Room Shoes all these brands for my sons at prices I can appreciate and enjoy. Not to mention, with the Rack Room Rewards® program customers can get simple, instant savings on shoes for the family. I LOVE that some of the members-only perks include exclusive discounts, coupons, and $15 in rewards for every $200 spent on the retailer's extensive offering! Since I'm shopping for a family of 7, these kinds of savings are really impressive and important to me.
So what did my sons and daughter fall in love with this back to school season?
Let me tell you, it was adorable watching my sons pick out the "coolest" and "best" athletic shoes for school time. I kept getting asked, "Can we PLEASE start wearing them before school?" They are OBSESSED with finding sneakers that look good, feel good and are top quality.
We (well, they!) found some super gems!
1st up, my William. William is heading into 6th grade this year, big man on campus! He wanted Nike sneakers that he could run, jump and play basketball in throughout the school year. He found them in the Nike Team Hustle D 7 Low sneakers. William is a kid that never sits still. He needs a sneaker that is going to stand up to his activity. When I saw these, I thought – these are totally William.  He wants to be fast, and these will make him fast. Real fast. The light mesh upper keeps you fast on your feet, while the outsole's deep traction pattern offers great grip on the court. I loved seeing these on William because they are sporty, with an edge of cool. William is also a HUGE Vans lover, so I felt these were a great match for him. I know he's DYING to wear these before school starts, so we'll see!
My Alex. Oh, my Alex. He'll be walking the 5th grade halls this year. He's my fashion boy. He's the one that loves color and bold and looking handsome for school. This year he wants to up his sports game. He's all about finding the best of the best for himself. When he was looking through the sneakers, he couldn't get enough of the Nike Team Hustle D 7 Sneakers. He loves to hustle, so honestly – these fit him well (pun intended). He's big into basketball right now, so he loved seeing that these were made for the court. Make magic moves on the court in the Team Hustle D 7 boys' basketball shoe by Nike. The light mesh upper keeps you fast on your feet, while the outsole's deep traction pattern offers great grip on the court. As soon as he tried them on, he went SWOOSH! It was adorable. These are just fantastic because they are awesome on and off the court. 1st Day sneaker awesomeness for Alex!
Next up, my Benjamin. Benjamin is heading into 4th grade this year. Ben has wide feet, so we're always on the hunt for sneakers that will fit him perfectly and comfortably. Ben wanted running shoes. He truly just wants shoes that are going to keep him fast on his feet! He LOVED the Fila Mechanic 4 Kids' Shoe. First off – he loved the black and gold colors because he's a HUGE Steelers fan. He thought they looked (and I quote) "legit!" I loved that they have CoolMax® technology that wicks away moisture for a dry, comfortable fit, while synthetic overlays lend dependable support to the lightweight mesh construction.  These are perfect for Ben for the year. I love that he can wear these with shorts/jeans/sweatpants, you name it! And!! Most important for Ben, recess and after-school activities will be a breeze!

Time for my Henry! Right now Henry – who will be entering 3rd grade – is ALL ABOUT BASKETBALL! He's been on the hunt for sneakers that are great for the court, but good for the hallways, too. He really fell hard for the Nike Team Hustle D 7 sneakers. I mean, these to him were like the golden sneakers. As soon as he saw them, he wanted them. I love that they really are super cool looking, but also really comfortable for Henry. He's never had a mid-cut construction, so I wasn't sure how he'd like it – but he's REALLY loving it. He loves the blank and white combo for matching them with just about anything. Works beautifully for him and he can't wait to show these babies off on the 1st day!
And last, but certainly not least – Victoria! Our Victoria will be heading to preschool this year, so it's her TRUE first day of school come this September. Since she's our girly girl, she's all about the glitz and glam! I actually let her help me pick out shoes for herself and she fell in love with these glitter flats! Oh, yes… the Cupcake Couture Lil Paulette were her absolute faves. I love how adorable, sweet and feminine they are for little ones. The timeless ballet-inspired silhouette is perfection for her little feet.  I also love the strap to make sure they're kept in place. She's 3, so shoes need to be able to stand up to the test of a 3 year old… these fabulous glitter and glam shoes are just Victoria from top to bottom! Sweet as can be!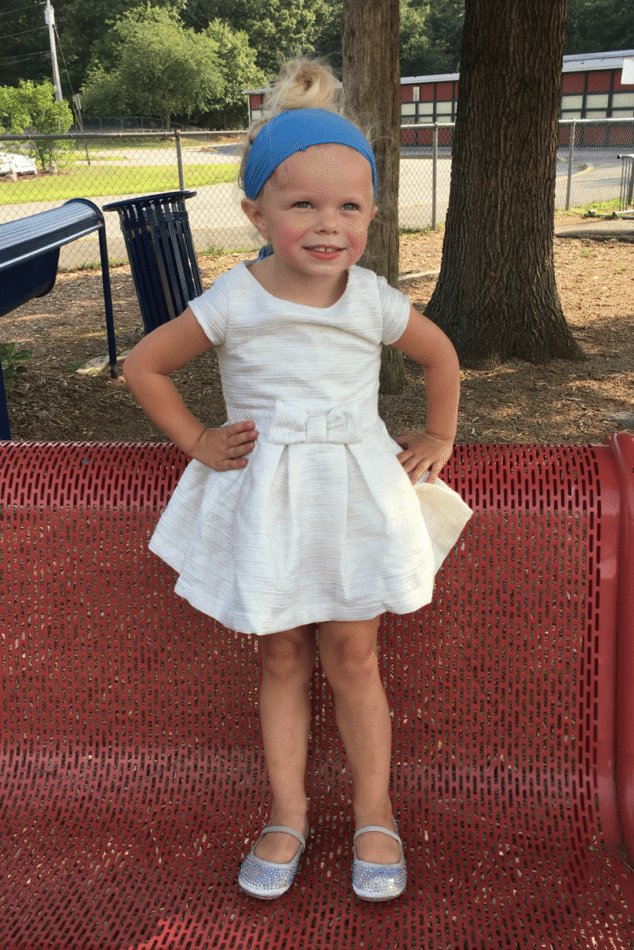 *For any moms and dads out there with kids who are all about Nike footwear, Rack Room Shoes has the brand available in-store and online and will be on sale Aug. 7-13 on rackroomshoes.com. You won't want to miss it if you're hunting for some Nike shoes for the family!*
I have to say, I think my kids all hit homeruns on their picks! And keep in mind parents that Rack Room Shoes serves as a "one-stop-shop" for Back to School – offering on-trend footwear, backpacks and accessories to help fulfill your family's wardrobe essentials.
I'm excited to share with you that this Back to School season, Rack Room Shoes is raising funds for families in need through their annual Shoes That Fit campaign to provide new shoes to at-risk children starting the school year. Rack Room Shoes makes it easy for shoppers to make a difference in their communities by allowing customers to donate to Shoes That Fit at the register upon check out in-store, or online. I think this is absolutely stellar and such a wonderful way to show kids the important of giving back. 100% of the donations will be distributed in the local area where the shoes were purchased, benefiting students right in your community. To amplify the impact of customer donations, Rack Room Shoes has committed to match 100% of all donations raised, up to $300,000.
Incredible. Incredible. Incredible.
Make sure you check out all the awesome selections for Back to School time for YOUR family at Rack Room Shoes. There's simply something for everyone!
Disclosure: This is a sponsored posting with Rack Room Shoes.
Athletic and Glitter for Back to School with the McClelland Kids and Rack Room Shoes
was last modified:
June 5th, 2017
by