I'm all about doing things myself at home. I love to cook. I love to bake. I love to decorate my office, bedrooms and living spaces. I love to change up my linens and sheets to make things brighter. Anything that I can do on my own, I'm all about trying and doing.
There's just one exception – I've always shied away from do-it-myself home projects. If there's a power tool, I stay away. If there's a nail and hammer, I stay away. My husband and sons are usually the ones to get everything done.
Well, boys… that's changing!
I had the amazing opportunity to head to the Grand Parkway Home Depot in Katy, TX last Thursday night to host live on Facebook their Do-It-Herself Workshop!
It was absolutely INCREDIBLE! Radio host Delilah was there greeting everyone (also a self-proclaimed Home Depot LOVER!) and helping out with the Workshop.

Photo by: Jacob Benjamin Taylor
Many things happened Thursday night.
I interviewed radio host Delilah.
I used a (very cool) power tool for the very first time.
I met some incredible women, all at The Home Depot for the Do-It-Herself Workshop.
And I got to create a grill cabby.
Check out the full 90 minute Facebook Live coverage:
The Home Depot's Do-It-Herself Workshops are incredible and empowering and something every woman should try to check out (3rd Thursday of EVERY month). If you've never been to one, I'm telling you – circle your calendars RIGHT NOW for June 16th at 6:30PM. You will learn to build a wooden beverage stand!
This is why I love the Do-It-Herself Workshops so much:
They're FREE
They're non-intimidating. You truly get one-on-one help and it's a wonderful way to learn.
You can come with your girlfriends and have a wonderful night!
They're empowering! I love that when you leave one of the Workshops, you leave armed with knowledge!
Seeing the women out on Thursday night was just awesome! There were moms and daughters. There were groups of girlfriends. There were husbands with their wives. There were ladies who work together.

Photo by: Jacob Benjamin Taylor
There were just wonderful groups of women, all looking for the same thing… to learn and be empowered at The Home Depot!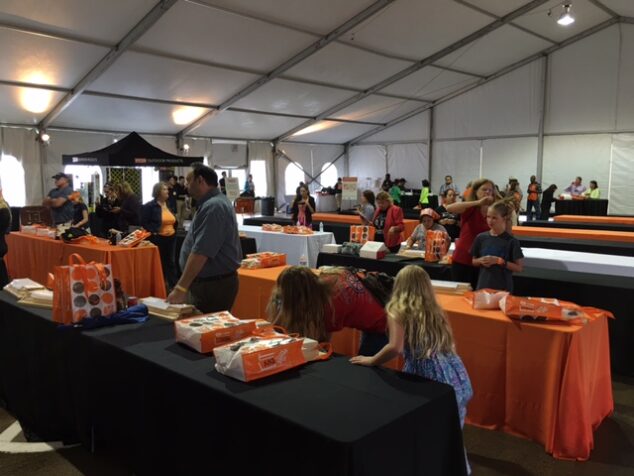 I have to say, the best was seeing the moms with their little girls. It made me think of me and my Victoria and how I would love to share this kind of experience with her someday (soon!). It was such an amazing night and I loved seeing every woman leave excited about their Grill Caddy!
Bravo to The Home Depot for creating such an incredible, warm and inviting environment every 3rd Thursday of every month for the ladies! You can tell there's much appreciation and love for these events! And I have to say, Delilah was beyond gracious. She chatted every everyone. She helped anyone who looked like they needed help. She was just wonderful to be around!
I really recommend taking the time to check out the Facebook LIVE video, it gives you a great recap of the entire evening!!
Disclosure: This was a sponsored partnership with The Network Niche.
Facebook LIVE with The Home Depot and Deliliah at their Do-It-Herself Workshop #DIHWorkshop
was last modified:
June 5th, 2017
by